Ref Watch: Huth, Shelvey, Wollscheid: Dermot Gallagher's weekend review
Last Updated: 23/11/15 3:08pm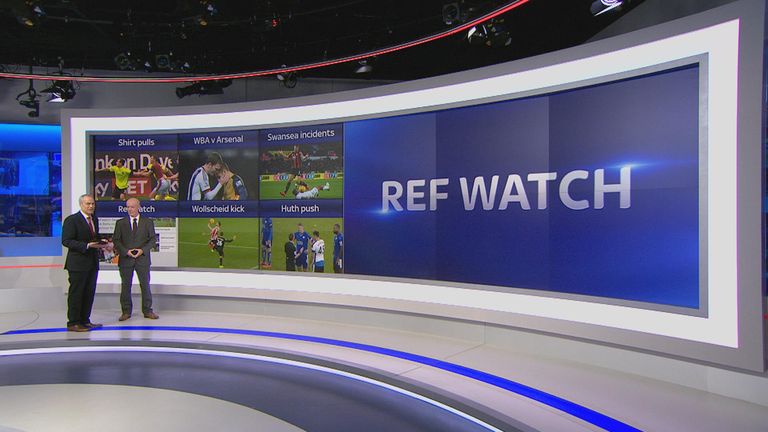 Dermot Gallagher suspects Robert Huth may get a call from the FA as he looks back at the weekend's refereeing calls.
Former referee Gallagher joined Rob Wotton on Sky Sports Today to discuss a number of contentious refereeing decisions, including Swansea being awarded a penalty against Bournemouth and Southampton being denied one in their 1-0 defeat at home to Stoke City. 
INCIDENT: Robert Huth (Leicester City) pushes Aleksandar Mitrović (Newcastle)
SCENARIO: Off the ball, Huth grabs and pushes Mitrovic in the throat. Mitrovic falls to the ground holding his face. Referee Mike Jones sees the aftermath of the incident but doesn't take any action.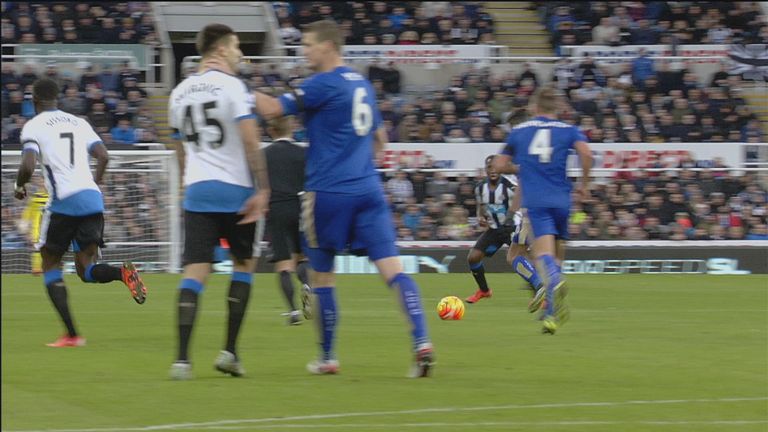 GALLAGHER'S VIEW: Retrospective action will be taken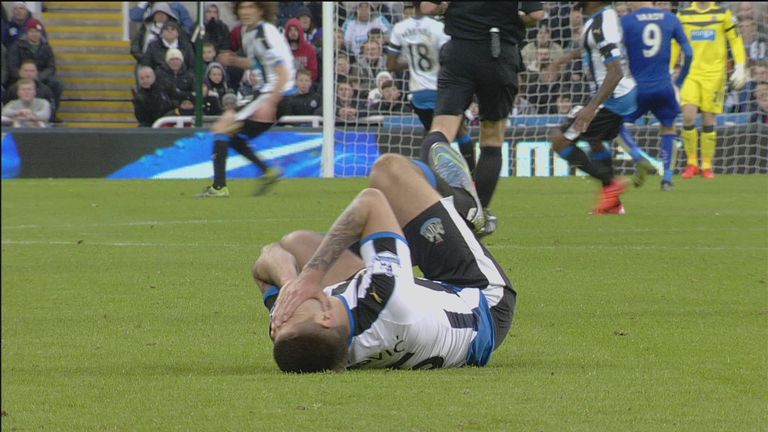 GALLAGHER SAYS: It may have not been a red card on the day, but I have a feeling that the referee will be asked to look at this again today. Huth could be getting a call from the FA. I think this will be revisited. It's not the cleverest thing for Huth to do. The referee glances round when Mitrovic hits the floor; he doesn't know how he's got there. He's only seen the aftermath where Mitrovic is holding his face, even though he wasn't hit in the face. You have to have justice and the justice could be that he serves a three-match ban. We can only live in the future - not the past. 
INCIDENT: Simon Francis (Bournemouth) fouls Andre Ayew (Swansea) in the penalty area
SCENARIO: Leon Britton plays a ball down the side of the penalty area and Ayew runs in behind Francis. The Swansea forward brushes Francis' arm on the way past before tripping over his own feet. A penalty is awarded. 
GALLAGHER'S VIEW: Harsh decision
GALLAGHER SAYS: I thought it was harsh, but the referee thought it was a foul - it's all subjective. I think his initial thought is that Francis pulls Ayew's arm which pushes him onto his own foot. However, if he is caught, it's so minimal. There is suspicion of a slight nick and that's what Andre Marriner gives the foul for.
INCIDENT: Jonjo Shelvey (Swansea) tackle on Harry Arter (Bournemouth)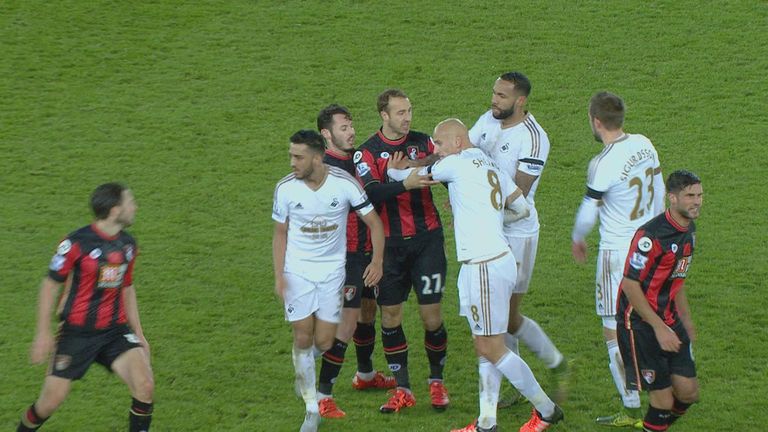 SCENARIO: Arter drives through the heart of the Swansea midfield and is pulled back by Gylfi Sigurdsson. It's not enough to stop his forward momentum though and although a foul is given, Shelvey slides in with a tackle and is booked. 
GALLAGHER'S VIEW: Right decision
GALLAGHER SAYS: I think it's a reckless tackle and a yellow card. He's not gone through the player - maybe by more luck than design. I've always said you don't have to have your leg broken to give a red card but on that occasion a yellow card was the right decision.
INCIDENT: Jonas Olsson (West Brom) is standing in an offside position from a Chris Brunt (West Brom) free-kick
SCENARIO: Brunt whips in a free-kick from 35 yards that goes over Olsson's head and James Morrison volleys the ball into the top corner. The goal stands.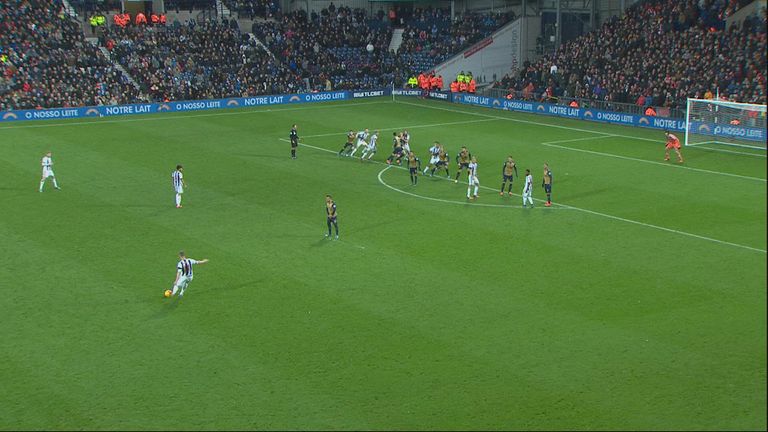 GALLAGHER'S VIEW: Correct decision
GALLAGHER SAYS: He's 100 per cent not offside because the ball from the cross is far too high for Olsson - he doesn't impact the play. However, he has definitely blocked Per Mertesacker off but the assistant has watched Morrison come through - you can't give offside for that offence. The guy who scored is not in an offside position. The only argument would be whether it is a foul by Olsson. I think it is a block and if it was seen he could have got punished.
INCIDENT: Craig Gardner (West Brom) and Olsson try to delay the taking of Santi Cazorla's penalty kick for Arsenal
SCENARIO: Arsenal, who are 2-1 down to West Brom, are awarded a penalty. Cazorla puts the ball on the spot but Gardner delays the taking of the kick by talking to the Arsenal man as he walks back to start his run-up. Then Olsson gets involved by walking in front of the ball and both players are ushered away by referee Mark Clattenburg. Cazorla subsequently misses the penalty.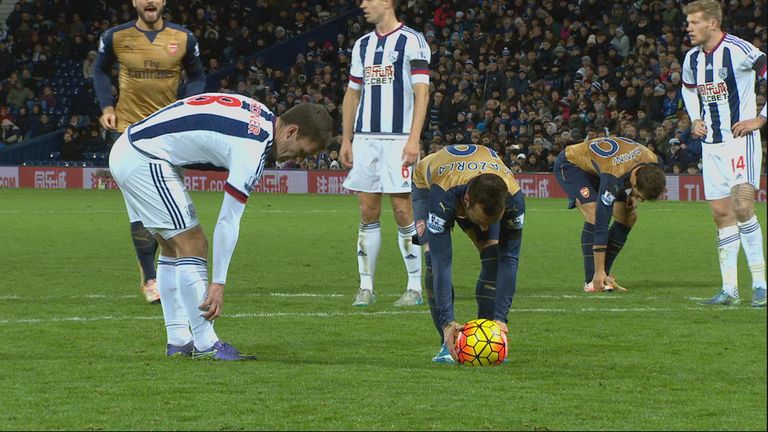 GALLAGHER'S VIEW: Correct decision
GALLAGHER SAYS: I used to take penalties as a player and the priority is to take it as quickly as possible. Players try to delay the kick in order to put the player off. Mark Clattenburg has to get involved to tell Gardner and Olsson to get away. It creates more time for the striker to think. The referee has to deal with it the best he can. Three different players got involved and they're all trying to put Cazorla off. 
INCIDENT: Graziano Pelle (Southampton) goes down under a challenge from Philipp Wollscheid (Stoke)
SCENARIO: The ball drops to Pelle inside the area and he chests the ball away from Wollscheid. The Stoke defender swings a boot and catches the striker, who hits the deck and appeals for a penalty. Nothing is given.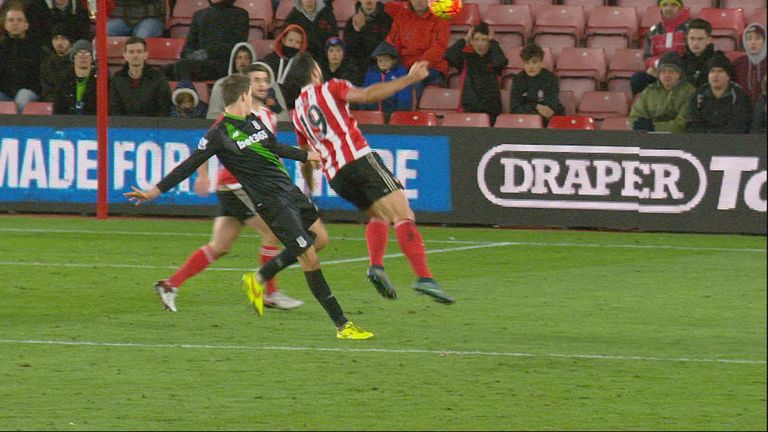 GALLAGHER'S VIEW: Wrong decision
GALLAGHER SAYS: It's a penalty. Wollscheid is nowhere near the ball and looks like he's guilty. For whatever reason, referee Lee Mason thought differently.
INCIDENT: A penalty is awarded for a shirt pull by Lewis Dunk (Brighton) on Michael Keane (Burnley)
SCENARIO: A corner is floated to the back post and Dunk and Keane are scrapping for the ball. Dunk has a clear hold of Keane's shirt to the extent that he nearly lifts it over the Burnley player's head. The referee gives a penalty.
GALLAGHER'S VIEW: Correct decision
GALLAGHER SAYS: We've talked about this since the start of the season. I would like to commend the referee for awarding the penalty. It was only three minutes into the game and you can see Keane's flesh as the defender is pulling his shirt so much. It's very hard to say incidents like this are not penalties now. The TV cameras have proved the referee right - it's got to be a penalty.