Should Marouane Fellaini and Bastian Schweinsteiger have been sent off against West Ham? Should Alberto Moreno's goal against Newcastle have stood?
Those were some of the questions posed to former referee Dermot Gallagher on Sky Sports Now after another weekend of contentious decisions in the Premier League.
Read on for his take on three big offside decisions, a couple of handballs and some players who were very fortunate not to receive red cards...
INCIDENT: Manchester United's Marouane Fellaini challenges James Tomkins of West Ham with his studs, but is not punished by the referee.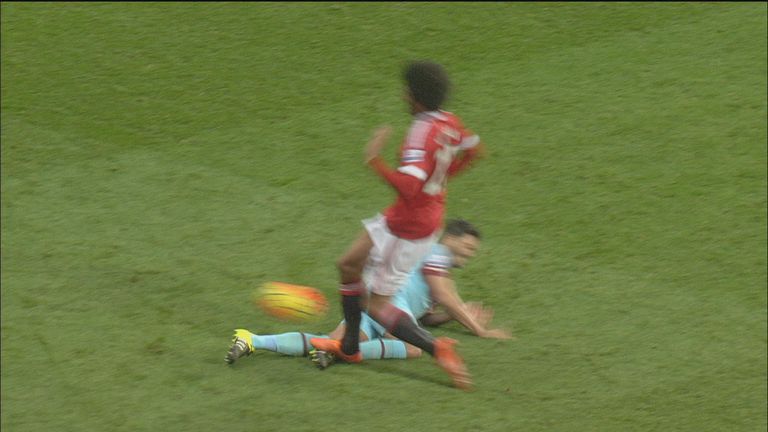 SCENARIO: In the 27th minute of Saturday's game at Old Trafford, Fellaini and Tomkins entered a 50-50 challenge by the touchline. Tomkins wins the ball but Felliani's studs appeared to go into Tomkins' shin. No foul or card was given by referee Mark Clattenburg with Tomkins exiting the challenge unscathed. 
GALLAGHER'S VIEW: Should have been a red card.
GALLAGHER SAYS: "Initially I didn't think it was a free-kick when I saw this and thought it was a throw-in. That's what Mark Clattenburg sees because he thinks Fellaini has kicked the ball out. From a different angle, you can see he's been very naughty. When you see Mark Clattenburg's view, Tomkins' body actually shields what happens. It's up to the FA to decide if they're going to follow it up. I would have given it as a red."
INCIDENT: Bastian Schweinsteiger of Manchester United appears to throw an elbow to the throat of West Ham's Winston Reid, but is not punished.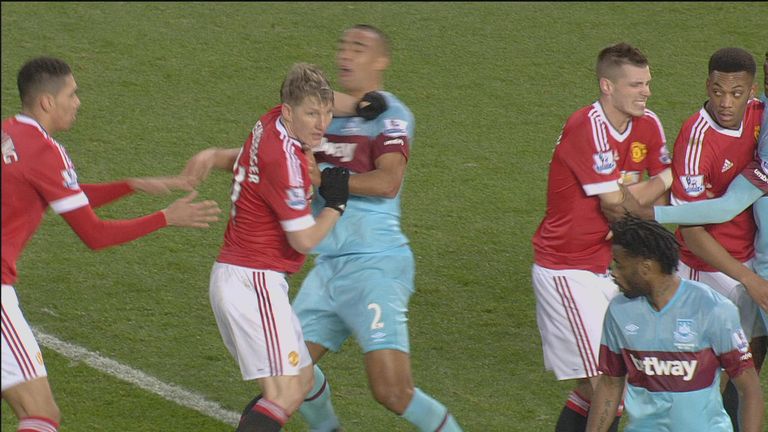 SCENARIO: As United prepared for a free-kick, Schweinsteiger appeared to catch Winston Reid with an elbow to the throat. The referee talked to both players but no cards were given.
GALLAGHER'S VIEW: Red card for Schweinsteiger... if Clattenburg saw the incident!
GALLAGHER SAYS: "I'm not convinced the referee's seen what we've seen. Chris Smalling may block him off. He's seen two players coming together and what he's done is decided to calm it down, take the heat out of it, because it was a free-kick. I'm not convinced he sees what we see from the camera angle. If you do that in the current climate you run a massive risk. If you take that risk and get caught you have to accept the punishment. If Mark Clattenburg had a really good view of that, he would send him off."
Note: On Monday evening, Schweinsteiger was charged by the Football Association in relation to this incident.
INCIDENT: Liverpool's Alberto Moreno lobs Newcastle goalkeeper Rob Elliot, but it's ruled out for offside.
SCENARIO: Alberto Moreno surged forward to get on the receiving end of a James Milner cross from the opposite flank, and on the volley he sensationally lobbed the ball over Newcastle goalkeeper Rob Elliot. However, the goal was ruled out for offside.
GALLAGHER'S VIEW: Goal should have stood.
GALLAGHER SAYS: "I think he's [the assistant referee] in the wrong start position. Because of how play's gone on he's moved back to get in the right position. The play has changed in front of him and he hasn't got quite back in the right position. He's actually a yard in front so his angle is slightly different to what it would be if he was looking across the field."
INCIDENT: Leicester's Riyad Mahrez scores the second goal of his hat-trick, but he appeared to be in an offside position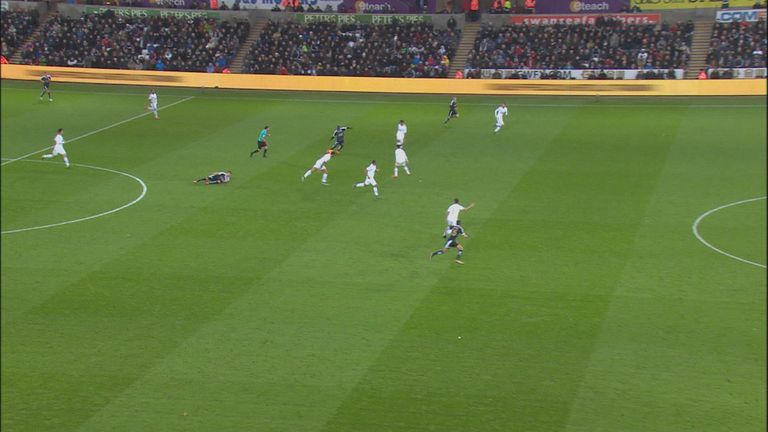 SCENARIO: Mahrez's second goal of the game was a deft, curled finish with his left foot, but replays suggest the Algerian was offside when N'Golo Kante lofted the ball forward.
GALLAGHER'S VIEW: Goal should have been disallowed.
GALLAGHER SAYS: "The assistant referee's starting position is slightly out of sync with what it should be. The game is changing very quickly and what you're asking the assistant is to be in line with the second rear-most defender. I think he's in line with the forward. That ball has come across and because that start position is wrong his judgement is impaired."
INCIDENT: Glenn Murray scores an 82nd minute winner against Chelsea, but may have been marginally offside
SCENARIO: Thibaut Courtois comes rushing off his line to punch a Chelsea corner and when Steve Cook loops the ball back across goal, eventual goalscorer Murray is ahead of the Chelsea goalkeeper. Gary Cahill is defending on the line, but Murray might be just ahead of the second last man, Baba Rahman, when he scores.
GALLAGHER'S VIEW: Too tough to call.
GALLAGHER SAYS: "I think it's one of the toughest calls I've seen this season for a number of reasons. The goalkeeper is out so he's got to focus on the second rearmost defender. If you look across and see that the defender is in line with Murray, it's so tight. Nobody can make that judgement from that distance, also Murray moves backwards and moves back into play. I can understand that you could debate that forever in a day and you wouldn't get a real definitive answer because the line is so tight."
INCIDENT: No penalty is given when the ball hits the trailing arm of Bournemouth's Simon Francis.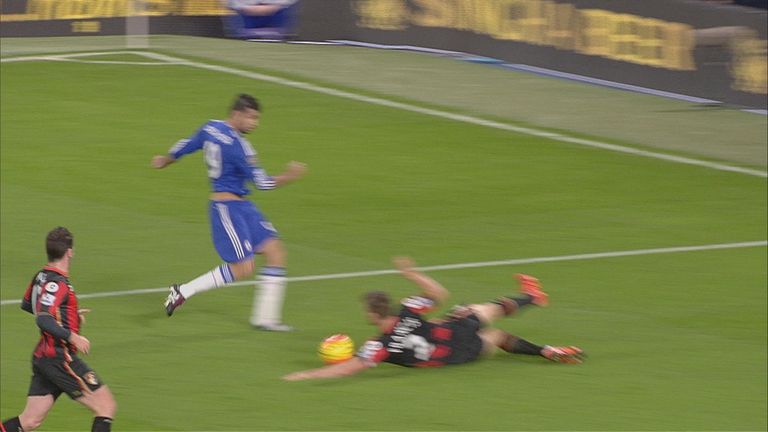 SCENARIO: Chelsea's Diego Costa burst forward to the byline, pulling the ball back across the goalmouth - only for his pass to be partially blocked by the trailing arm of Simon Francis as he slid in. Jose Mourinho felt afterwards that a Chelsea penalty should have been awarded.
GALLAGHER'S VIEW: Correct decision. No penalty.
GALLAGHER SAYS: "I'm going to get shouted at here because I think he's made the right call. His arm is always there, he slid in and it struck him. It would be very difficult for a guy in his position to get out the way."
INCIDENT: The ball strikes Glenn Whelan's hand inside the penalty area during Stoke v Man City, but no penalty is given.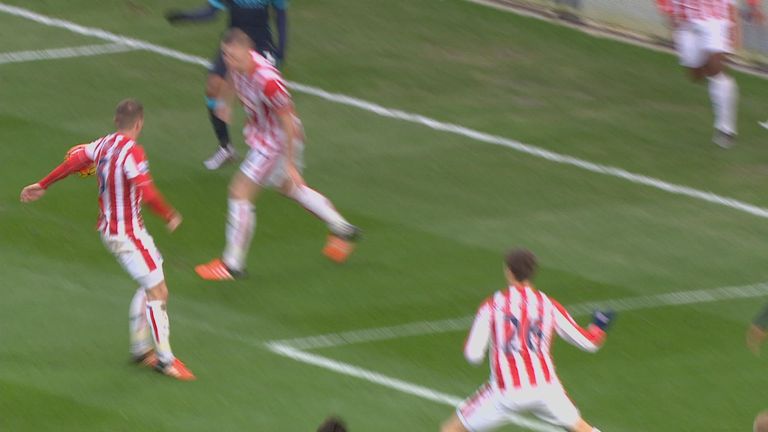 SCENARIO: Appeals for a Manchester City penalty in the 51st minute were turned down when Raheem Sterling's cross is headed onto Whelan's arm by team-mate Ryan Shawcross
GALLAGHER'S VIEW: Correct decision.
GALLAGHER SAYS: "It strikes Shawcross' head when it comes in and then bounces onto Glenn Whelan who has no chance of getting out the way."
INCIDENT: Swansea's Leon Britton is booked for a heavy challenge on Leicester's N'Golo Kante.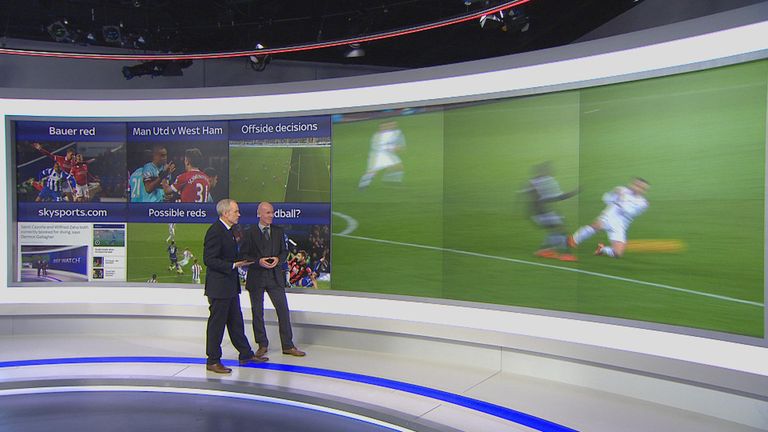 SCENARIO: As Leicester launched a break from their own penalty area, Britton went in with a high challenge on N'Golo on the edge of the penalty area. Referee Michael Oliver allowed the game to carry on before booking Britton when play stopped.
GALLAGHER'S VIEW: Britton should have been sent off.
GALLAGHER SAYS: "One of the biggest things in English football is letting the game play on. When you see a tackle like that you're best stopping it straight away. I think he was very lucky to get only a yellow card."
INCIDENT: James McClean of West Brom is booked for a foul on Tottenham's Moussa Dembele.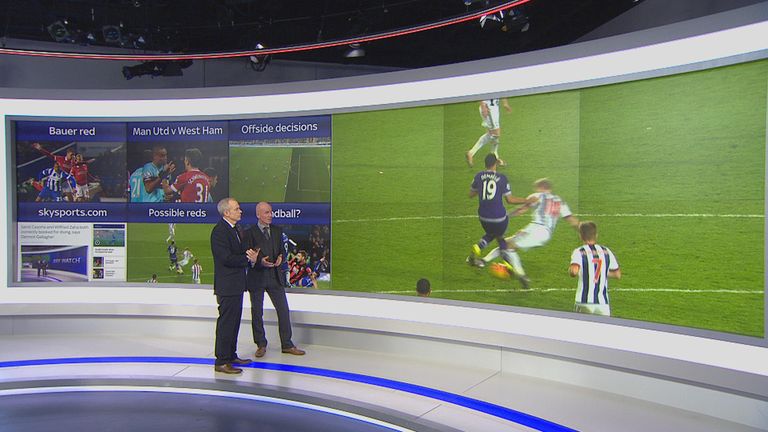 SCENARIO: With less than 10 minutes left, McClean went in for a reckless challenge on Tottenham midfielder Dembele. He received a yellow card from referee Jon Moss and was later warned by his own manager Tony Pulis to "be careful".
GALLAGHER'S VIEW: McClean should have received a red card.
GALLAGHER SAYS: "This tackle may have come as a result from what happened a minute earlier [a challenge by Dembele on McClean] but for me it's a red card. What I would say in Jon Moss' defence is he was the opposite side to where we are looking. It's dangerous, it's serious foul play. A minute earlier Dembele leaves his foot in on McClean, he gets a yellow card for that. It's not a nice tackle. I just wonder if James McClean saw his chance to seek retribution and he took it."