Sky Bet have renewed their sponsorship of the Football League.
The Leeds-based online bookmaker has signed a new three-season title-sponsorship deal which will begin in August 2016 and run until at least 2019.
Starting next season, the competition will be known as the Sky Bet EFL (English Football League) and the league says it will "deliver increased revenue" to its 72 clubs.
The three divisions will continue to be known as the Sky Bet Championship, Sky Bet League 1 and Sky Bet League 2. Sky Bet will also be the title sponsor of the Sky Bet Play-Offs.
Football League chief executive Shaun Harvey said: "At a time when The Football League is very much focused on its future, which includes our imminent re-branding to the EFL, it is a great encouragement to see Sky Bet putting their continued faith in our competition and our clubs.
"This is an excellent way to end an outstanding year of league football and, on behalf of clubs, I would like to offer my appreciation to Sky Bet for their continued commitment."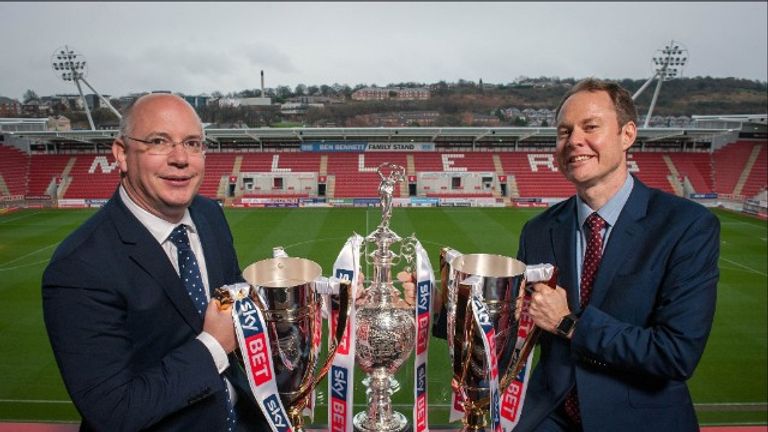 Sky Bet chief executive Richard Flint said: "Over the last couple of seasons we've loved working with the League, its clubs and the fans and so are delighted to extend Sky Bet's sponsorship. We are proud to continue our investment in such a fantastic competition and look forward to making betting better for football fans."
To celebrate signing the deal, Sky Bet are offering the best odds on all Football League clubs to win their Boxing Day fixtures, and are also top price on a wide range of Football League outrights over the Christmas period.


Sky Bet football trading manager Paul Lowery said: "We're delighted to be renewing our title sponsorship with the Football League for another three years.
"We're rewarding fans for their loyalty over the last three by guaranteeing top price in the industry on every team in the Football League to win on Boxing Day.
"This will only be available until 5pm on Christmas Eve so make sure you get your bets on before then!"