Manchester United highest-earning Premier League club in 2014/15
By Peter Smith & Nick Pepper
Last Updated: 21/01/16 1:44pm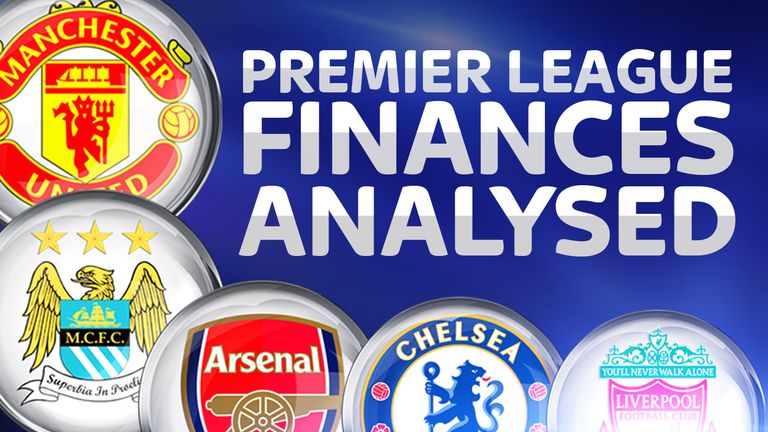 Manchester United are the highest-earning club in the Premier League and have been tipped to register the world's largest revenue for a football club in 2015/16.
The 2016 Deloitte Football Money League - detailing the 2014/15 season - measures a club's earnings from matchday revenue, broadcast rights and commercial sources, and ranks them on that basis.
While Real Madrid and Barcelona take the top two spots, the top 30 is dominated by Premier League clubs, with 17 featuring.
Here, we take a closer look at the top five in the Premier League…
1: Manchester United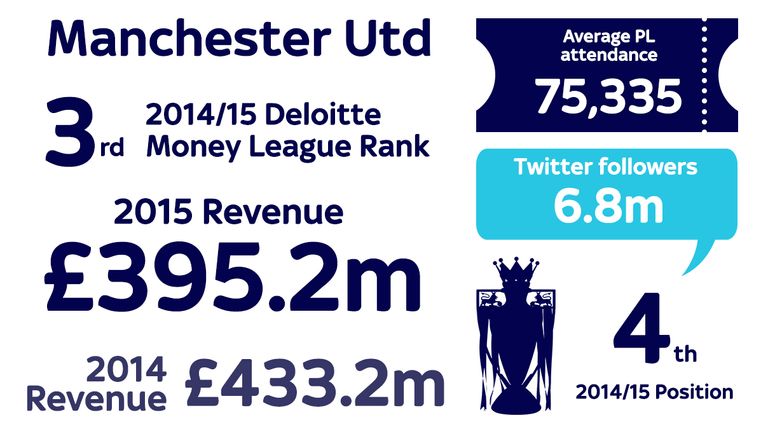 Manchester United slipped to third in the world Money League standings, as their absence from European competition in 2014/15 took its toll, but the club remains the highest-earner in the Premier League.
United's total revenue was down £38m on 2013/14. With no Champions League or even Europa League football to host, there were just 21 matchdays at Old Trafford, down from 28 the previous year. That led to a 21 per cent decrease in broadcasting income to £107.7m and a 17 per cent drop in matchday revenue to £86.7m.
However, the stage is set for Manchester United to go top of the world Money League in 2015/16 and build on their domestic dominance. Despite exiting the Champions League at the group phase this season and falling into the Europa League, the increased number of matches and televised games will boost the matchday and broadcast revenues, while a mega ten-year £750m shirt deal with adidas has begun.  
2: Manchester City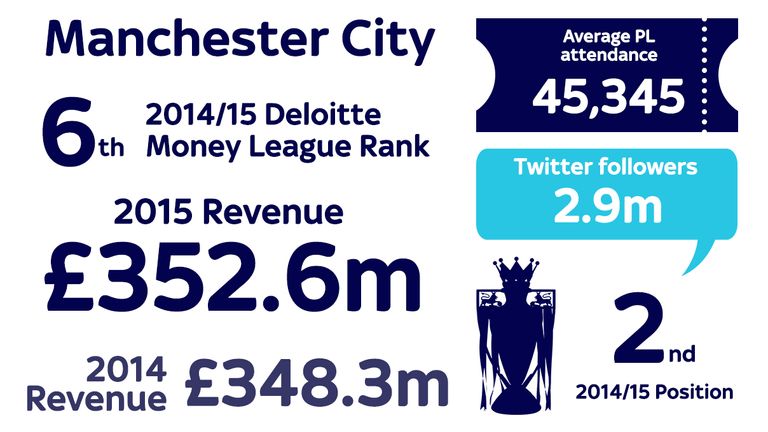 Last season may have been a trophy-less one for Manchester City but, off the field, they became just the second English club ever to pass the £350m revenue mark.  
Like city rivals Manchester United, City's earnings were majorly from commercial sectors, with the £173.8m income from that department (a rise of four per cent) making up 49 per cent of their total revenue. The £6.2m boost in this sector follows the creation of 22 new global and regional partnerships.
However, while broadcast figures rose by £2.2m to £135.4m (up two per cent), City's matchday revenue decreased by nine per cent to £43.4m, down £4.1m. This was due to seat restrictions, while the Etihad Stadium was redeveloped.
With an increased capacity in 2015/16, plus further commercial investments - including from a Chinese consortium - City are primed to enjoy an even better year off the field.
3: Arsenal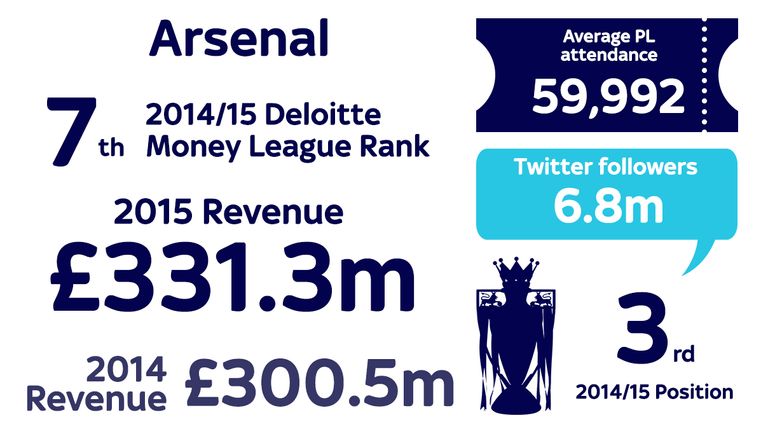 Arsenal have seen a remarkable rise in commercial revenue over the past two seasons (66 per cent) and that culminated in a boost to their revenue of £30.8m (10 per cent) in 2014/15 - moving them above Chelsea in the Money League.
A huge 85 per cent of the FA Cup winners' revenue growth is through extra commercial incomes. Arsenal saw a 34 per cent rise in that sector - equivalent to £26.2m, the second-highest growth of all Money League clubs.
The rise was driven by a new kit sponsorship deal with Puma, as well as shirt and stadium sponsors, plus new regional partnerships around the world.
Meanwhile, despite playing two fewer home games than in 2013/14, Arsenal's matchday revenue rose to £100.4m - the highest among Money League clubs.
4: Chelsea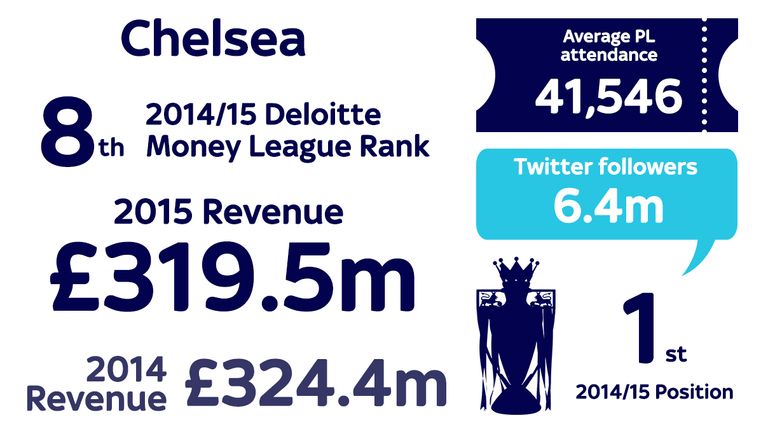 Premier League and Capital One Cup winners in 2014/15, Chelsea actually saw a marginal fall in their total revenue from £324.4m and slipped below Arsenal in the Money League.
Broadcast revenue was a key factor in their £4.9m decrease. Chelsea made the semi-finals of the Champions League in 2013/14 but a Round of 16 exit in 2014/15 reduced their UEFA distributions from £36.3m to £29.8m. However, only Real Madrid, Barcelona and Juventus made more from this sector.
Commercial revenue remained largely unchanged at £113.1m but the second-largest shirt sponsorship deal in English football history with Yokohama Rubber is set to boost their 2015/16 figures in this department. Failure to qualify for the Champions League this term would have a major impact on the club's future revenue, though.
5: Liverpool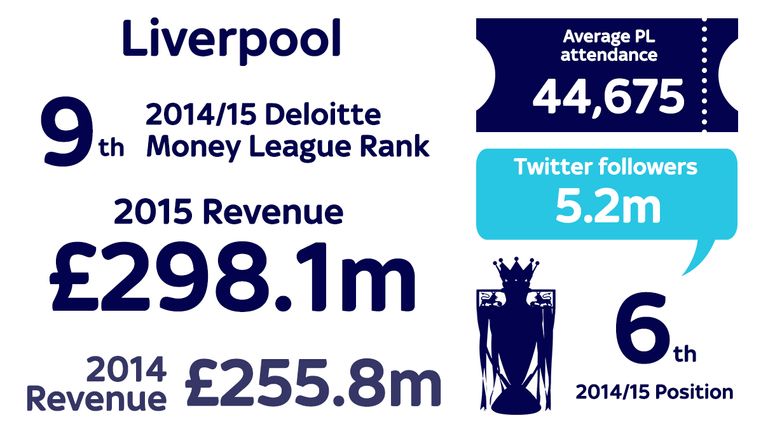 Liverpool's return to the Champions League in 2014/15 contributed to a £42.3m boost in revenue, with matchday revenue increasing by £11.7m (26 per cent), thanks to four European home games and three extra domestic matches due to semi-final runs in both cup competitions.
Broadcast revenue also increased by £21.9m (21 per cent), with Champions League football a major factor, while there was an eight per cent rise in commercial revenue, equivalent to £8.7m.
A renewed shirt sponsorship deal with Standard Chartered plus stadium developments will be bonuses in future Money Leagues - but an absence of Champions League football will prove detrimental.  
Deloitte Money League - top 30 highest-earners
| Rank in world Money League | Team | Total revenue for 2014/15 |
| --- | --- | --- |
| 1 | Real Madrid | £439m |
| 2 | Barcelona | £426.6m |
| 3 | Manchester United | £395.2m |
| 4 | PSG | £365.8m |
| 5 | Bayern Munich | £360.6m |
| 6 | Manchester City | £352.6m |
| 7 | Arsenal | £331.3m |
| 8 | Chelsea | £319.5m |
| 9 | Liverpool | £298.1m |
| 10 | Juventus | £245.7m |
| 11 | Borussia Dortmund | £213.5m |
| 12 | Tottenham | £195.9m |
| 13 | Schalke | £167.1m |
| 14 | AC Milan | £151.5m |
| 15 | Atletico Madrid | £142.3m |
| 16 | Roma | £137.2m |
| 17 | Newcastle United | £128.8m |
| 18 | Everton | £125.6m |
| 19 | Inter Milan | £125.4m |
| 20 | West Ham United | £122.4m |
| 21 | Galatasaray | £121m |
| 22 | Southampton | £113.7m |
| 23 | Aston Villa | £113.2m |
| 24 | Leicester City | £104.4m |
| 25 | Sunderland | £101.1m |
| 26 | Swansea City | £101m |
| 27 | Stoke City | £99.6m |
| 28 | Crystal Palace | £99.5m |
| 29 | West Brom | £96.3m |
| 30 | Napoli | £95.5m |