John Terry to leave Stamford Bridge a Chelsea and Premier League legend
By Andy Burton, Sky Sports News HQ
Last Updated: 01/02/16 7:02am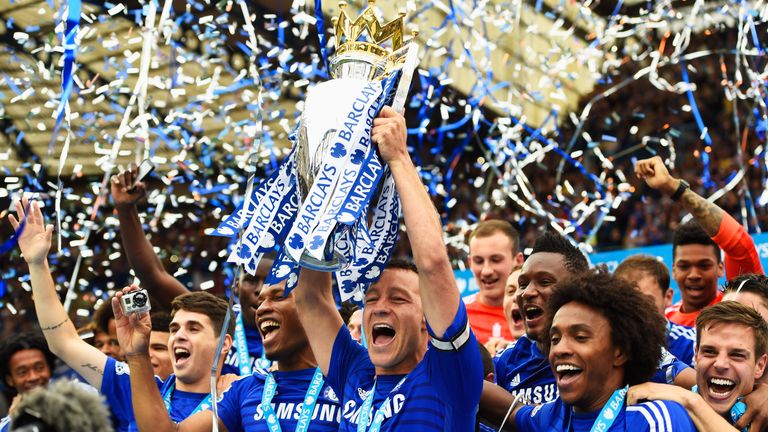 When Jose Mourinho left Chelsea in December, it increased the likelihood that this would be John Terry's final season at the club.
The pair played a key role in each other's successes, and when the time came for the club to either hand Terry a new contract or let him go, the Portuguese repeatedly stated his captain should remain, both publicly and to the Chelsea board. When Mourinho left the club's Cobham HQ for the final time, Terry's biggest supporter was gone.
When Mourinho returned to Chelsea in the summer of 2013, he was so impressed with Terry's fitness levels and performances that he restored him to being a first-team regular, and he became one of the first names on the teamsheet.
Terry had played in just seven Premier League matches under Rafa Benitez between January and May - two of those appearances saw him introduced as a substitute. With Mourinho back in charge, Terry didn't miss a minute of Premier League football until February 8, when a minor injury kept him on the sidelines. It was a remarkable turnaround.
That's not to say Mourinho's final months in charge were not difficult for Terry. Replaced at half-time at Manchester City in August last year, Terry fumed on the bench with the cameras focused on his reaction, but ever the professional, he said the right things publicly, got his head down, and got on with it.
As the weeks wore on, and Chelsea stumbled through the opening matches of their title defence, no player was out of the firing line. As it stands, Terry has played less Premier League minutes than Kurt Zouma, but more than Gary Cahill. That notion would have been unthinkable 12 months ago. When Jose left, anything was possible as the club looked to the future.
The reality of the situation hit home last week. Terry was told by Marina Granovskaia that there was no contract offer on the table at the present time. Once the news had sunk in, he told some of the team-mates with whom he is closest, and tears soon followed. You don't need to have met Terry to know how much the football club means to him. The 'captain, leader, legend' banner will remain at Stamford Bridge, but the player cannot stay forever.
In recent weeks, it felt as though things had to come to a head. Key players from the Abramovich era were heading out of the club. Petr Cech left in the summer. Didier Drogba, Frank Lampard and Ashley Cole were already long gone. Branislav Ivanovic, who had been criticised for his performances this season was given a new deal. Around the time of that announcement, I tried to ascertain what would happen with John. There were no answers. Sometimes silence speaks louder than words. 
The situation is made harder by Chelsea's lack of a permanent manager. Maybe, and only Abramovich really knows, this was seen as the best time to make a clean break and embrace the future without John Terry. A new manager may want new defenders. He may want a new captain. Maybe it is easier for the board to make this decision, rather than leave it to an incoming manager who would then face the scrutiny, and questions, that will inevitably follow. 
Terry's announcement that this season would be his last at Stamford Bridge sends out a message to the rest of the football world that one of the world's best defenders is available for hire. Don't expect him to join another Premier League club, but apart from that, all options will be considered.
Yes, the most lucrative financial packages on offer will probably be from China, the Middle East, and possibly the MLS, but I'm told we should not rule out the possibility of Terry landing somewhere in Europe. He remains convinced he can compete at the highest level - in footballing terms, that means a European club rather than one final payday in Asia or North America. I'm also told he could still remain at Chelsea if they don't leave it too late to make an offer he finds acceptable.
As for his legacy, it's hard to argue with Jamie Redknapp's assessment of the Chelsea captain. "John is the best defender of the Premier League era," Redknapp asserted on Sky Sports News HQ.  In winning four Premier Leagues, eight domestic cups and both the Champions League and Europa League, his medal haul stands up there with the best of them.  
Terry first captained Chelsea two days before his 21st birthday, in a league game against Charlton Athletic. He learned much from his centre-half partner Marcel Desailly in the early days, and eventually replaced him, going on to become the most successful captain in Chelsea's history, and captain his country too.
Yet the PFA Player of the Year Award Terry collected at the end of the 2004/05 season is the best indication of his status in the Premier League era. No defender has won it since, and you have to search back over 20 years to find another defender who was voted as the best player in the league by his peers. A captain and leader at Chelsea, yes, but his legend status at Stamford Bridge can surely be extended to the Premier League as a whole.