Father calls for research into links between 3G pitches and son's cancer
By Allan Valente
Last Updated: 16/02/16 2:31pm
A father whose son was diagnosed with Hodgkin's Lymphoma has called for further research into a possible link between cancer and rubber material found on artificial pitches.
Nigel Maguire's son, Lewis, 18, was a triallist at Leeds United when the promising goalkeeper fell ill two years ago.
Mr Maguire, a former Cumbria NHS chief executive, wants to see more research carried out on the pitches, similar to that being done in the United States, despite FIFA and the Manufacturers' Association's assertion the synthetic surfaces are safe.
A previous study in the US claimed there is a link between the use of the rubber on the artificial pitches, which is made from recycled tyres, and cancer. 
"The only research that they have conducted, and they have done some, and that is to their credit, is they have looked at whether vapours or gasses are released when this crumb rubber is spread on the pitches," Mr Maguire told Sky Sports News HQ.
"Under normal atmospheric conditions the research is clear - there is no adverse gasses coming from this crumb rubber. However, they have not done, as far as I'm aware, any research as to what the impact is of actually ingesting this stuff, actually swallowing it, getting it into your eyes, getting it into your mucus, getting it into your cuts and grazes.
"The idea of asking children to effectively take half a teaspoon of this stuff every week, swallow it and then think that was a good idea - no, I don't think that is a good idea.
"I will only rest assured when I know more detailed research has actually been done on this and that people can very clearly say 'there is no direct link'. Then I'll rest easy, but in the meantime I am not going to let this one go and I am going to work with my colleagues in America."
The Football Association wants to double the number of full-sized 3G pitches in English grassroots football by 2020 but, while they believe there is no scientific evidence linking the crumb rubber to cancer, the FA says it will monitor the situation.
Lewis saw former US Women's soccer international Amy Griffin talk on Sky Sports News HQ about a survey she had carried out surrounding the artificial pitches and their potential risks.
"I was diagnosed, then I got better and thought everything was done and I played on the 3G surfaces again and was told I was ill again and I didn't think anything of it," Lewis said. "But I was watching Sky Sports News and she mentioned that two people she knew that played on it got lymphoma, which is what I had, so that was when I got a bit concerned.
"And then she mentioned she did a survey on 160 footballers that got it and 60 per cent of them were goalkeepers and to say there is only one goalkeeper in a team of 11, that is pretty bad. Playing on it might not be bad but swallowing it and getting into your cuts can't be great as you don't know what it is."
Asked if he had swallowed the rubber pellets, Lewis said: "Quite a lot because you are on the floor and it's going up in the air every time you dive and a lot of the time you realise it is in your mouth so a lot of the time I'd have been swallowing it as well.
"I just carried on with my game because you don't think that if it is on thousands of pitches across the world it is going to have any sort of effect on you."
His father says three US government agencies - the Environmental Protection Agency, the Centers for Disease Control and Prevention and the Consumer Product Safety Commission - will undertake an independent review into the health impact of people playing on the rubber.
"They are spending $2m (£1.4m) on undertaking a piece of research because of their concerns, because questions need to be answered," he said. "I am calling upon the government and sports governing bodies to answer those questions directly and not to hide behind the industry response which is they have conducted the research. They have conducted some but, in my view, not nearly enough."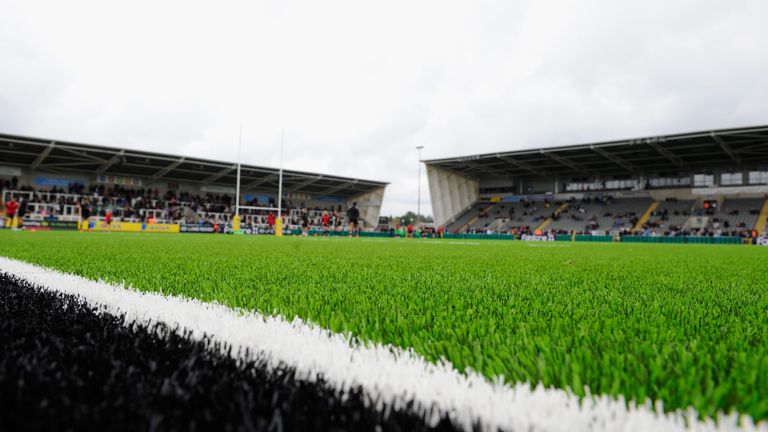 English football's governing body examined many studies on artificial surfaces from the University of California and the Environmental and Occupational Health Sciences Institute, among others.
An FA spokesperson said: "The numerous scientific studies conducted by government agencies around the world, and undertaken by independent experts have all validated the human health and environmental safety of 3G pitches and crumb rubber.
"The FA adheres to the latest independent evidence which indicates that 3G pitches in the UK which are built to industry-standard specifications are safe."
A FIFA spokesperson said: "FIFA's Medical Assessment and Research Center (F-MARC) in cooperation with UEFA conducted an analysis of this matter in 2006.
"At that time, the conclusion was clear: the available body of scientific research on this issue did not substantiate the assumption that cancer resulting from exposure to SBR granulate infills in artificial turf could potentially occur. 
"Since then, several independent research have been conducted - the latest being from 2015 - reaching similar conclusions. FIFA will continue monitoring and analysing any new evidence produced on this matter."