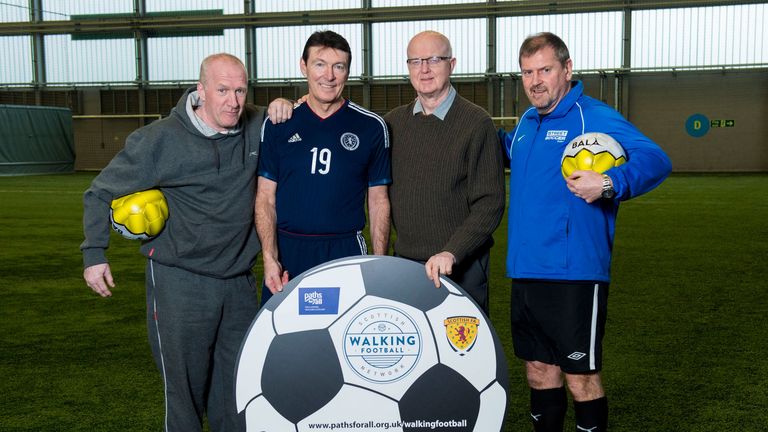 Scotland's first national Walking Football Network has been launched at the Toryglen Regional Football Centre in Glasgow.
The project, which has been co-ordinated by Paths for All as part of the Scottish Government's Active Scotland strategy to encourage more people to undertake physical activity, has been endorsed by Jamie Hepburn MSP, Minister for Sport, Health Improvement and Mental Health.
The event, which featured well known faces such as Chick Young (BBC Scotland), Jamie Hepburn (MSP), Humza Yousaf (MSP) and Ken Macintosh MSP, was kicked off by Archie MacPherson, the 'voice' of Scottish football and former Scottish FA chief executive Gordon Smith.
The Scottish Walking Football Network brings together five national organisations to support and enable the development of the game across Scotland whilst measuring its impact: Paths for All, Age Scotland, Scottish Association for Mental Health, Scottish Football Association and the Scottish Professional Football League Trust.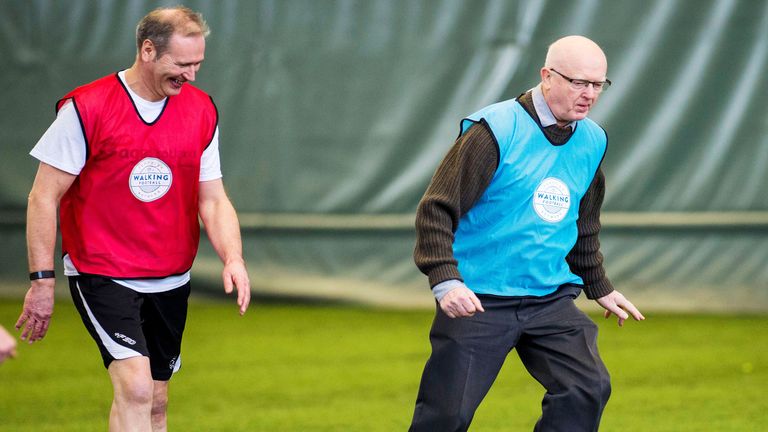 Mr Hepburn said: "I'm delighted to attend the launch of the Scottish Walking Football Network. Walking football is a great way to keep fit, learn new skills, have fun and socialise all at the same time.
"Walking in itself can reduce the risk of a range of health conditions and promote better sleep and concentration. The additional social benefits that come from participating in a football match make walking football a terrific and inclusive game and one I am proud to support."
Ian Findlay chief officer, Paths for All said "It's great to see people reignite their passion for football by making it accessible to them once again  just by slowing things down.
"With a love of football in the blood of so many Scottish people, we're delighted to work in partnership to help as many people as possible continue to enjoy the beautiful game despite age, illness or injury and to reap the benefits.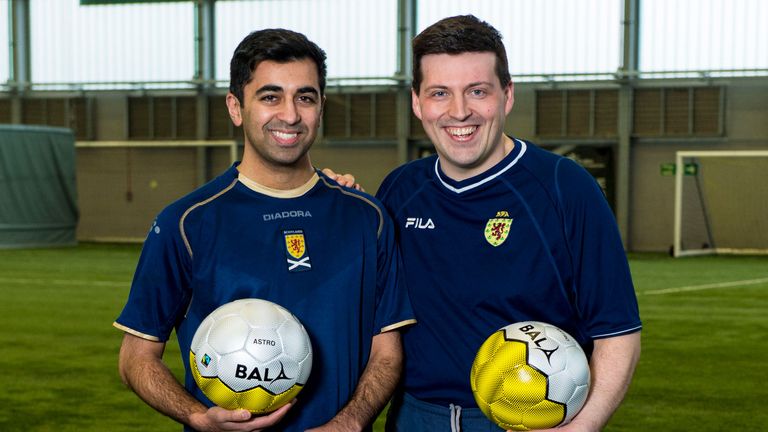 "We've long been advocates of walking as the way to a happier, healthier nation and walking football is the perfect way to encourage people to get off the sofa and into a more active lifestyle again.
"There is a genuine buzz for the sport's future and we're delighted to be leading in the development of Scottish Walking Football Network. We have valued support from the Scottish Government and would like to thank the fantastic partners involved in the project, SAMH, Age Scotland, SPFL Trust and the Scottish FA."
Craig Brown, former Scotland manager added: "It's great to see this version of the game expanding all over Scotland. It is amazing to think there are over 55 sessions taking place on a weekly basis, involving hundreds of players.
"Not only does walking football increase physical activity but it also enhances mental well-being and I have heard it's also a great social outlet to make new friends and get involved in other activity. And for those who haven't played for a number of years, what are you waiting for? Get those boots on and start scoring a few goals!"