Arsenal suffer sixth round-of-16 exit in a row after Barcelona loss
By Peter Smith and Gerard Brand
Last Updated: 16/03/16 11:48pm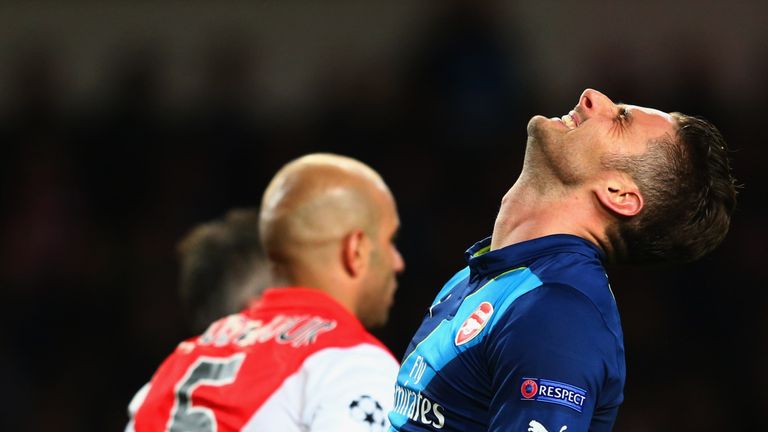 As Arsenal are knocked out of the Champions League at the last 16 stage again, we look at their previous exits...
Goals from Neymar, Luis Suarez and Lionel Messi gave Barcelona a 3-1 win on the night (5-1 on aggregate) at the Nou Camp, condemning the Gunners to a sixth straight last 16 exit.
Here, we look back at Arsenal's recent Champions League departures...
2011 - Barcelona (4-3 on aggregate)
Robin van Persie and Andrey Arshavin struck twice in the final 12 minutes of the first leg at the Emirates to snatch a remarkable victory for Arsenal, after David Villa had given Barcelona a first-half lead. The eventual champions hit back in the second leg, though - with the help of a harsh red card for Van Persie.
Messi had levelled the tie in first-half injury time but the advantage was with Arsenal when Sergio Busquets headed the ball into his own net - the Gunners' only shot on target in the whole game.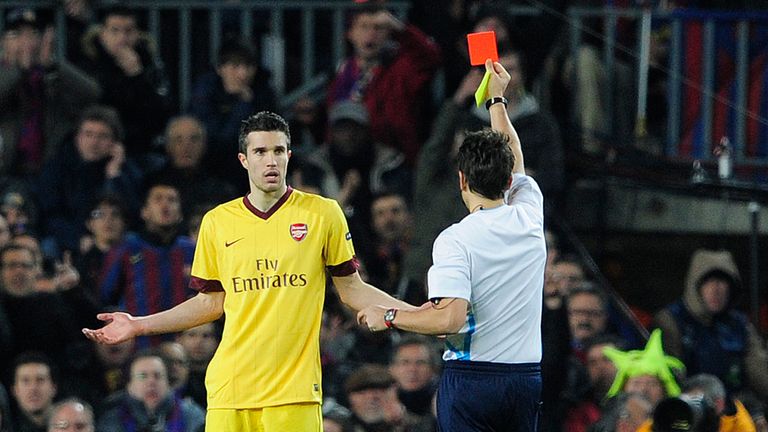 However, just three minutes later - and with 34 minutes still to play - Van Persie was shown a second yellow for shooting at goal after the referee had blown for offside. Barcelona made the extra man count, with a strike from Xavi and a Messi penalty sending the Spanish side through.
Wenger said: "[The red card] killed a promising, fantastic match. If it's a bad tackle, OK, but frankly it is embarrassing. I'm convinced we would have won this game. Two kinds of people will be unhappy - those who love Arsenal, and those who love the game."
2012 - AC Milan (4-3 on aggregate)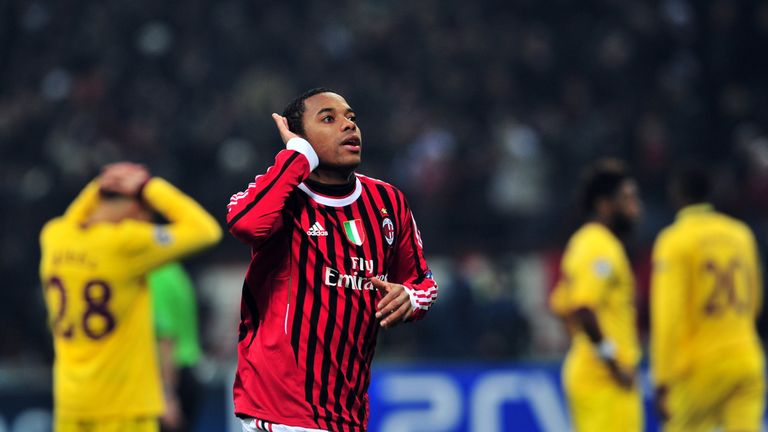 A 4-0 hammering at AC Milan - described by Wenger as Arsenal's "worst night in Europe" - meant the Gunners' hopes of making the quarter-finals were over after the first leg in Italy. Or so we thought.
While Robinho (twice), Zlatan Ibrahimovic and Kevin-Prince Boateng had done the damage at the San Siro, Arsenal incredibly raced into a 3-0 first-half lead in the return fixture. After goals from Laurent Koscielny, Tomas Rosicky and Van Persie, an incredible comeback seemed on.
However, try as they might - and Van Persie passed up a golden chance late on - Arsenal were unable to find a fourth to equalise and take the tie to extra-time.
Wenger said: "The players put in a faultless performance, with fantastic spirit, and you can only congratulate the whole team. You know that if you play 180 minutes and you miss 90, it is difficult at that level. We were very close."
2013 - Bayern Munich (3-3 on aggregate, Arsenal out on away goals)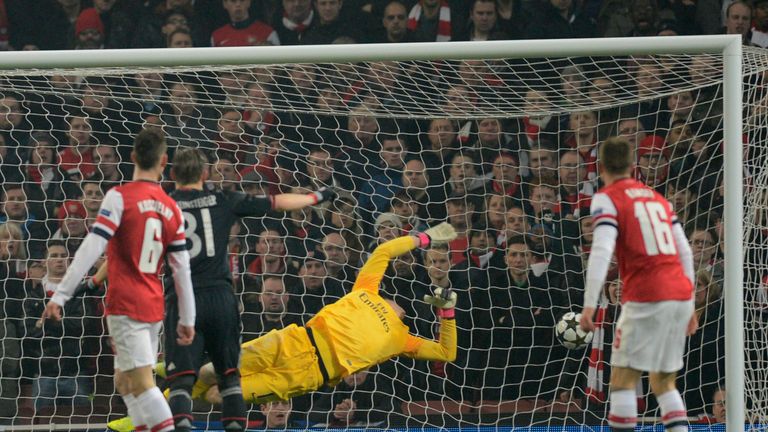 After a shock FA Cup exit to Championship side Blackburn Rovers, Arsenal's week got a whole lot worse with a 3-1 home defeat to Bayern Munich in February 2013.
Toni Kroos and Thomas Muller put the visitors two goals to the good inside 21 minutes and, after Lukas Podolski had pulled one back for the Gunners, Mario Mandzukic added a vital third.
Olivier Giroud sparked hope of a big turnaround with a third-minute strike in Germany but, despite a spirited - and much-improved - performance, it wasn't until the 86th minute Koscielny added a second. It was too little, too late and Bayern went on to win the competition.
Wenger said: "The regret we have tonight is from the first game. We conceded a very bad goal in the last 15 minutes. If we had lost 2-1 at home, you can see how important that goal is tonight."
2014 - Bayern Munich (3-1 on aggregate)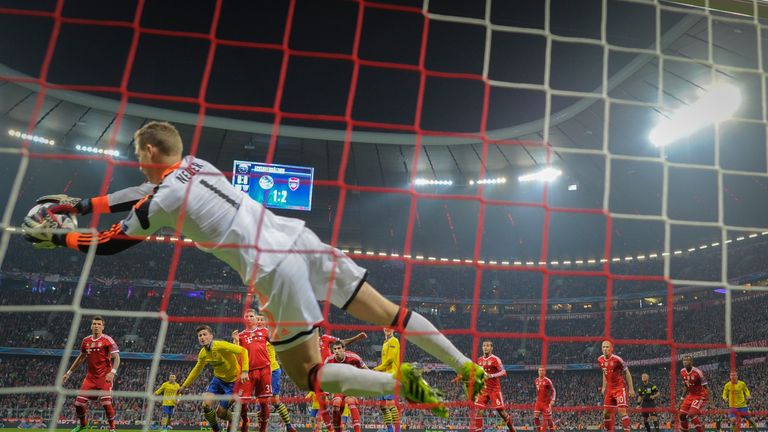 For the second season in a row Bayern Munich got the better of Arsenal at the Emirates - and for the second season in a row the German club secured an all-important two-goal advantage in the first leg.
Mesut Ozil missed a penalty and Wojciech Szczesny was sent off in a disastrous first-half for Arsenal - their only positive from the opening 45 was that David Alaba hit the post with his spot-kick. Pep Guardiola's side took full advantage in the second period, though, with Kroos and Muller once again doing the damage in north London.
Just like in 2013, there was no way back for Arsenal in Munich, but this time the hosts were far more impressive in securing their passage to the quarter-finals, going ahead through Bastian Schweinsteiger and then missing a late penalty after Podolski had pulled one back for the Gunners.
Wenger said of Arjen Robben, who was fouled in the penalty area in both legs: "Robben is very good at getting the maximum of nothing. He is a great player and a very good diver."
After the first leg he had said: "Overall I thought Bayern made a lot of every single contact. We are not used to that in England."
2015 - Monaco (3-3 on aggregate, Arsenal out on away goals)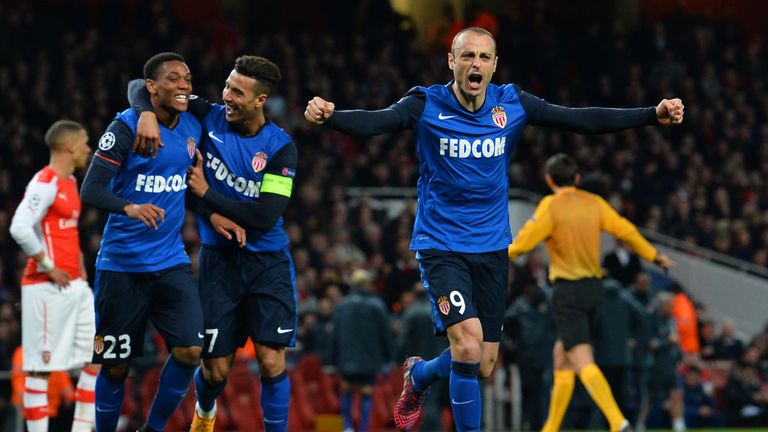 Arsenal suffered a shock 3-1 home defeat to Monaco in the first leg of last season's round of 16 tie. The Gunners appeared to have been handed a favourable draw but were behind to a first-half goal from Geoffrey Kondogbia before Dimitar Berbatov doubled the advantage after the interval.
The hosts looked to have grabbed a lifeline with Alex Oxlade-Chamberlain's injury-time effort - but contrived to concede a third through Yannick Ferreira Carrasco with the final kick of the game.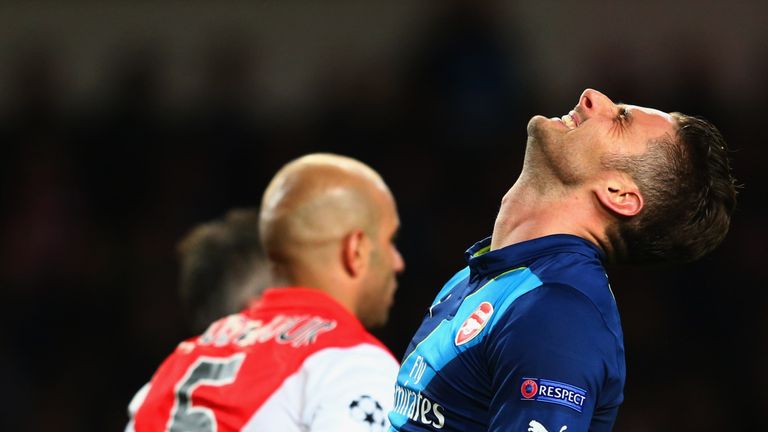 In the history of the Champions League, no team had ever scored three away goals to turn a tie in the fashion required of Arsenal - but they came mightily close to doing just that.
A first-half Giroud goal and a second from Ramsey with 11 minutes to play rocked the hosts, who hadn't conceded in the Champions League at the Stade Louis II all season. However, the Gunners couldn't find a third and crashed out in heart-breaking style.
When asked whether Monaco deserved to go through, Wenger said: "I don't believe so. If you look at the number of shots on target they had you will be surprised [Monaco had none]. Every defeat hurts but we didn't lose."
2016 - Barcelona (5-1 on aggregate)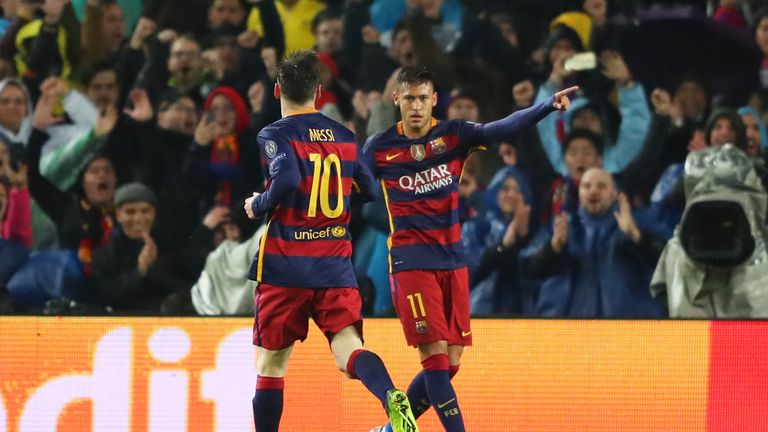 Arsenal looked solid for 70 minutes in their first leg at the Emirates in February, but as they edged further forward in an attempt to gain an unprecedented first-leg lead, they were hit on the break by Barca twice.
Messi showed his magic again with two, and in the second leg, it looked to be a long night with Neymar's early goal.
Arsenal made a show of it, however, and had chance after chance either side of half-time, and were rewarded with Mohamed Elneny's goal to bring them to within two goals of progression.
But once again, Barcelona's quality shone through, with Luis Suarez, a former transfer target, putting the game beyond reach with a world class acrobatic finish for 2-1. Messi rounded it off for 3-1 (5-1 on aggregate), and it was all too familiar for Arsenal fans...