Adam Johnson sentenced to six years in prison for child sex offences
By Lyall Thomas
Last Updated: 25/03/16 8:15am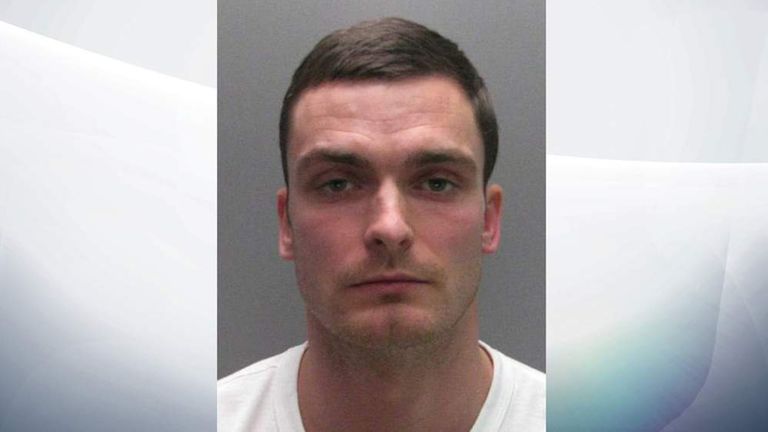 Adam Johnson has been sentenced to six years in prison for child sex offences.
The 29-year-old former England and Sunderland player was sentenced by Judge Jonathan Rose at Bradford Crown Court on Thursday.
Johnson was found guilty on March 2 of one count of sexual activity with a child and cleared of one further count, but has indicated he will appeal the guilty verdict.
He had previously pleaded guilty to two other charges of kissing and grooming the girl, who was 15 at the time of the offences.
The court was told Johnson had been stripped of his 12 England caps, but Sky Sports News HQ understands that the Football Association has not discussed the issue.
Johnson has been ordered to pay £50,000 in prosecution costs alone and has signed the sex offenders register, on which he will remain for the rest of his life. The judge imposed a restraining order preventing Johnson contacting the victim or her family.
The prosecutor told the court that Johnson's actions involved "a considerable amount of planning" and that the only mitigating factor should be his lack of any previous convictions.
Defence QC Orlando Pownall asked the judge to give a "proportionate" sentence and not "get carried away". He also asked that the fact Johnson had been stripped of a lucrative career that he will never resurrect be taken into account.
Johnson arrived at court around 9.45am on Thursday and the hearing began at 10.30am before statements from the  the victim and her mother were read out in court.
The victim, who was said in court to have attempted to take her own life during the trial, said "it has had and continues to have a massive impact on my life" and admitted she was still being subjected to bullying. The mother added their family "take no satisfaction in how this has affected Adam Johnson, his family, and football fans".
The court also heard from a therapist who assessed Johnson, and he said the player has not been able to talk about what he had done because of his shame. The therapist said he posed a "low to medium risk" of re-offending.
Johnson is also willing to enter a treatment program to make sure he does not offend again, the court heard.
The NSPCC have written to the FA to make sure clubs are fully aware of child protection issues.

"Adam Johnson's behaviour throughout this sordid affair was horrifying, inexcusable and made worse by his not guilty pleas which forced his victim to suffer the harrowing experience of giving evidence in court.
"But this was not only about one rogue player. It was also about a club that seemingly did not have child protection priorities embedded in its culture.
"It was worrying that child safeguarding took second place to getting results on the pitch. That can never be allowed to happen again at any club."