Claudio Ranieri is keen that Leicester put Jamie Vardy's suspension behind them and focus on Sunday's clash with Swansea.
Ranieri's week, and a good part of his Friday news conference, was dominated by the fall-out from Vardy's red card last weekend, with the Leicester striker dismissed in the 2-2 draw with West Ham.
The England striker's second yellow card was for a dive in the box, but he could be facing an extra suspension for failing to leave the pitch after being sent off by referee Jon Moss. He pleaded guilty to an improper conduct charge on Thursday.


Leicester will definitely be without Vardy on Sunday, and Ranieri was keeping his selection cards close to his chest while keen to deflect as many questions as possible away from last weekend.
He said: "It was normal to accept it. We know he has one match off and our preparation is without him. He trained very well. He was not happy, of course, but he still enjoyed the training sessions.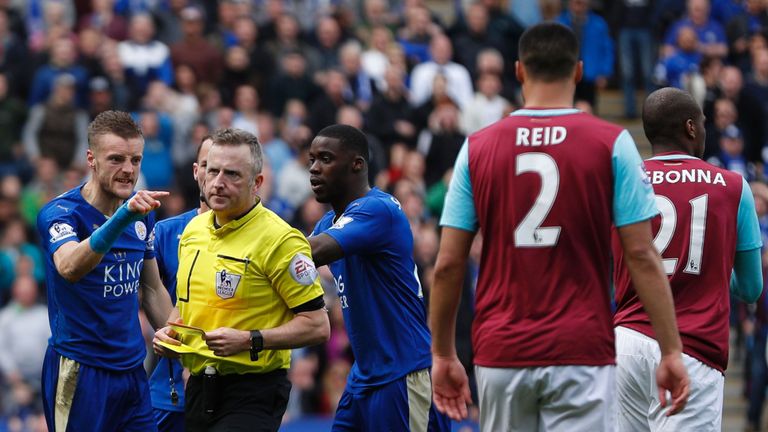 "We knew there was a suspension and we were very focused - no problem. Not at all. We keep going and think about the next game against Swansea. I don't want to put my energy into this case. My focus is only on Swansea, and it is a difficult match."
England boss Roy Hodgson defended Vardy in midweek but Ranieri continued to move the discussion towards a game that could see Leicester move within five points of the Premier League title.
Ranieri's side need eight points from their final four games to complete what has been a fairytale season in style, with that haul enough whatever main challengers Tottenham manage.
"It's not only sympathy, it was the truth. He was going very fast, and when you touch something you can lose balance. Then maybe it is not a penalty, but sure it is not a yellow card," added the Italian.
"But football is football - I don't like to speak about what happened. I forget and I think about the next day. Roy is an honest man and he has said what he watched. When a man without a team says an opinion it is normal.
"We have told them to keep calm, continue to play the same way, and we are very focused on our job, not red and yellow cards. That is football."