Paul Merson's predictions: Chelsea v Tottenham
Last Updated: 01/05/16 8:06pm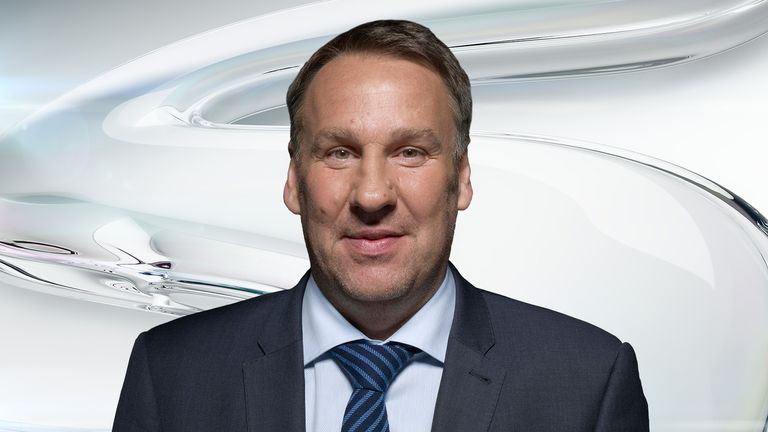 Will Spurs beat Chelsea on Monday night to keep the title race alive? Paul Merson gives his prediction...
Read on to see who Merse is tipping to come out on top...
Merson's last predictions
| Result | Merse's prediction |
| --- | --- |
| Man City 4-0 Stoke | 2-0 |
| Aston Villa 2-4 Southampton | 0-2 |
| Bournemouth 1-4 Chelsea | 2-2 |
| Liverpool 2-2 Newcastle | 2-1 |
| Sunderland 0-0 Arsenal | 1-1 |
| Leicester 4-0 Swansea | 1-1 |
| Tottenham 1-1 West Brom | 3-0 |
| Everton 1-2 Man Utd (FA Cup) | 1-2 |
| Crystal Palace 2-1 Watford (FA Cup) | 1-0 |
Chelsea v Tottenham (Monday Night Football, 8pm, live on Sky Sports 1 HD)
I'm going to go for a Chelsea win and for there to be goals. I watched Chelsea at Bournemouth last week and they will let in goals for absolute fun, and Tottenham have to have a go and Chelsea are good going forward.
Tottenham aren't going to go there and lie down, don't worry about that. Even if Leicester have won they still aren't going to go to Stamford Bridge and get embarrassed. It will be an entertaining football match.
PAUL PREDICTS: 3-2 (28/1 with Sky Bet)
I know there's nothing to play for but this is a big game for Roberto Martinez. I don't think he can afford to lose this at home. You like to think the players are going to produce for him, and if they don't I think that will be it. He's got to win this game, and show a little bit.
The thing with Bournemouth is that they've got where they needed to get so they are going to take their foot off the gas, because they've had to work hard every single week for a result. What they've achieved is phenomenal, so I can understand what's happened with them, but this is still a dangerous game for Everton.
PAUL PREDICTS: 2-1 (15/2 with Sky Bet)
I've got to go for Newcastle, they've got too much to play for. Palace have just had a hard game at Wembley and are in the final of the FA Cup, whereas Newcastle are fighting for their lives. 
If Newcastle can just start well I think they'll win the game. I'm going to for a massive three points for Newcastle.
PAUL PREDICTS: 2-1 (15/2 with Sky Bet)
About four weeks ago this was a hard game for Sunderland. Now I look at it and think Sam Allardyce's side have a real chance. Stoke have let in four goals three games on the trot, and have to be careful they're not complacent. 
But they do have some players who can hurt you, whoever they're playing. This is the hardest game to call because Sunderland are playing for their lives, but surely Stoke are going to get better. I think it will be a bad result for Sunderland.
PAUL PREDICTS: 1-1 (5/1 with Sky Bet)
Watford are gone. They put all their eggs in one basket and lost in the FA Cup semi-final. People will think I'm going mad because Villa are absolutely shocking, but I don't think there are a million miles between these two teams, just one has two good strikers and the other team doesn't.
But how many games have Watford won in the last 10? The semi-final result was a kick in the teeth for them, but I think Villa still have to score first. If Watford score first they'll run away with it.
PAUL PREDICTS: 1-1 (11/2 with Sky Bet)
West Brom are a hard team to beat, you hear all these West Brom fans say: "Oh, it's boring Tony Pulis football", but look where they are in the league. How many teams go to Tottenham and get a result?
They are also in the middle of the table. If Pulis was the manager of any of the three teams in the relegation scrap they'd be where West Brom are, which tells you everything. West Brom fans need to be careful what they wish for.
Having said that, I think West Ham will win this game because they have to, and it'll be quite an entertaining game.
PAUL PREDICTS: 1-2 (15/2 with Sky Bet)
Liverpool don't need this game. Swansea were atrocious against Leicester last week and really Liverpool should win 5-0. Jurgen Klopp has a big game against Villarreal to prepare for and it's bigger than this.
Swansea will have a go and Liverpool, whoever they put out, will have a go as well. They're not going to go there and bore everyone to death, they'll go out and enjoy themselves. 
Swansea have got Gylfi Sigurdsson, who can put the ball on a sixpence, and Liverpool aren't exactly going to be working on their set-pieces so I'll also go Ashley Williams first goalscorer as well.
PAUL PREDICTS: 2-2 (12/1 with Sky Bet)
Norwich will know what they have to do, if Newcastle and Sunderland have got results then they need to get something out of this game.
At the same time, Arsenal are fighting now. They've gone from trying to win the league to fighting for the top four. I expect Arsenal to win this game, I'm one of those people who think they'll keep winning and most of the time they let you down. 
But they need to win, because if Manchester United and West Ham win they could soon be out of the top four. 
PAUL PREDICTS: 3-0 (13/2 with Sky Bet)
If you're a Manchester United fan you don't want Leicester winning the Premier League on Sunday, that would be the last thing you need. If you're the manager of Manchester United and that happens you're in severe trouble.
Louis van Gaal is under pressure as it is. I know they're in the FA Cup final, but if this team get beat at home and Leicester win the league in front of 75,000 of their fans? They aren't going to be happy with that. No disrespect but if little Leicester go to big Manchester United and win the league - it's embarrassing I'm afraid. 
The story of winning it is unreal, but to put the icing on the cake and go and win it at one of the biggest football clubs in the world? Honestly, I've already thrown the book I'm reading into the sea because of Leicester.
But I don't think it will happen, though, and Manchester United will win this game. I was very impressed with them in the first half of the FA Cup semi-final, and with Wayne Rooney playing a bit deeper they're a better team.
PAUL PREDICTS: 2-1 (8/1 with Sky Bet)
It's a dodgy game for Manchester City this. They are fighting to get into the Champions League and have a big game next week against Real Madrid. Southampton are a good team and this game could open the top-four race right back up. 
I like Southampton, Manchester City will have to rest players and take a chance, and they're not playing Stoke. Southampton have to score first but if they do they could go on and win the game.
PAUL PREDICTS: 1-1 (5/1 with Sky Bet)