Will Arsene Wenger stay at Arsenal? The Soccer Saturday pundits give their take...
Last Updated: 21/03/17 6:13am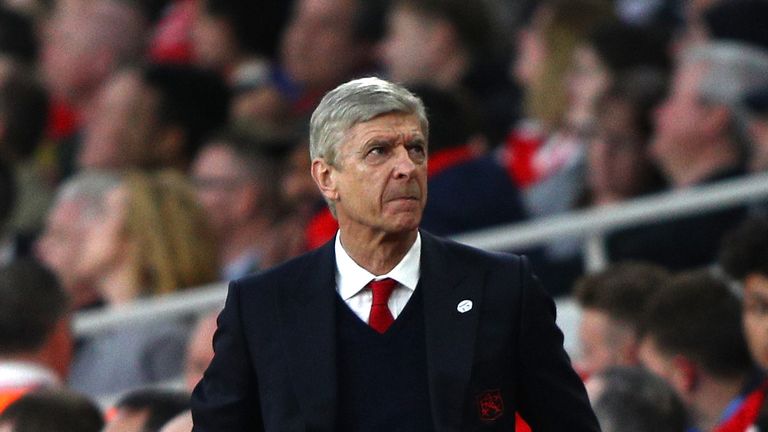 The Soccer Saturday pundits have provided us with their verdicts as to whether Arsene Wenger should and will stay at Arsenal.
The Frenchman's future came under even greater scrutiny following Saturday's 3-1 loss to West Brom, which leaves them six points adrift of the Champions League qualification places, albeit with two games in hand of fourth-placed Liverpool.
With Wenger claiming he has made a decision on whether he will stay beyond the summer, we asked Charlie Nicholas, Paul Merson, Matt Le Tissier and Phil Thompson for their views on his future...
Charlie Nicholas: Time to announce his time is up
The prospect at the moment is I don't see him saving Arsenal's season and the reason he has to go in my opinion is that the players aren't even playing for themselves anymore, everyone saw that at the weekend.
If he can't get them motivated again and muster a response then he can't stay. The players haven't stopped playing for him, they've stopped playing for themselves.
That's the sorry part of it, because I genuinely think the players care about him, but they're not responding to the situation and they get out of jail because he takes the hit.
I've always stood up for him but the thing that changed my mind last season was looking at how the players were responding to the tough situations and unfortunately that means he has to go.
I said he should have announced it last week but managers are stubborn, that's part of the fabric of people with greatness.
I think the crowd will support the team again if they know he is leaving and I also think he he knows that. I know it's still 50/50 in terms of who wants him in and who wants him out but the half-way house is the worst place to be.
The young fans are the future for Arsenal and you have to listen to them. They're not enjoying supporting the club anymore and you can't blame them for that, which is why he must announce it this week.
I hate to think how he's going to be next Sunday night if Arsenal lose again to Manchester City so please, please, so fans can show you gratitude and humility, do what is right, for yourself and the club.
Paul Merson: Should go but probably won't
I think he'll want to stay, that's my personal opinion. I think he probably will be saying because he would have said he will be leaving otherwise. I think he's waiting for a big win to turn around and announce he's staying.
Otherwise, the other possibility is that his agent is sorting out something with another club and he is biding his time so he's not left without a job.
I think he should go. I think Arsenal are a long way off turning this around and being a force next season, I just don't see it at all.
They've fallen so far behind and I think the board might want to keep him because they've got so much to sort out and he takes all the blame for them.
If they finished outside the top four it would be a nightmare but it might give him the best chance of winning the Premier League, just look at Chelsea and how well they've done without Champions League football.
They've got a big game next week against Manchester City and suddenly if you they win that a lot changes, but I think it will be a struggle to make the top four.
Matt Le Tissier: Desperate Arsenal need clarity
It think he's probably done his time. I'm very hesitant to say that given what he's done there and I don't like to suggest managers shouldn't stay, but I think he's in danger of ruining his legacy.
I think everyone needs to know where they stand now. It's quite desperate for them in terms of a top-four finish now and I'd be surprised to see them make it.
I think he's been wonderful for them but it's got a little bit stale and the time has come for him to admit it's no longer working.
Phil Thompson: Go for the good of yourself and the club
I've been saying for the last two summers that he should have gone. I've hoped he'd say 'enough is enough' and walked because I want to remember him for all the great things he's done, not just for Arsenal but the Premier League.
People are feeling disgruntled and Arsenal fans are losing respect because he's holding on and I think he needs to leave because he's got options.
I think if he announces it sooner rather than latter it will relieve the pressure off himself from the media and fans. That would bring less pressure on the players and they might have a good end to the season.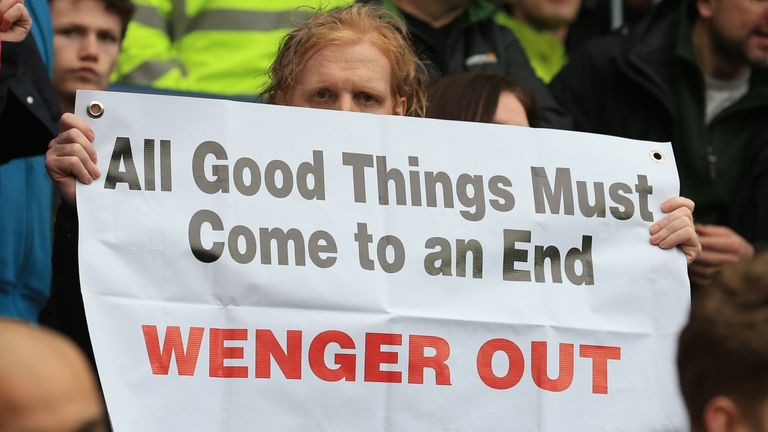 Yes there will be talk about his replacement but I think if he loves the club and cares about it's future then I think he should make and announce the decision to leave now.
The down side is if he does sign a new contract then people like myself who respect him will be forced to say he's brought it on himself and he'll lose that respect in the game from those who have always held him in high regard.
Sky customers can now upgrade to Sky Sports and get 12 months for just £18 per month. Upgrade now!