Cristiano Ronaldo's future throws up more questions than answers
By Bryan Swanson, Chief News Reporter in Moscow
Last Updated: 22/06/17 11:39pm
Cristiano Ronaldo is the biggest name in the Confederations Cup but, off the ball, he's proving elusive over his Real Madrid future.
Will he definitely leave the Bernabeu this summer? Could he return to Manchester United or force through a move to Paris Saint-Germain? Has he ever fancied playing in China?
We're still none the wiser.
From Ronaldo's perspective, one of the biggest advantages of competing in a FIFA tournament is that it's extremely difficult for reporters to physically get close to him to ask.
Armed police guard every door, accreditation only grants access to certain parts of the stadiums and training pitches, there's a ring of steel around hotels and it's a waste of time going anywhere near some airports for security reasons.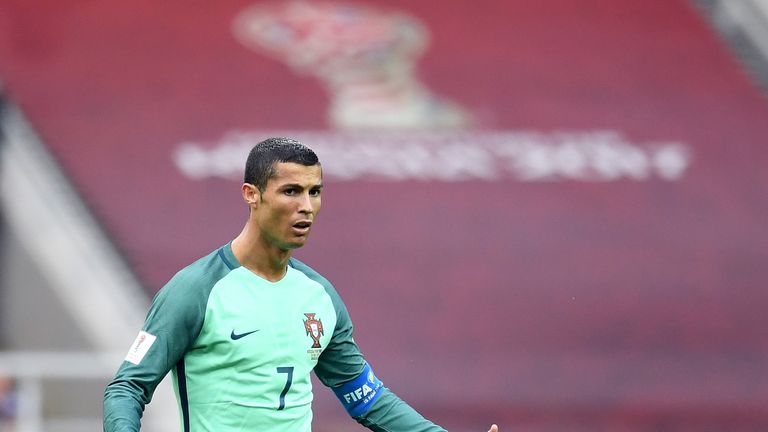 Russian officials are friendlier than their international image, but they remain fiercely loyal to a system bubble-wrapped in bureaucracy.
Unless you're Portugal's physio you won't get within touching distance and, besides, there's a good chance the camera equipment is still being x-ray scanned for the umpteenth time.
The Portuguese Football Federation's senior press liaison officer Onofre Costa has been at the heart of the Ronaldo media circus for over a decade and remains a model of professionalism, calmness and discretion in the midst of chaos.
Costa sits at the top table of every news conference, next to the players and coach Fernando Santos, but never dictates any line of questioning and respects the fundamental rights of reporters to seek answers.
The trouble is, Ronaldo isn't playing ball.
He has cheerfully dodged all questions about his club future, with the support of his international coach, even after collecting another man-of-the-match trophy on Wednesday night against Russia.
He smiled as he stood up after making a short speech about his performance, and strolled through the stadium's 'Mixed Zone', an area reserved by FIFA for accredited journalists, ignoring a barrage of questions.
It would be misleading to say the Confederations Cup has been dominated by talk of Ronaldo's club future; Santos and team-mate Pepe were only asked two questions about the nation's captain out of seventeen from the international media before their second group game. But it's definitely the competition's hottest topic off the pitch.
Every camera lens is trained on him, at the hotel, training ground and stadium, and reporters constantly refresh his social media accounts for any snippets of breaking news.
Journalists and camera crews with FIFA badges are routinely asked by fans if they can help facilitate selfies and autographs with the tournament's most high-profile name.
Despite denials over his tax allegations, sources close to Ronaldo say he remains "fully focused" on Portugal's cup run and will only discuss his future with Real Madrid president Florentino Perez after the competition.
His next game is in St Petersburg against New Zealand, at the stadium where he hopes to compete in the final on 2 July.
Only next month, it seems, can we expect answers to our growing list of questions.
Unless, of course, we stick to asking about another man-of-the-match performance.
Grab a £14.99 Sky Sports Month Pass and enjoy all three Lions Test matches, The Open, England v South Africa and much, much more. It's an unmissable summer of sport on NOW TV.