Kaka, Bastian Schweinsteiger and the MLS All-Stars ready to face Real Madrid
By James Kilpatrick
Last Updated: 14/08/17 7:01pm
The MLS All-Stars are currently preparing to take on Real Madrid in an exhibition match in Chicago filled with some of the most prestigious names in football.
The star-studded contest will take place in the early hours of Thursday morning, live on Sky Sports, as Orlando City's Kaka is set to play against some of his former Real team-mates.
"To take on Madrid is a very good experience," the former Brazil international told US Spanish-language newspaper Hoy. "When I was there I played once against Milan, and now with the All-Stars team I will play against Real Madrid.
"It is something very emotional. To take on staff at the club and ex-team-mates of Real Madrid will be a very different experience for me."
Kaka is part of an MLS All-Star side which includes team captain Bastian Schweinsteiger, Sebastian Giovinco and David Villa, who will face the Galacticos starring Gareth Bale and Karim Benzema.
But what exactly is the All-Star game? Who is involved and what can we expect from the match? Here's all you need to know.
What is the All-Star game?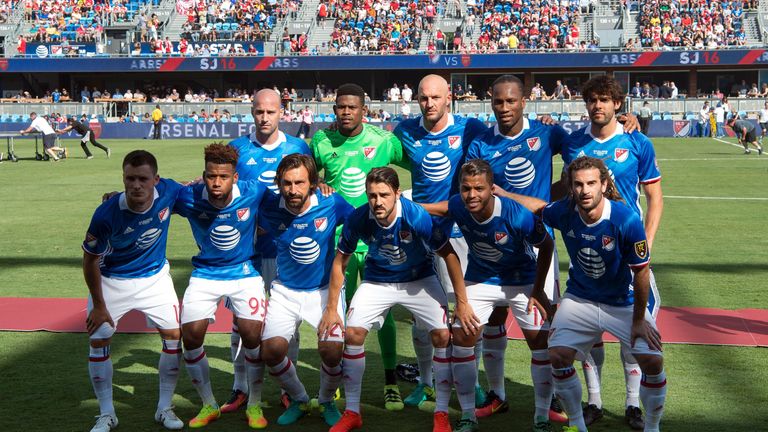 Every Major League Soccer season, a team compiled of All-Stars is selected through a combination of fan voting, selections from the nominated All-Star coach, the league commissioner and FIFA's 'More than a Vote' winner.
The completed squad then takes a short break from their busy MLS schedules in mid-summer to take part in the friendly against one of the best teams in the world. This year, Real Madrid have stepped up. If the game finishes as a draw, then the two sides head straight to penalties.
Since 2005, when the format has been All-Stars against a foreign guest, the league's record looks favourable as they've won nine of the 13 All-Star matches to have taken place. However, they will be looking to avenge last year's 2-1 defeat to Arsenal.
MLS All-Star results v European clubs (last six years)
2010: 5-2 Loss v Manchester United
2011: 4-0 Loss v Manchester United
2012: 3-2 Win v Chelsea
2013: 3-1 Loss v Roma
2014: 2-1 Win v Bayern Munich
2015: 2-1 Win v Tottenham
2016: 1-2 Loss v Arsenal
Bastian Schweinsteiger and Co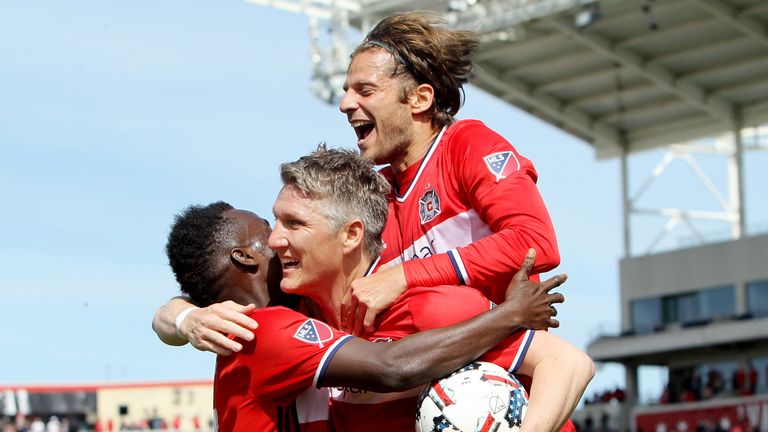 As well as Kaka, this year's MLS All-Stars squad looks to be the strongest yet, with players getting in on merit ahead of reputation. But that isn't to say the squad is lacking star power.
Former Manchester United midfielder Schweinsteiger, now of Chicago Fire, has had a standout debut campaign in MLS this year.
The ex-Germany international headlines a squad that includes foreign exports such as Sebastian Giovinco (Toronto FC), David Villa (New York City FC), Giovani dos Santos (LA Galaxy) and the 2005 Ballon D'Or Winner Kaka (Orlando City).
There are also a number of US internationals, too, including Toronto duo Jozy Altidore and Michael Bradley, Tim Howard (Colorado Rapids), Kellyn Acosta (FC Dallas) and DaMarcus Beasley (Houston Dynamo).
MLS All-Stars full squad
Goalkeepers: Stefan Frei (Seattle Sounders FC), Tim Howard (Colorado Rapids)
Defenders: DaMarcus Beasley (Houston Dynamo), Greg Garza (Atlanta United), Hernán Grana (FC Dallas), Matt Hedges (FC Dallas), Johan Kappelhof (Chicago Fire), Michael Parkhurst (Atlanta United), Jelle Van Damme (LA Galaxy), Graham Zusi (Sporting Kansas City)
Midfielders: Kellyn Acosta (FC Dallas), Miguel Almirón (Atlanta United), Michael Bradley (Toronto FC), Giovani dos Santos (LA Galaxy), Kaká (Orlando City SC), Dax McCarty (Chicago Fire), Ignacio Piatti (Montreal Impact), Bastian Schweinsteiger (Chicago Fire), Diego Valeri (Portland Timbers)
Forwards: Jozy Altidore (Toronto FC), Dom Dwyer (Sporting Kansas City), Sebastian Giovinco (Toronto FC), Nemanja Nikolić (Chicago Fire), David Villa (New York City FC)
No Ronaldo? No problem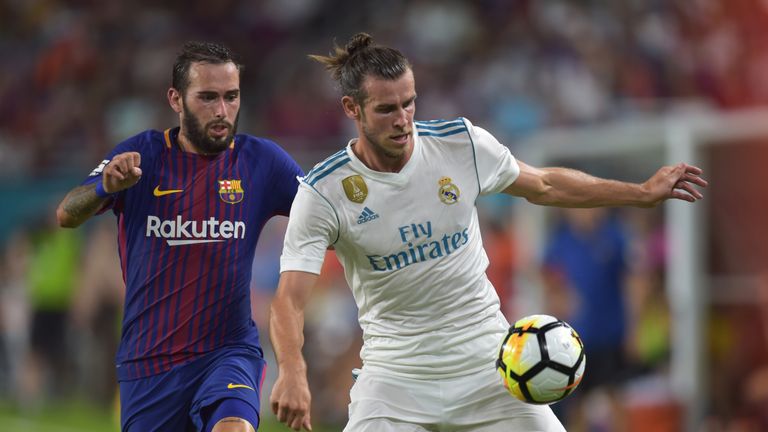 Four-time Ballon D'Or winner Cristiano Ronaldo is not a part of Real Madrid's 24-man squad for the La Liga champions' tour of the United States.
His busy summer at the Confederations Cup means he has been given extra time off before Real's UEFA Super Cup tie against Manchester United on August 8. Sergio Ramos also misses out as he's on an extended break.
So, it means Gareth Bale and Karim Benzema will be the two main men spearheading the Madrid attack against what is sure to be a highly-motivated All-Star outfit.
Bale has featured in all of Madrid's friendlies so far as he's looking to prove to head coach Zinedine Zidane that he is fully fit ahead of the new La Liga season. His most recent injury was a calf strain which had him sidelined until May 30.
Real Madrid's 24-man squad to face MLS All-Stars
Goalkeepers: Keylor Navas, Kiko Casilla, Rubén Yáñez, Luca Zidane
Defenders: Dani Carvajal, Raphael Varane, Nacho, Marcelo, Theo Hernandez, Luismi Quezada, Alvaro Tejero, Achraf Hakimi, Manu Hernando
Midfielders: Toni Kroos, Casemiro, Luka Modric, Isco, Mateo Kovacic, Óscar, Franchu
Strikers: Karim Benzema, Gareth Bale, Lucas Vázquez, Dani Gómez
Chicago is ready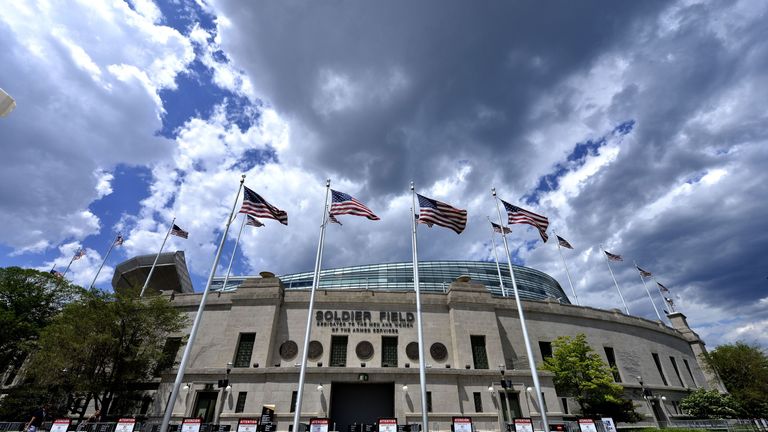 The All-Star match changes venue every season and this year it is the turn of Chicago to host. Soldier Field, the home of American football side Chicago Bears, is the destination. The stadium can hold 61,500 people and is expected to be sold out on Wednesday night.
The Midwest city has a proud sporting past and has witnessed some of the biggest moments in NFL, NBA, boxing and baseball history. But now it's the turn of football to really make its mark.
The city is home to MLS side Chicago Fire, Schweinsteiger's team, who play their football at Toyota Park in Bridgeview. The 20,000-seater stadium hosted the 2006 MLS All-Star game against Chelsea, which saw the All-Stars emerge as 1-0 winners.
In the build-up to this year's showpiece contest, there are numerous events dedicated to creating a buzz around the city, including a community day and open training sessions. An X Ambassadors concert opened the week on Monday.
What is being said?
Zinedine Zidane: "Obviously, it'll be nice to see Kaka," the Real Madrid manager told reporters after his club's friendly loss to Manchester United in Santa Clara, California last week.
"He's an important player in the history of Real Madrid. It'll be nice for his ex-teammates to see him, as well."
Tim Howard: "I think it's exciting to have all the East and West [All-Stars] together, playing against some of the best teams in the world," Howard told MLSsoccer.com on Saturday, after his Colorado Rapids side lost 1-0 to the San Jose Earthquakes.
"And at the end of the day, it's an All-Star game, right? So people want to be entertained. And that's bringing the most entertainment value. So it's great."
Michael Bradley: "When you have an opportunity to represent the league like this, to play with other top players, it's an honour," said Bradley, who has played against the All-Stars for AS Roma in 2013.
"While it's just a friendly, everybody wants to be sharp, wants to make sure that people go home having enjoyed themselves. And we want to give a good account of the league. It'll be a good night."
Kaka: "We do not know how the game will go," he said. "But we have the players to take on Real Madrid as equals. We have a great team. The truth is it will be a very good and attractive game as our team have great players. Although we do not play together [with clubs], I don't believe it will be difficult to understand each other."