Paris Saint-Germain sensationally completed the world-record signing of Neymar this week by activating the £198m buyout clause in his Barcelona contract.
Although uncommon among top players outside of La Liga, buyout clauses are required by law in Spain, meaning Barcelona were powerless to stop Neymar's departure.
So how does the Brazilian's buyout compare to those of the other leading stars?
Unsurprisingly, Cristiano Ronaldo is top of the list with an astronomical clause of £894m (one billion euros). Karim Benzema, his Real Madrid team-mate, would command the same fee.
The next highest clauses belong to three other Real Madrid players, with Gareth Bale, Luka Modric and James Rodriguez, who recently joined Bayern Munich on loan, commanding buyouts of £447m.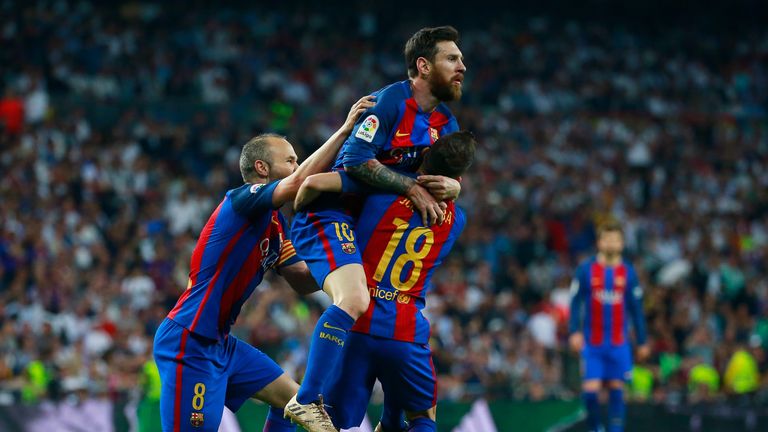 Having lost Neymar, Barcelona might be nervous about Lionel Messi's buyout clause, which stands at a relatively low £268m (300m euros). Could a suitor be tempted?
There's a price on Luis Suarez's head, too. The former Liverpool striker is available for £179m, a fraction less than Atletico Madrid's Antoine Griezmann, whose buyout is £181m.
Europe's biggest buyout clauses
| Player | Team | Buyout clause |
| --- | --- | --- |
| Cristiano Ronaldo | Real Madrid | £894m |
| Karim Benzema | Real Madrid | £894m |
| Gareth Bale | Real Madrid | £447m |
| Luka Modric | Real Madrid | £447m |
| James Rodriguez | Real Madrid | £447m |
| Lionel Messi | Barcelona | £268m |
| Toni Kroos | Real Madrid | £268m |
| Neymar | Barcelona | £198m |
| Antoine Griezmann | Atletico Madrid | £181m |
| Sergio Ramos | Real Madrid | £181m |
| Casemiro | Real Madrid | £181m |
| Andres Iniesta | Barcelona | £181m |
| Gerard Pique | Barcelona | £181m |
| Sergio Busquets | Barcelona | £181m |
| Luis Suarez | Barcelona | £179m |