Harry Kane says Tottenham must win a trophy this season
By Stephen Turner
Last Updated: 21/08/17 11:01pm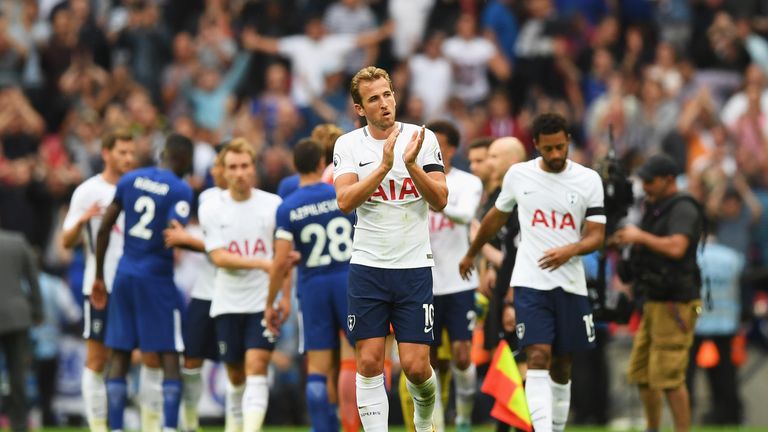 Harry Kane says winning a trophy this season is the only way Tottenham can continue their upward curve.
Last season's second-placed Premier League finish was an improvement on 2016, when a final-day collapse saw Arsenal pip them to the runners-up spot.
But they fell short in the cup competitions, crashing out of the FA Cup, Champions League and Europa League at Wembley, their temporary home this term.
Sunday brought an inauspicious start at the national stadium as Spurs, unbeaten at White Hart Lane last season, went down to 2-1 to Chelsea.
Asked afterwards whether silverware is a must in Mauricio Pochettino's fourth season Kane said: "Yes, that is what we have to do.
"Third, second. The only way we can improve is to win something or win the league. That is our aim. That is always our aim. We have to keep doing what we are doing and hopefully it will happen.
"It is another year that we have been playing with each other. Another year of getting used to the way that we play with the manager."
Kane and his team-mates, meanwhile, have been given a warning from Thibaut Courtois that opposition teams will raise their game at Wembley.
"Wembley is an amazing stadium," the Chelsea keeper said. "These stadiums make you want to play even better, it is like a Champions League game where you can rise above yourself.
"I think those stadiums make that and all the teams that come here, instead of being impressed, they will give more so for Spurs it won't be easy but if they have their fans, with 80-90,000 people they can make it difficult for a lot of teams."
Rival fans mocked Spurs on social media for playing drum sounds over the public address system on Sunday.
And Courtois said: "If they make more noise it would be better for them but in the first half, if you have to put some noise over the speakers to make some atmosphere, I don't think it is working very well.
"In the second half they were pressing and 70,000 people started to wake up and there is obviously more than the 40,000 at White Hart Lane."