Mauricio Pochettino's Tottenham Wembley woes puts spotlight on away form
Last Updated: 17/09/17 6:41pm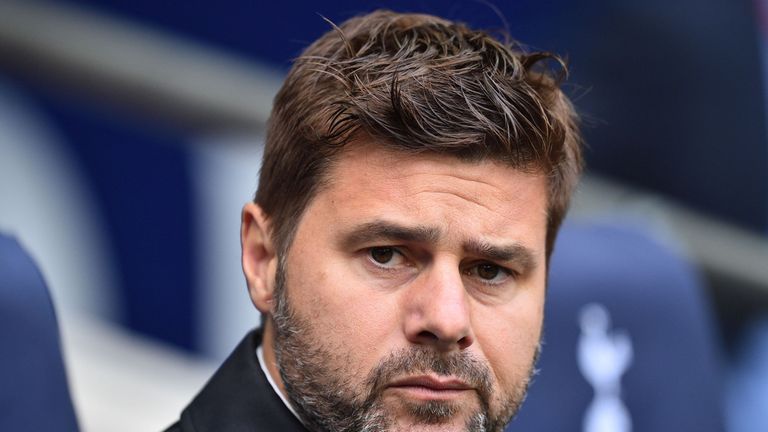 With Tottenham's home woes, the pressure is on Mauricio Pochettino to improve again.
"I hope," said Mauricio Pochettino. Those were the two words that the Tottenham boss was breathlessly quick to respond with when asked in midweek if the win over Borussia Dortmund would bring an end to discussions of Wembley woes. "It can help us to stop the talk about a hoodoo," he added. "I hope that it will start to stop all the things that are said around the team."
That hope did not even survive Saturday and the visit of Swansea as Tottenham were held to a goalless draw. Paul Clement's men frustrated their hosts despite seeing less of the ball than in any game since first reaching the Premier League six years ago. For Pochettino's team, it was the first time in 30 home league games that they had failed to find the net.
Having won all but two of their 19 Premier League games at White Hart Lane last season, Spurs remain winless in three attempts at Wembley. They have surrendered seven points in those matches, three more than were lost all season at the old ground. The stats make grim reading for a team with title aspirations and all add up to one thing - they have a problem.
The fear, of course, is that it is not easily solvable. There is well over a century of evidence highlighting the significance of home advantage and Spurs supporters were acutely aware of it themselves, having had the best record in the Premier League last season on their own patch. In contrast, they were only the fifth best team in the competition on their travels.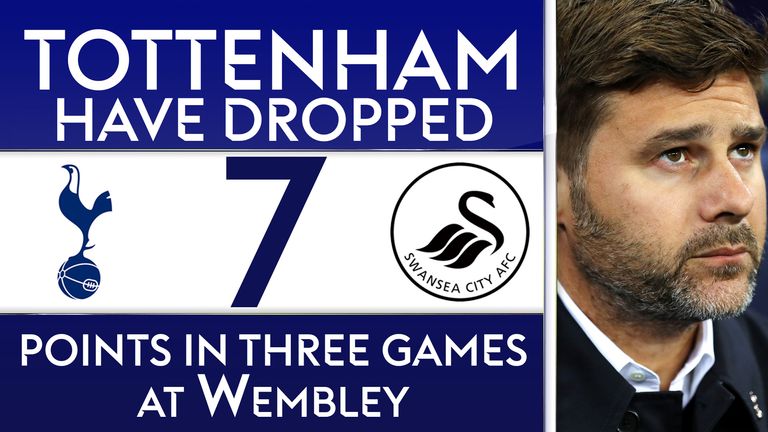 Naturally, much work has been done to make the new place feel like an old home. The cockerel crest is omnipresent in an attempt to turn Wembley Way into a more polished version of the Seven Sisters Road. Nevertheless, if the home form this season mirrors the away form of last, Spurs would finish with 66 points and well adrift of the Champions League places.
The problem is exacerbated by the fact that Wembley is a venue that is every bit as special for the visitors as it is for Tottenham. Indeed, with the attendance having fallen for each of Spurs' four home fixtures in all competitions so far this season, there is the worrying possibility that the only club for whom Wembley is losing its lustre are the tenants.
Clement spoke before the Swansea game of the fond memories of winning trophies at the ground, while Burnley supporters will now cherish their own Wembley moment after Chris Wood's stoppage-time equaliser. Chelsea boss Antonio Conte relished the occasion, arguing that his players had been inspired rather than intimidated on their visit there.
"Honestly, this atmosphere was great and this stadium, Wembley, is fantastic," said Conte after Chelsea beat Tottenham to win the first ever Premier League match at the ground last month. "So to feel this atmosphere was amazing, also as an opponent … Honestly, I think this kind of atmosphere is great also for the opponents."
All of which makes Tottenham's next Premier League fixture an appropriate one as they travel to the former Olympic Stadium to take on a West Ham team still feeling the consequences of their own move. Having had the seventh best home record in their final campaign at Upton Park, Slaven Bilic's side ranked 16th at home last season.
Curiously, Tottenham were one of only two teams to go to the London Stadium and lose during the final four months of last season, the defeat all but ending their title hopes. They can ill afford such slips up away from home this season. It is their Wembley record under scrutiny. But perhaps Spurs' best hope of progress is continuing to improve their away form.