Manchester United ask for CCTV footage over Romelu Lukaku chants
Kick It Out reiterates the repeated "racist" chants have "no place in football"
By James Dale
Last Updated: 23/09/17 7:07pm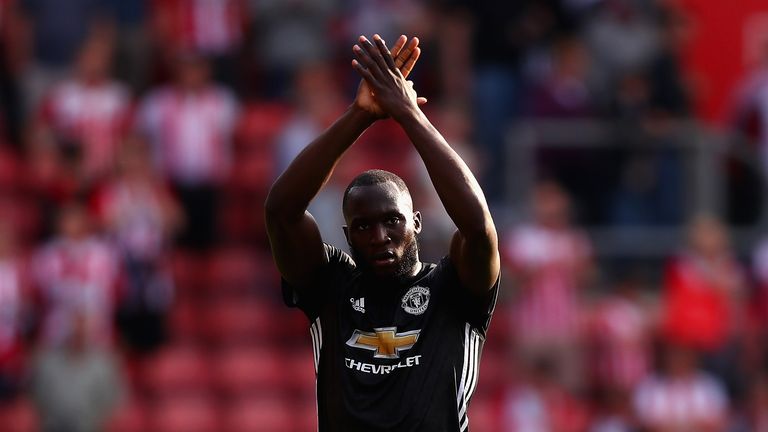 Manchester United have asked for CCTV footage in order to identify fans chanting a controversial song about Romelu Lukaku.
United last week said they were seeking advice on the Lukaku chant after it was described as "racist" by anti-discrimination body, Kick It Out.
Lukaku insisted United fans "meant well with their songs" but urged supporters to move on from the chant ahead of the game against Southampton on Saturday, where the song was again heard from sections of the United support, before reports of a second chant of "we're Manchester United, we'll sing what we want".
United manager Jose Mourinho praised the club's "amazing" support after the 1-0 win against Saints, in which Lukaku scored the winner, claiming he "doesn't understand what the fans sing".
But United have now released a statement in which they have insisted they will seek out supporters who "disrespected" Lukaku's request to not sing the controversial chant about him.
"Manchester United has a zero tolerance stance on offensive chanting and behaviour," the club said after the game.
"The club and player have been clear in asking for an end to the chant.
"The club has worked with relevant bodies and supporters groups in trying to eradicate any offensive behaviour and will take further action against individuals if this continues.
"The club is in discussion with the police and has asked for CCTV footage from Southampton and will try to identify those who disrespected the player's wishes not to sing the song."
Kick It Out has once again reacted to the chants after they re-emerging on Saturday.
A statement read: "Kick It Out is aware of repeated racist chanting by supporters of Manchester United today (23 September).
"Kick It Out would like to reiterate its stance that such behaviour has no place in football. Romelu Lukaku himself has requested that the supporters 'move on' from singing the chant in question and Manchester United now has a responsibility to ensure that the request is complied with.
"If anyone has any evidence of supporters engaging in racist chanting, Kick It Out asks that you report it via the organisation's app, to a steward or to the police.
"Kick It Out notes Manchester United's statement requesting CCTV footage from Southampton and will again be liaising with club, The FA and the police to identify potential perpetrators and ensure appropriate action is taken."