Sky Bet Goal of the Month: James Maddison, Tony McMahon and Shaun Miller pick up September awards
Last Updated: 13/10/17 6:04am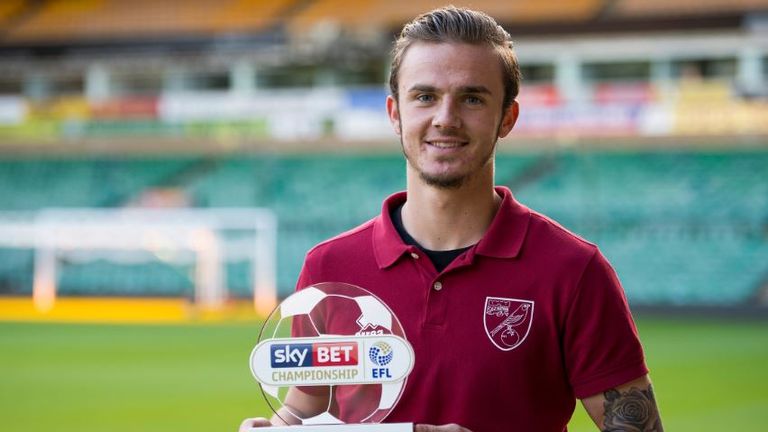 Norwich City midfielder James Maddison is the Sky Bet Championship Goal of the Month winner for September, receiving 53% of the public vote.
Collecting a slipped Marley Watkins pass, Maddison knew instantly what to do. A cushioned touch was followed by a classy, arcing 25-yarder into the top corner.
Lead Sky Bet EFL Goal of the Month judge Don Goodman said: "To see such clinical finishing from outside of the box from someone so young shows just how much confidence James is playing with at the moment. It's fair to say that his free kick away at Reading would have had a chance of winning but this goal just about edged it!"
Maddison said: "Obviously it was a nice strike and it was a winning strike which made it extra special and won us the three points. To get the recognition from the fans who thought the goal was the best in the month, sometimes you have to step back and give yourself a pat on the back.
"The ball got played down the line and Marley Watkins didn't give it up as he never does and nicked the ball off the defender and played it to me. I found myself in a bit of space about 25-yards out, took a touch and saw the far corner and managed to curl it in the top corner which was a special feeling."
Maddison beat off competition from Wolves' Diogo Jota and Nottingham Forest's Mustapha Carayol.
Bradford City defender Tony McMahon is the Sky Bet League One Goal of the Month winner for September, receiving 42% of the public vote. The sweet, laconic beauty of McMahon's free-kick made it special. With almost no run-up, McMahon timed his clip over the Northampton wall into the top corner to perfection.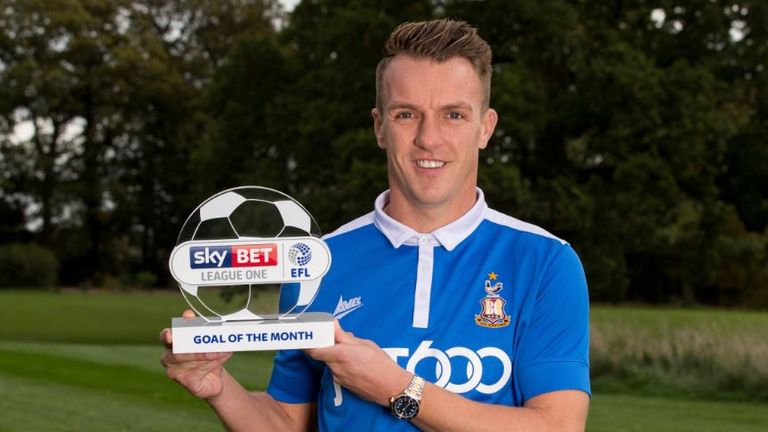 McMahon said: "I'm delighted with the award, thank you to everyone that voted. I remember getting a free-kick about 20 or 25 yards out and I just fancied it. The keeper lined up and left me a big gap, so I knew if I got it over the wall, up and down, it had a good chance. I was over the moon when it flew in the top corner."
McMahon beat off competition from Wigan Athletic's Michael Jacobs and Fleetwood Town's Devante Cole.
Carlisle United striker Shaun Miller is the Sky Bet League Two Goal of the Month winner for September, receiving 50% of the public vote.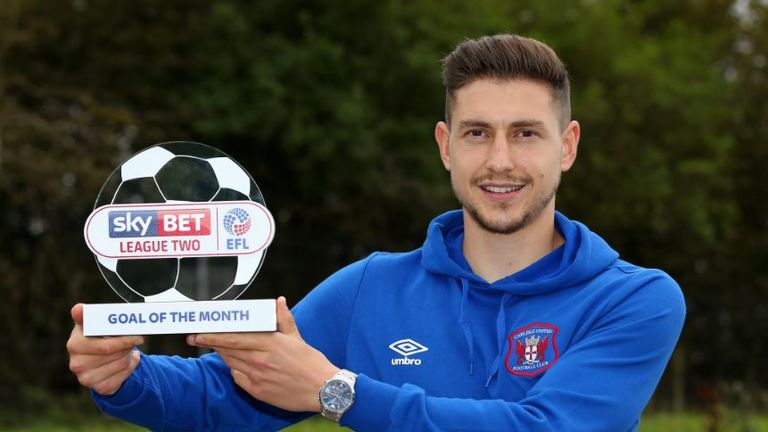 It was poetry in motion as Miller turned a hopeful punt forward into a goal to savour. The key was his volleyed control which gave him the time to judge his hooked overhead exquisitely. Goodman said: "When trying to find a late equaliser in games, the ball is booted downfield and goals are often scrappy or a result of bad defending, but that's far from the case here."
Miller said: "This is the first time I've ever been nominated for an individual award, so it's very much appreciated.
"We were pushing for an equaliser and penning them back for large periods of time. It was a long goal kick and I managed to get in front of my defender, and when the first touch popped up, there wasn't anything else in my mind to bicycle kick it and when I glanced over my shoulder and saw it fly in it was a great feeling."
Miller beat off competition from Exeter City's Jayden Stockley and Swindon Town's Chris Hussey.