Chelsea are in good condition for Premier League title challenge, says Eden Hazard
Last Updated: 14/10/17 2:02pm
Chelsea are in "good condition" for a Premier League title challenge, says Eden Hazard, who admits he has "no chance" of winning the 2017 Ballon d'Or.
The current league champions have made a solid start to their title defence, and are currently fourth in the table with 13 points from seven games.
Hazard believes that Chelsea are in a good place to win the Premier League for a second year, and says the lessons they learnt during their loss to Man City before the international break will help them against Crystal Palace on Saturday.
"I think the change from last season is both Manchester clubs - they are very good. They win games. I think we are almost the same," he told Soccer Saturday.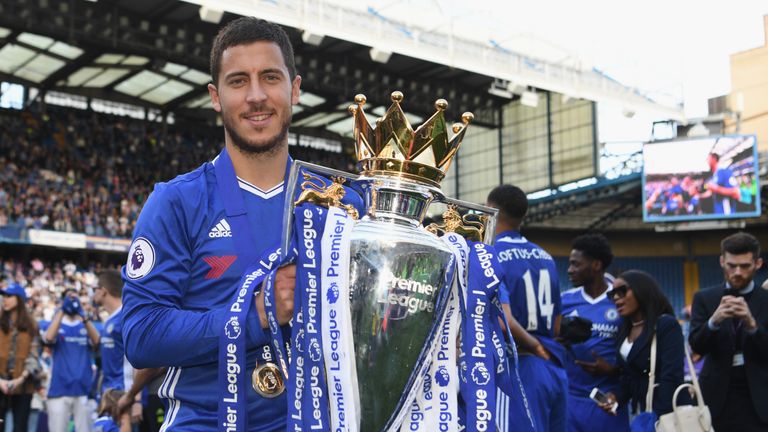 "We lost some players, some new ones arrived in the team and we lost before the international break but we are in good condition already for the title. As a Chelsea player, you just want to be on top at the end of the season, but we have to keep going and try to win every game.
"We learnt a lot [from defeat to Man City]. Firstly that playing a game three days after Atletico Madrid is not easy because we gave 200 per cent there and then we arrived here for the game against a great team. When they have the ball they are very strong.
"We lost Alvaro [Morata] after 20 minutes and for us, he is important as a target man who can find solutions. We shouldn't have conceded the goal and it was not a good game for Chelsea so I hope tomorrow we can have a good game against Crystal Palace."
So far, it has been a good week for Hazard. He was named on the 2017 Ballon d'Or 30-man shortlist on Monday before he and his brother, Thorgan, both scored for Belgium in their 4-0 win against Cyprus in their final World Cup Qualifier on Tuesday.
While Hazard does not expect to win the Ballon d'Or, he has identified what he needs to do to lift the illustrious award in the future but admits he is not targeting it in his current plans.
"I have no chance [of winning]. I think a lot of players are better than me but I am happy to be in the last 30 players. I know I am on this list because I play for Chelsea and because I play with great team-mates. They help me every week to be on this list," he added.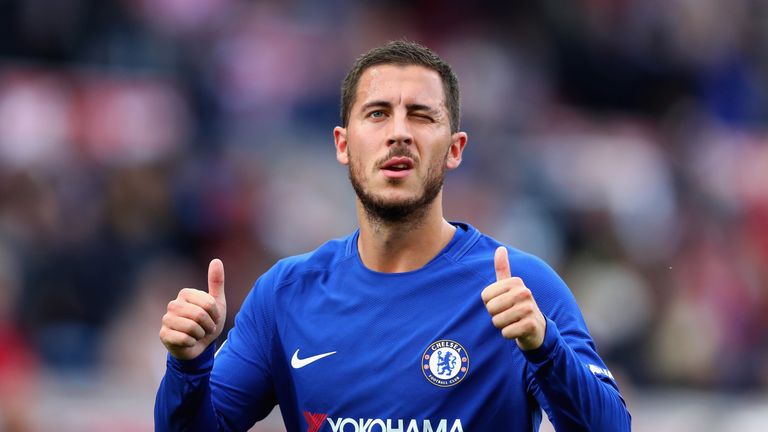 "I don't know if in the future I can have the chance to win the Ballon d'Or but it is not my objective now. My objective is to play and to enjoy myself on the pitch.
"For the last 10 years, it has always been Lionel Messi or Cristiano Ronaldo, but Neymar is coming and a couple of others so we will see when Messi and Ronaldo stop playing, maybe we have a better chance but for the moment, it is not in my head.
"We have more chance to win the Ballon d'Or if we win everything. I think this year, Ronaldo deserved it because he won with Portugal, he won the Champions League, he won La Liga. If one day I want to win, I just have to win everything. Nice and simple!
"After the game [against Cyprus], it was something good. Me and Thorgan were just happy, not just to score, but also to play together. It is something good for me, for my family and for him."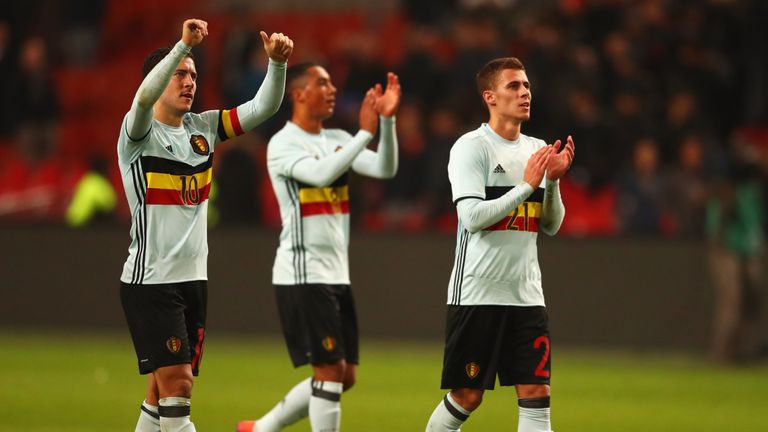 The inclusion on the Ballon d'Or shortlist marks a return to fitness for Hazard, who was sidelined for the last three months with an ankle injury, and says he is ready to be named in the starting XI each week.
"I'm good with my ankle. I tried to do everything for me to be ready. I've played a couple of games now. I think I am ready to start every game now," Hazard said.
"I missed three months which is not something good but at least you start to understand that football is not so easy. You need to work if you want to arrive at the top so I did three months of rehab. It is not something good but it is something that I learnt.
"As a player, you just want to play and you don't want to be on the bench. I think the club did very well with me. As soon as they saw that I was ready to play, I played and I had a few games on the bench too. After a long injury, you can't go back into the team and play 90 minutes in every game so you need to go step by step."