Northern Ireland players would understand if Michael O'Neill moved on, says Jonny Evans
Last Updated: 14/11/17 10:43pm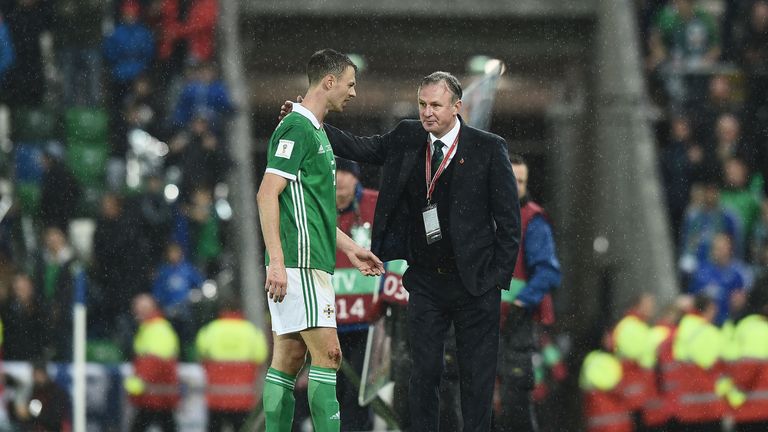 Jonny Evans admits Northern Ireland's players would not hold it against manager Michael O'Neill if he decided to walk away from the job, but they are desperately hoping he will stay.
Northern Ireland missed out on qualifying for this summer's World Cup following an agonising play-off defeat to Switzerland.
O'Neill, who led the team to Euro 2016, has been linked to vacancies with Scotland, the United States and Sunderland and Evans is not surprised he is in demand.
"As a manager, he's unbelievable, we all love him and every single player plays for him," said the West Brom defender.
"He's such a good manager and it would be a shame to lose him. But we know on the other side, management is such a difficult job and if something came up, where it would be difficult to turn down, no-one would ever begrudge him that."
Asked if he could appreciate why countries and clubs alike would be interested in hiring O'Neill, Evans added: "Yes, definitely. He's so inspirational, he's very tactical.
"Even the other night, we had just got off the plane and were on the bus on the way to the hotel. He had watched the first half (of the first leg) and he came down the bus and he was like, 'We're calling a meeting and we're going to watch it because you didn't play that bad, there are so many basic things you can improve on'.
"It gave everyone a lift straight away. He's got such composure and his team-talks, he says the right things to get the lads going.
"You can see everyone plays for him and we all really, really respect him."
There are question marks over the futures of some of Northern Ireland's players in addition to O'Neill.
Defenders Aaron Hughes, 38, Gareth McAuley, 38 next month, and Chris Brunt, 33 in December have decisions to make over whether to continue their international careers.
McAuley has said his decision may hinge on what O'Neill himself does, but his Baggies team-mate Evans is confident his central-defensive partner will play on.
"G's not mentioned anything about retirement or anything like that," Evans revealed. "I still think he's got a lot more to give and it would be a shame if he did retire. You can see the love he's got for playing for this team and this country.
"I don't think it would be an easy decision to make and I'm 95 per cent certain he will stay."