Football Expert & Columnist
Tottenham primed for era of success but Arsenal can match them in derby, says Jamie Redknapp
Last Updated: 17/11/17 4:07pm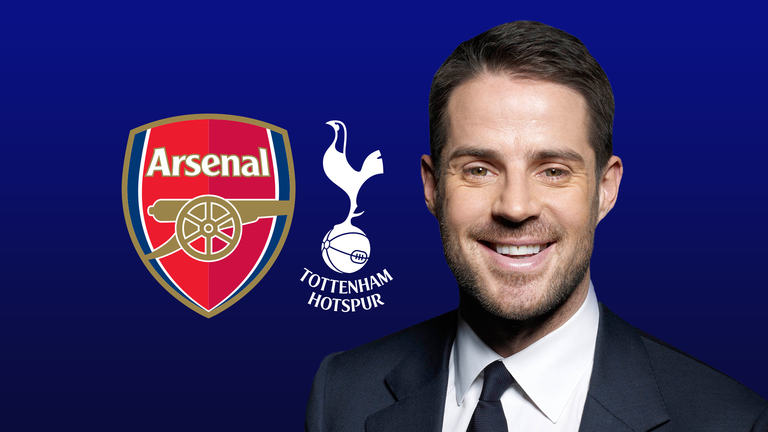 Tottenham have the form and foundations in place for success, but Arsenal's history can't be ignored and they'll be motivated to protect their pride this weekend, says Jamie Redknapp...
In the build-up to this Saturday's Sky Live clash between Arsenal and Tottenham, there has been a lot of talk about a power shift in north London. But it is way too soon to be saying things like that.
It's true that if you were to pick a combined XI you wouldn't select many Arsenal players. But we have to remember Arsenal dominated Spurs for a long time. Tottenham have finished above their rivals just once since 1994/95.
What Tottenham have done, though, is put themselves in a fantastic position for the future. They've got so many things going their way right now. The young talent, the long contracts, the manager, the new stadium… they're in a real position of strength. Everything is in place for Tottenham to go on an amazing run and win some trophies - and that's what they need to do. They must capitalise on this big opportunity.
That's why it was so disappointing for them to lose to West Ham in the Carabao Cup. As much as boss Mauricio Pochettino is one of the outstanding managers in the game right now, he still hasn't won anything. Ultimately that's what he'll be judged on. But I'm convinced that will come.
Now look at Arsenal, where they have star players Mesut Ozil and Alexis Sanchez out of contract next summer. It's almost amateurish for them to be in this position. For so long they've been so well run but there's uncertainty there now.
That comes from the manager. Last season, no one knew if Arsene Wenger was staying or going and that took the attention away from the players on the pitch.
It's a frustrating time for Arsenal fans. They'll look across at Tottenham and for the first time see a team that's better, more organised and more dynamic. When he first came to England, Wenger was always ahead of the game with his methods and approach. Now that's Pochettino.
With the history and the trophies Arsenal have won, Spurs have a long way to go to catch up with their rivals. But Spurs are well placed to kick on to the next level now.
That might all point towards a win for Spurs this weekend, but these derby games aren't as straightforward as that. It sounds like a cliché but it's true. Remember, Spurs have won just once in 24 Premier League trips to Arsenal and the home side have players who can turn it on this Saturday.
Aaron Ramsey, in particular, is the player I'd be worried about if I was in the Tottenham dressing room. With the tactical change they've made, moving him further forward, he's able to make the runs from deep and that really adds to his game. He's got so much energy, he's a box-to-box player and he's a threat - as he showed against Manchester City. Ramsey is key to this game from Arsenal's point of view.
With Tottenham likely to welcome back Harry Kane, Harry Winks and Dele Alli from injury - plus possibly Hugo Lloris - Arsenal will certainly need to fire. But I can see this one being a draw.
Tottenham are far better and more comfortable with the three-at-the-back system than Arsenal and are the form team with a threat on the counter-attack, too. But I've played in enough of these games to know they are almost always tight affairs.
Very rarely do you see these big derby games won comfortably by one side or the other. There's too much riding on them. Too much pride at stake. Plus, despite the feelings about the directions these two clubs are going in, Arsenal only trail Spurs by four points.
The incentive to close that to one by Saturday afternoon is huge and they'll be fired up. It should be a fascinating contest.