What next for Theo Walcott? Arsenal forward in the spotlight
Last Updated: 08/12/17 11:58am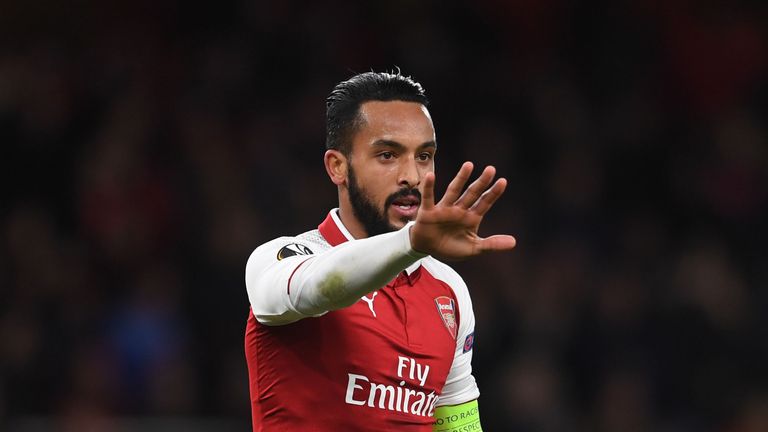 Theo Walcott provided a reminder of his qualities in Arsenal's 6-0 thrashing of BATE Borisov on Thursday night. Nick Wright was at the Emirates Stadium to assess his performance and ponder what's next for a player who should be entering the peak of his career.
Frustrated but focused and more determined than ever. That was Arsene Wenger's assessment of Theo Walcott on the eve of Arsenal's Europa League meeting with BATE Borisov. The forward had not started a game in over a month and was not even in the squad for Saturday's game against Manchester United, but on Thursday night he proved his manager right.
The Emirates Stadium may have been sparsely populated and the game of little consequence given Arsenal had already secured top spot in Group H, but Walcott certainly played like a man with a point to prove. With the captain's armband strapped around his bicep, he brought the kind of energy and impetus to their right flank that he is often accused of lacking.
There were early signs of rustiness, including a misplaced header which drew familiar groans from the crowd, but it did not take long for Walcott to begin causing the visitors problems. There was pace and purpose to his game. By the time he made way for Reiss Nelson in the second half, he had scored one goal and had a hand in four others.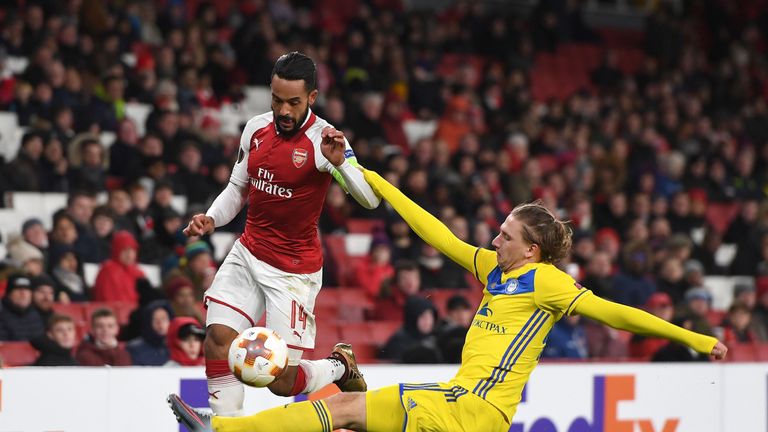 His standing ovation was well-deserved. Jack Wilshere took the man-of-the-match award but Walcott was not far behind him. He might have added to his tally if not for a goalline clearance and an outstanding save, and there was plenty to like about his general play too. BATE did not offer much resistance, admittedly, but Walcott hustled and harried, at times driving the ball forward through sheer persistence.
"He played very well," said Wenger afterwards. "He's like Jack, he was very sharp today."
Wenger was clearly pleased by his impact but there is less certainty about what exactly comes next. Walcott lost his place after controversially admitting Arsenal had lacked desire in their 3-0 defeat to Crystal Palace in April, and he has remained on the periphery ever since. Thursday night was just his seventh start of the season. He has only played 47 minutes in the Premier League.
It is a curious situation in keeping with a curious career. From the World Cup call-up at the age of 17 to the cruelly-timed injuries which have set him back at regular intervals, Walcott has experienced peaks and troughs like few others. For now, he remains Arsenal's longest-serving player. But for how much longer?
Breaking back into their first-choice team looks like a difficult task. Walcott no longer seems to be regarded as a central striking option by Wenger, finding himself behind not only Alexandre Lacazette but also Alexis Sanchez and Olivier Giroud. And while he played on the right of a 4-2-3-1 formation against BATE, Arsenal's usual 3-4-2-1 offers little room for wide forwards.
Wenger insists he will not be let go in January - "We do not want to become weaker," he said earlier this week - but if Walcott is to have any hope of finally playing at a World Cup, then occasional cup appearances are unlikely to be enough. His reported suitors Everton, a side desperately short of pace whose manager called him up for England last year, might be a sensible alternative.
Walcott, who has 18 months left on his contract, represents an intriguing option for any club in need of attacking reinforcements. He still has a tendency to drift out of games and his inconsistency can be maddening at times, but when it comes to delivering goals, the numbers show that few players are more reliable.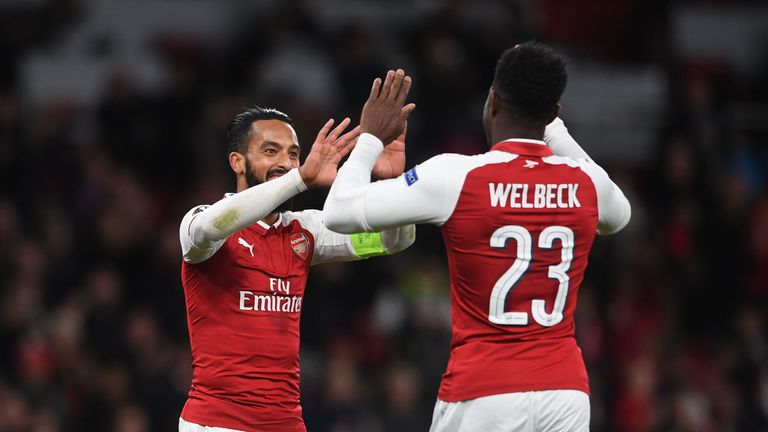 Since the start of the 2012/13 season, Walcott has played 10,164 minutes for Arsenal in all competitions, scoring 66 goals. It gives him an average of one for every 154 minutes on the pitch, a far better strike rate than his countryman Danny Welbeck (236 minutes) and superior, even, to Alexis Sanchez (168 minutes).
The numbers do not tell the full story but for Wenger, they might be worth keeping in mind in the weeks ahead. Before the transfer window opens next month, Arsenal have a gruelling run of seven games in 22 days. Could the prospect of squad rotation open the door to him?
There are no guarantees, but what's certain is that he will need to take his chances just as emphatically as he did against BATE. It has been a difficult period for Walcott and at 28 his career not where many many expected, but Thursday night was a reminder of what he can do. He will need more of that same focus and determination if he is to turn his fortunes around.