West Ham boss David Moyes praises Marko Arnautovic's work rate
By Richard Cooke
Last Updated: 27/12/17 3:11pm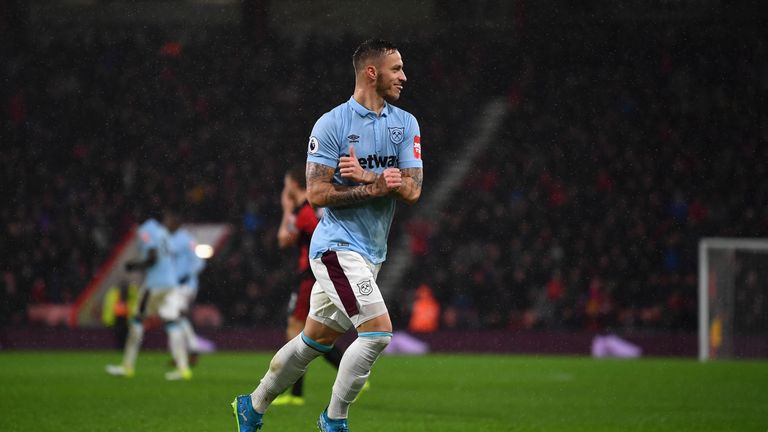 David Moyes threatened to wield the axe in order to spark a run of five league goals in as many games from Marko Arnautovic.
The Austrian forward's late double almost earned West Ham victory at Bournemouth on Boxing Day, only for the Cherries to steal a dramatic 3-3 draw.
Referee Bobby Madley overruled assistant Simon Long to award Callum Wilson's stoppage-time equaliser, despite the striker being offside, to deny the Hammers a win.
But West Ham boss Moyes later praised Arnautovic for responding well to his challenge to raise his work rate or face being dropped.
Asked how he had coaxed Arnautovic into form, Moyes replied: "It was just about telling him if he wasn't going to run he wasn't going to play.
"Nobody doubts his ability and quality as a footballer. He's got to make sure his mentality side - he keeps doing it.
"There will be a few getting a clip round the ear when we get back in, though most of the players have shown a great attitude.
"He was always a good player Marko Arnautovic, but maybe he's also going better through the middle rather than out wide."
Moyes again admitted his desire to bolster West Ham's midfield in the January transfer window, while accepting his squad appears top-heavy in terms of forwards.
The Hammers host West Brom on January 2, with Moyes insisting he does not have the luxury of giving his players time and space to impress as they continue their bid for Premier League survival.
"I'm giving players chances; I'm in a hurry, and I have to be in a hurry," said Moyes. "Because of that I can't wait three or four months to see how you play.
"Everyone's shown a great desire and is committed in training, but we're short in some areas, and overloaded in some other areas."