Eden Hazard says Philippe Coutinho's Barcelona move is bad news for Premier League
By Zinny Boswell
Last Updated: 12/01/18 1:54pm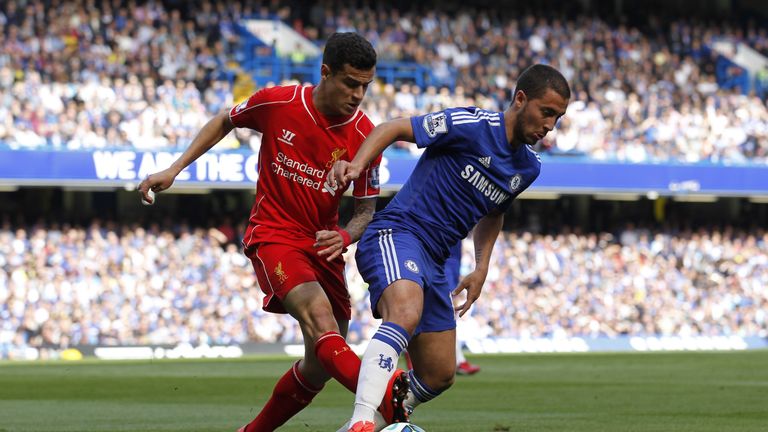 Eden Hazard believes Philippe Coutinho leaving Liverpool for Barcelona is "bad for the Premier League", but hopes he can become one of the "best in the world".
Coutinho was sold to Barcelona for £146m after a lengthy pursuit which dates back to last summer, making the Brazilian the second-most expensive player in history.
Hazard was happy for the 25-year-old that he managed to secure his dream move, but admits it is a huge loss for the Premier League to lose one of its finest talents.
When asked about Coutinho's move, Hazard said: "It's good for him, bad for the Premier League because he's one of the best players in the league.
"He's a good guy we play against each other a couple of times - he's a fantastic player.
"He chose to move to Barca, it's not a bad choice to be fair, I just want him to be one of the best player's in the world and to enjoy what he can do."
The Belgium international, whose deal at Stamford Bridge expires in 2020, has also been linked with a move away from the Premier League, with Sky Sports' Spanish football expert Guillem Balague revealing both Hazard and Thibaut Courtouis are targets for Real Madrid this summer.
Real boss Zinedine Zidane and Hazard have publicly expressed their admiration for one another in the media, but the 27-year-old insists his mind remains on Chelsea, saying there has been no approach from the Spanish club at this stage.
When asked about the speculation surrounding him and Real, he replied: "Nothing for the moment, I'm focused with Chelsea. I have a lot of things to win, so no worries.