Rafa Benitez says beating Manchester United will give Newcastle confidence in their battle to stay in the Premier League.
Matt Ritchie's 65th-minute goal sealed a vital three points at St James' Park, lifting Newcastle to 13th in the table and two points clear of 18th-placed Southampton.
Following Newcastle's first Premier League home win since October, Benitez praised the performance level of his side and urged them to maintain it for the remainder of the season.
"[The win gives us] confidence for the rest of the season," Benitez told Sky Sports. "My message before the game was very clear. We knew Huddersfield had won, we needed to carry on and do our job and still we have 11 games to play and we have to play with the same team spirit.
"When you play a top side like Manchester United you know every ball is important because if you make a mistake they will punish you. You have to work like they did today, it was an amazing effort.
"We were doing well for a while and then we were defending but the teamwork and the way they fought for every ball was amazing. I am really pleased for the players and the fans because we did it here at home.
"We have had some games where in the last five or 10 minutes where we have conceded and today we were a bit lucky in some of the shots they had.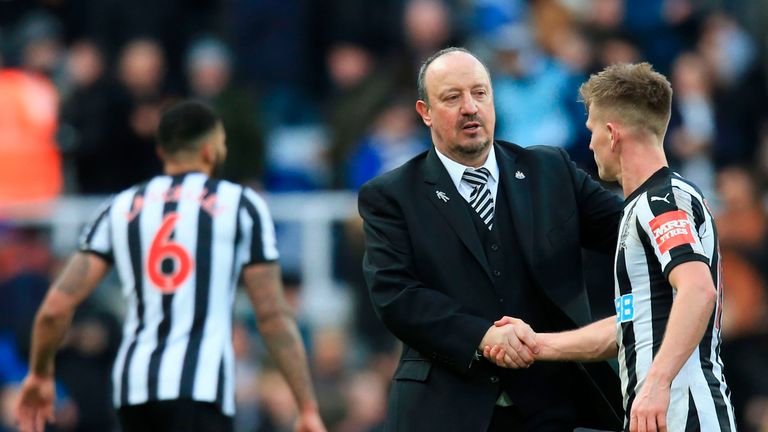 "But still the team worked so hard and in this kind of game anything can happen. We showed the character, passion and commitment that we have shown for the rest of the season."
Benitez handed a debut to goalkeeper Martin Dubravka and impressed with his performance, while Jonjo Shelvey was named as the Sky Sports Man of the Match.
"He [Dubravka] did well," Benitez said. "He was composed and gave confidence to the team. The rest of the team helped and all the players worked so hard so to say the 'keeper was important is not fair for the others, everybody was important.
"Jonjo has quality on the ball. He is learning and if he can make the right decisions he is a very good player."