Emre Can - how would the Liverpool midfielder fit in at Juventus?
By Ryan Baldi, Football Whispers
Last Updated: 28/02/18 11:58am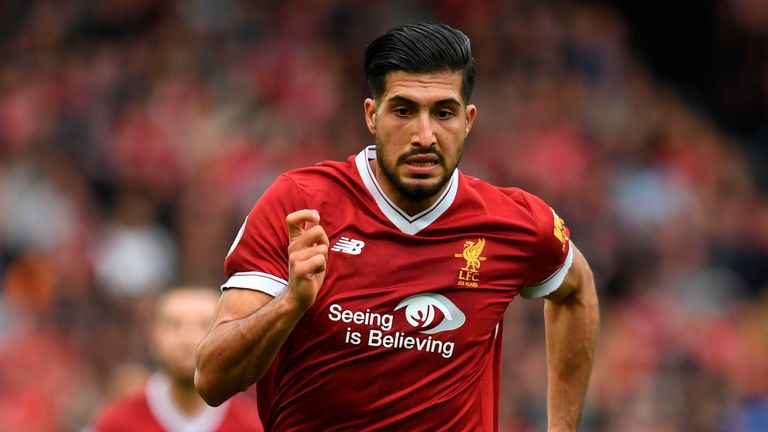 There is plenty for Liverpool fans to be happy about at present.
Their side are third in the Premier League table - contesting the right to call themselves England's second-best team behind runaway leaders Manchester City - and the Reds already have one foot in the Champions League quarter-finals after blowing Porto away in their last-16, first-leg tie.
And Jurgen Klopp's men are also playing some of the most dynamic, thrilling football in Europe.
One thing many Reds supporters are unable to reach a consensus over, however, is whether or not Emre Can merits a regular berth in the starting XI; the mere mention of the German midfielder's name on social media is enough to spark heated debate.
But, whether viewed as a case of 'goodbye' or 'good riddance', Can may not be at Liverpool for much longer. The 24-year-old, as things stand, will be out of contract in the summer, with a number of Europe's elite said to be tracking his signature.
Italian champions Juventus are chief among Can's suitors, with some reports suggesting, despite interest from Real Madrid and Manchester City, that the Serie A champions have already agreed terms with the former Bayer Leverkusen player.
Football Whispers utilise a unique algorithm, collating media reports and analysing their frequency and validity, alongside several other factors such as financial viability and tactical fit, to predict the likelihood of mooted transfers, scoring every rumour out of five. Can to Juventus currently scores four, suggesting that sizeable flames lie behind the media smoke.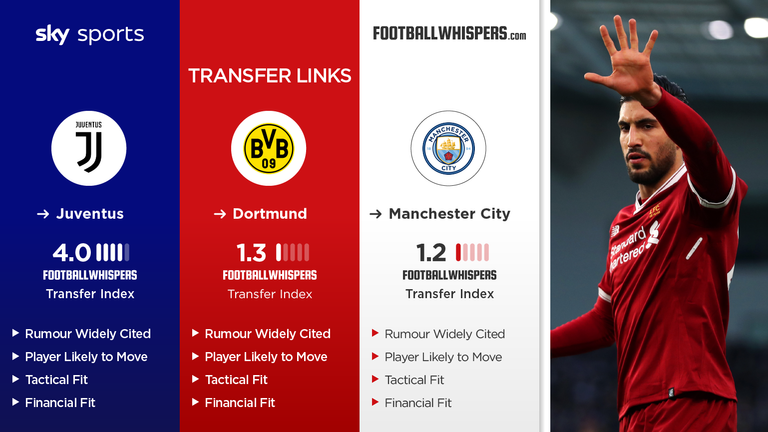 Picking up a player of Can's calibre, a 20-cap Germany international who is set to play a prominent role for the pre-tournament favourites at the upcoming World Cup, for free would represent an excellent bit of business. While his expiring contract means Liverpool will not be compensated for Can's departure, Football Whispers' Player Value metric, which takes into account factors such as current performance levels, age and future potential, rates him as a £30m player.
In recent years, no club has exploited the free-agent market quite as well as Juventus, who picked up the likes of Paul Pogba, Andrea Pirlo and Dani Alves when out of contract, with all of them becoming key players in title-winning campaigns for the Old Lady. And their pursuit of Can appears equally astute.
Juventus are fairly well stocked in central midfield, with Miralem Pjanic and Sami Khedira the two primary positional rivals Can would be competing for minutes with if he were to make the move to Turin, with the likes of Claudio Marchisio and Blaise Matuidi currently out of the side.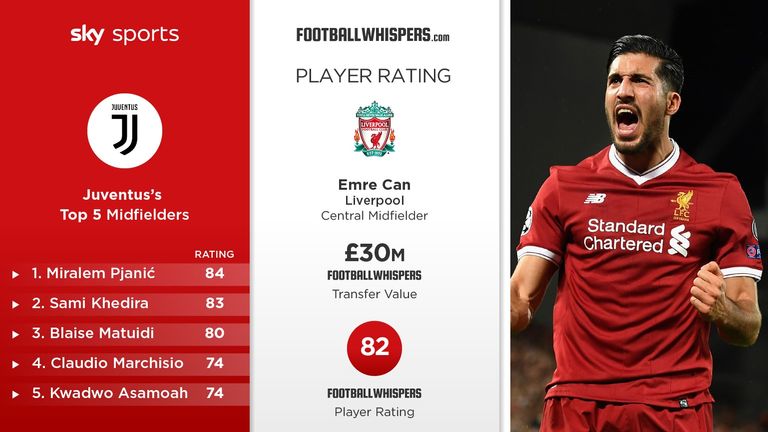 Using Football Whispers' Player Performance algorithm, which takes a holistic approach to analysing a player's contribution in all phases of play, as well as accounting for the competition level they are playing at, Can's score of 82 demonstrates he is not quite at the same overall level as Pjanic (84) and Khedira (83).
However, Can's not too far behind and has age on his side - the German is three years Pjanic's junior and six years younger than Khedira - so he would add potential and longevity to Juve's midfield.
Stylistically, the three midfielders differ: Pjanic has emerged as one of Europe's foremost deep-lying playmakers - the 'Pirlo role' - since being slightly reshaped after moving to the Allianz Stadium from Roma in 2016.
Meanwhile, Khedira, known more for his discipline and defensive acumen at Real Madrid, has been let off the leash in a box-to-box role, even scoring his first career hat-trick in a 6-2 win over Udinese in October; Can, on the other hand, is more of an all-rounder.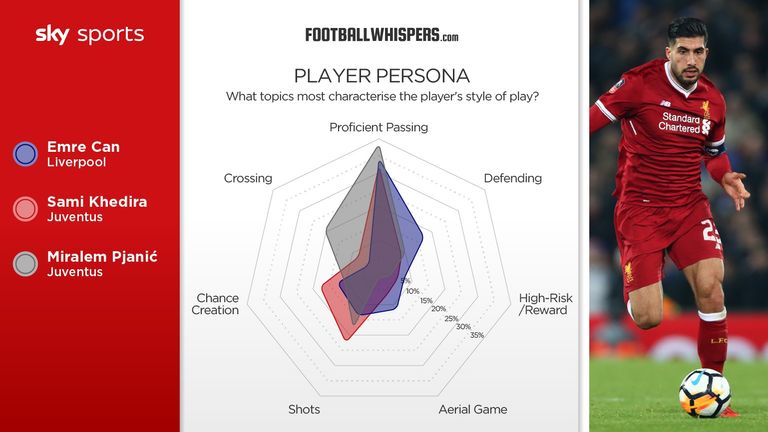 As the above Player Persona diagram from Football Whispers shows, Can is not as prolific a passer as Pjanic, nor does he threaten goal as often as Khedira, but the Liverpool man ranks second of the trio for passing proficiency and chance creation, while also producing a greater defensive and aerial output.
For instance, this season, Pjanic is proving a master distributor, making 72.15 passes per 90 minutes at an accuracy of 89 per cent; Can trails with 64.5 passes per 90 in the Premier League and an 86 per cent completion rate, but he betters Khedira's 45.91 passes per 90. Likewise, Can (1.7) can't match Khedira's 2.5 touches inside the opposition's penalty area per 90, but he gets forward much more than Pjanic (0.72).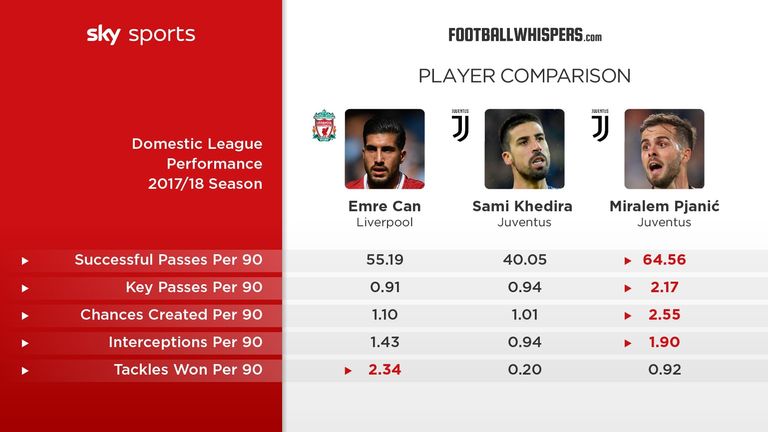 At Anfield, Juventus transfer target Can has operated regularly in positions similar to those which both Khedira and Pjanic perform in for Juve: lining up in a box-to box role in one of the wide centre positions within the Reds' three-man midfield, as well as stepping into Jordan Henderson's boots at the base of the middle third, conducting play and maintaining his position to shield the back-line.
Can's versatility is reflected in his Football Whispers Player Persona diagram, which takes into account key performance indicators from the last two seasons. When dividing the two campaigns, it becomes apparent the 24-year-old spent more time in an offensive, creative role last season - similar to Khedira's Juve remit - while this term he has showcased his discipline and anticipation in a deeper position; hence combining Can's numbers from both campaigns leads to his all-rounder Player Persona.
As well as Can's ability to take on Pjanic's and Khedira's current roles, the former Bayern Munich midfielder would also have little trouble adjusting to Massimiliano Allegri's Juventus system.
While most fans associate Liverpool with fast, attacking football - and that certainly is a prominent feature of their game - their playing style is not dissimilar to Juve's. Both sides often come up against teams who sit back and aim to stifle their attacking play, and therefore see a lot of the ball - both Juventus and Liverpool average 56 per cent possession this season.
Football Whispers' Team Persona algorithm, like the player version, processes a team's key performance statistics in all areas, enabling us to gain a clear picture of a side's style of play and tactical tendencies.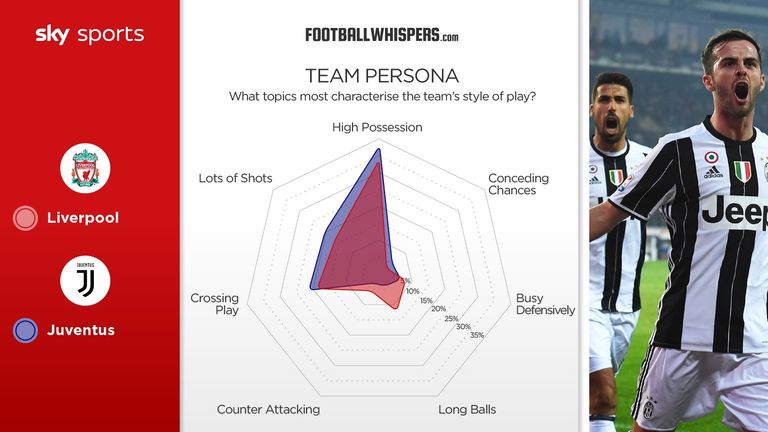 Allegri made a switch from 4-2-3-1 to 4-3-3 in November, leading to an imperious run of form for his side as they chase down Napoli at the top of Serie A, and meaning Juve match Klopp's men in shape.
As the above diagram shows, both Liverpool and Juventus see a lot of the ball and, blessed with a wealth of talent in the wide areas, emphasise crossing as a key method of attack; although the Reds tend to play a little more directly, making more long passes per game, and are busier defensively.
Adept at playing as either a No 6 or a No 8 in a three-man midfield, as well as operating within a system which likes to move the ball forward via the flanks, the Liverpool midfielder ticks all the boxes for Juventus. Able to deputise for, and compete with, Pjanic and Khedira, Can could be one of the 'Old Lady's' best-ever free signings.
You can read more data-led and analytical football content at Football Whispers' website.
Watch Juventus take on Atalanta in their Coppa Italia semi-final second leg - Juve lead 1-0 after the first leg - live on Sky Sports Football from 4.25pm on Wednesday.