Arsenal's win at San Siro must be watershed moment for club and Arsene Wenger, says Liam Rosenior
Last Updated: 09/03/18 7:57am
Arsenal's 2-0 victory at AC Milan must be a "watershed" moment for Arsene Wenger and the club, Liam Rosenior told The Debate.
Having lost four consecutive games going into the Europa League last-16 first leg at the San Siro, Arsenal eased the pressure on Wenger with an impressive and resolute display at the San Siro.
First-half goals from Henrikh Mkhitaryan and Aaron Ramsey handed the Gunners a healthy advantage going into next Thursday's return leg at the Emirates.
With the Europa League offering Arsenal their greatest route to Champions League football next season, Rosenior - who watched his Brighton team-mates enjoy a 2-1 victory over Wenger's side on Sunday - stressed that the club must build on this victory.
"This moment for Arsenal has to be a watershed. I remember I was sat in the stands at the Amex and it was quite sad to hear the Arsenal fans and what they were singing out - maybe Wenger leaving the club," he said.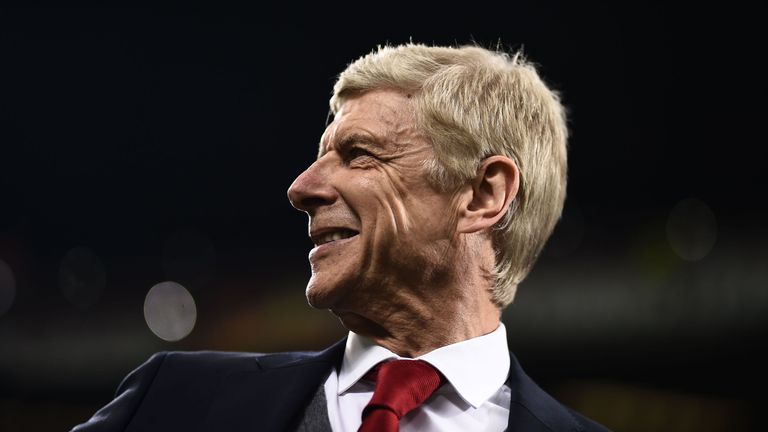 "This is their last chance now. I think Wenger has this chance to get things right. What I saw was a different side to Arsenal. It was a disciplined performance. It was about doing the basics and I saw one-to-eleven working when, without being disrespectful to the players, last week I didn't see that.
"That's what you need. We talk about the great football that Manchester City play, but you watch them live, the intensity and passion they play with to go and win the ball back is incredible."
Meanwhile, former Arsenal midfielder Ray Parlour believes the dressing room will be lifted by the victory over AC Milan.
Given that Arsenal are 13 points behind fourth-placed Tottenham, Parlour likened the club's current situation to that of Manchester United last season, with Jose Mourinho's side sacrificing a top-four push to pursue Europa League glory - a gamble which paid off and helped them secure a Champions League spot.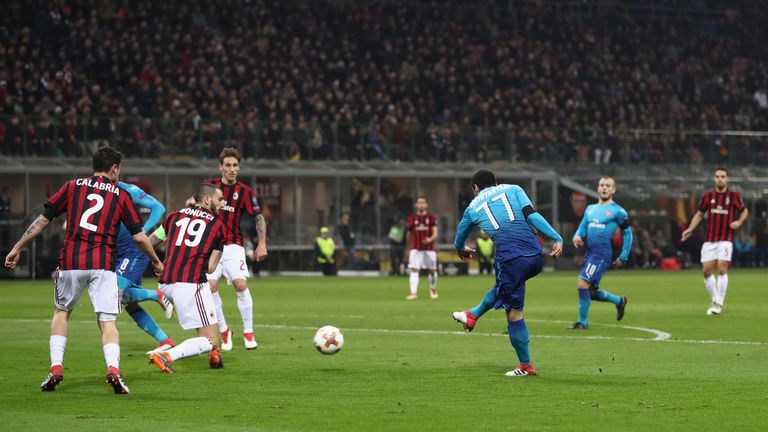 "The top four is out of the question now," Parlour said. "All their eggs are in one basket, a little bit like Manchester United. They won the League Cup and thought they couldn't get in the top four, so put their best team out every game in the Europa League.
"That's what Arsenal will do now. Hopefully they get through to the quarter-finals, but again it will be on the draw. There are some very good sides in this Europa League, so it's not going to be easy.
"Sunday is still a big game [against Watford], because momentum will keep you going. The players will grow a lot of confidence from tonight.
"They went to Milan a little bit like when we went there in 2003. We lost 3-0 at home to Inter, we went there, no one gave us any chance, and won there 5-1.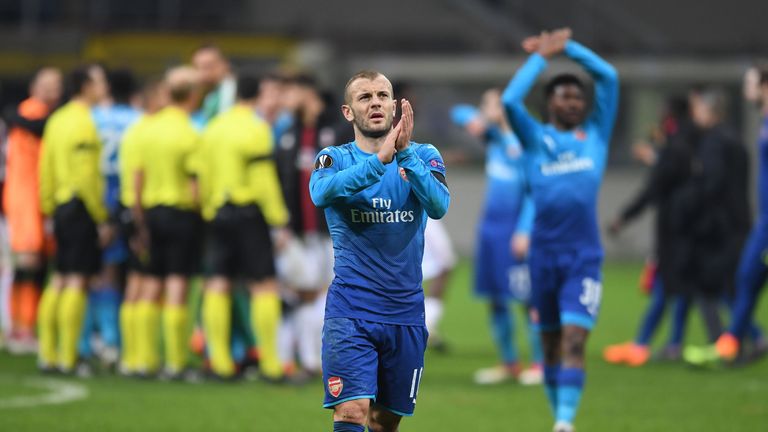 "Arsenal put in a performance that will really pick the dressing room up, but they have to try and let that carry on for the rest of the season."
Arsenal Ladies legend Rachel Yankey believes that many Arsenal fans will have made their mind up on whether they want Wenger to stay beyond this season.
However, Yankey added that the performance in Milan was one the supporters have been yearning for.
"I don't think people's minds can be changed to be honest, whatever happens, but I do think the players have now put in a performance that the Arsenal fans want to see," Yankey said.
"They've done the horrible side of football, and we know they're fantastically creative and can do all the brilliant stuff going forward, but actually the discipline of defence and the way they dug in and worked hard as a team - that's what Arsenal fans want to see."