Jack Lester dreaming of steering Chesterfield to survival
By Russ Taylor
Last Updated: 29/03/18 6:05pm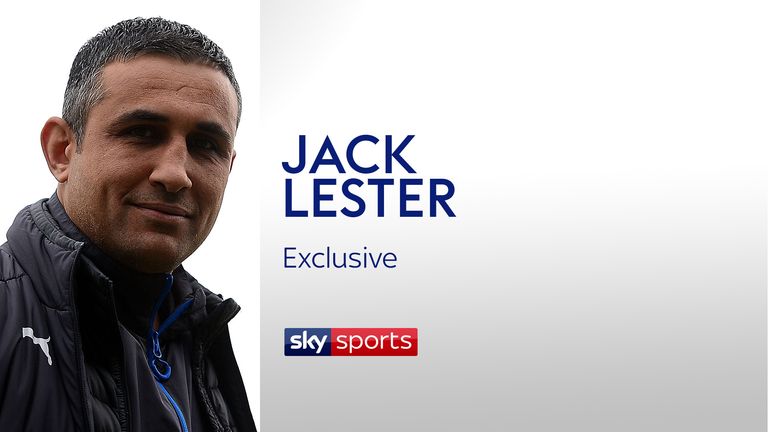 Chesterfield's win against high-flying Notts County last weekend may have surprised some, but certainly not manager and club legend Jack Lester.
"It was an excellent performance but the result didn't surprise us at all. That's the level we expect. There's not much between the teams near the top and bottom in this league," he told Soccer Saturday.
Not only did the 3-1 win secure Lester and his staff the League Manager Performance of the Week Award, it most crucially was a major step in securing the Spireites' Football League status come May.
"It's in our hands now and we have to play all the bottom five sides down there," Lester continued. "We've got players returning from injury that we haven't always had this season as well, so you could see that in Sunday's performance."
Survival would be made all the sweeter for Lester, who returned to a club where he is held in such high regard as a player his No 14 shirt was retired.
"It's lovely honour and I'm sure plenty of players before me would have had the same honour too if squad numbers had been in place," he said. "I was really touched by what the club did."
But was Lester worried about potentially tarnishing his reputation with the club if management didn't work out?
"I have a great affection for this club. It needed a change in momentum. When I came in, the club was bottom and had won four games in 10 months. I thought I could help," he added.
"The managerial position had come up three times before but this time it felt right to apply after doing my managerial apprenticeship at Nottingham Forest. I hoped I could come in and be the catalyst to turn this club around."
And he has.
Chesterfield now have a real chance of survival, adrift of 22nd-placed Grimsby by just three points but with two games in hand. Lester's resurgent side meet the Mariners next week at Blundell Park, a club where Lester is held in equally high esteem.
"Grimsby gave me my chance in football and I owe them a lot. It gives me no pleasure to see them struggling or potentially fall out of the league," he said.
It's been a baptism of fire for the former frontman, who took over at the Proact Stadium in September.
"You're only going to get jobs at clubs who are struggling as a new manager," he said. "I was never going to take over a top-four side.
"You've got to come in and try to stay in a job to gain experience. You've got to learn quickly. Holding onto a job is tough in this business but I love it."
How hard though is making the transition from player to manager?
"You do take defeats hard. And you do take it home with you. As a player it was easier to move on but as a manager I'm yet to master that art just yet!
"I've still got a lot to learn but have surrounded myself with an experienced backroom staff. You need experience and crucially that enthusiasm that they bring."
Did the man who averaged nearly a goal every other game for the Derbyshire club ever fancy throwing on the boots one last time?
Lester laughed: "No, never! I wouldn't allow my kids to see that."
If Lester was able to keep Chesterfield in the Football League, would a statue of him perhaps be in the offing?
"No way," said Lester. "The club has done enough for me already with retiring that shirt!"
Follow all the Sky Bet EFL action on Good Friday on Soccer Special, live on Sky Sports News from 2pm.