Cardiff boss Neil Warnock and Fulham striker Aleksandar Mitrovic have won the Sky Bet Championship March awards.
Promotion looms closer for Cardiff after a perfect month with wins over Barnsley, Birmingham, Brentford and Burton.
Sky Bet Championship Manager of the Month, Warnock, said: "We've just had a great season, haven't we? Whatever happens now, even if we didn't get another point, we've had a fabulous season and I couldn't fault the lads for the effort they're putting in. For us to be up there is a bit of a miracle really and I'm right proud of them. In every area, the togetherness is there, the camaraderie has come through in our results.
"I feel very proud because I don't think anyone will mind me saying the club was in a bit of disarray when we came in, both on and off the field. But putting it all together and getting bums back on the seats at the same time as a side that are winning games I think is very special.
"I think if you're a Cardiff fan now, you walk about in town and you're proud to be a Cardiff fan and you want to come and cheer your team on and I think that's great. As a manager, I want them to get behind us and the players as well."
Fulham striker Aleksandar Mitrovic has been named the Sky Bet Championship Player of the Month for March. His strength and ability to hold the ball up, bringing team-mates into play, have been matched by his finishing ability with five goals in as many games.
Mitrovic said: "I'm happy and proud, I'd like to thank my team-mates for helping me to achieve this and I'm looking forward to the rest of the season. From the first minute here, I adapted really fast and my team-mates have helped me a lot. I feel good to play every game on the pitch so I hope that we'll be able to fight for automatic promotion for the rest of the season.
"I needed to leave Newcastle because I needed game time and needed games in my legs and I was desperate to play football, to be on the pitch, to score goals. It works perfectly for me, I really enjoy it here, my family enjoy it and I hope it continues. The manager, obviously being Serbian too, helped me a lot and the style they play, the players they have, I like a lot."
Sky Bet League One
Manager: Paul Cook, Wigan
Cook's Wigan side made light of a hectic schedule, playing catch-up after their FA Cup heroics. Two exciting draws with promotion rivals Blackburn and Scunthorpe were followed by four wins with a 9-0 goal differential to go top again.
Cook said: "Am I happy to get March's award? I'd much prefer to get April's! If I was sitting here with April's award it would mean that we've had a fantastic end to the season. After Monday's defeat at Portsmouth, we're still very much in the race with two other teams who are both having outstanding seasons.
"We've got eight games to go, and like I always say, it's in our hands now, and as the games filter down wins become massively more important. For us, it's about being focused, enjoying the run in but we've got great players in our team. I've got great belief in the players and we'll soon find out what it brings."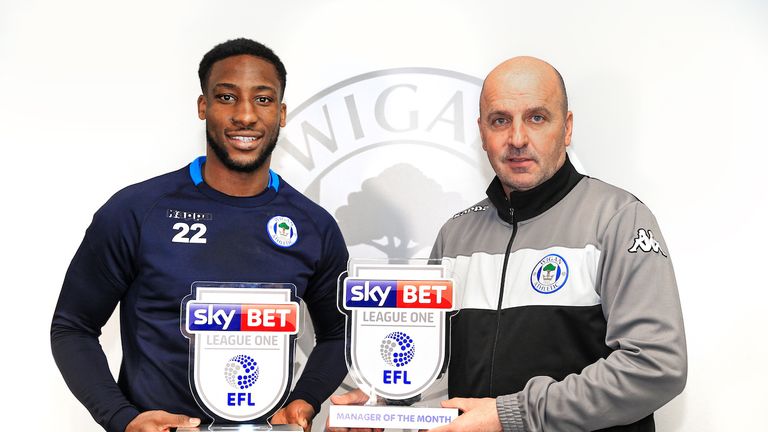 Player: Chey Dunkley, Wigan
Commanding in both boxes and with a natural ability to snuff out danger or sniff out a goal, Dunkley has enjoyed himself at both ends of the pitch in March, contributing three goals and four successive clean sheets to Wigan's promotion charge.
Dunkley said: "Throughout the season, we've always tried to have a strong foundation, which gives us the best chance of winning games. We go into the game looking to keep clean sheets and hopefully we've got the quality up there to score a goal to take us over the line.
"I like to say I'm aggressive in the air and like to get my head on things. I wouldn't say I was always working on the offensive side of the game but I do fancy myself to get goals here and there and chip in from defence."
Sky Bet League Two
Manager: John Coleman, Accrington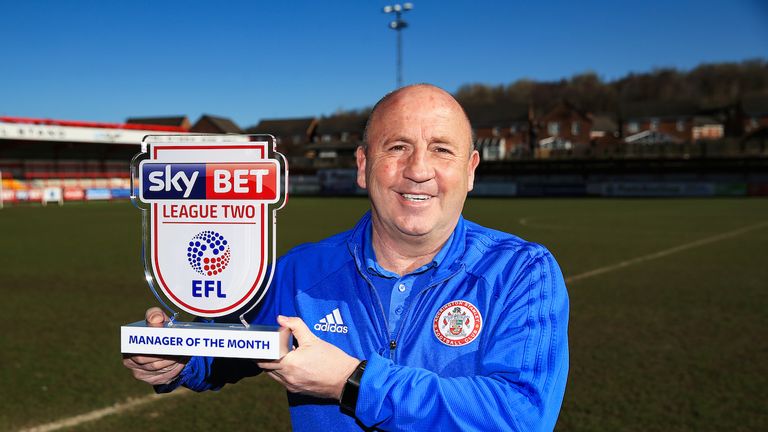 A second straight award for February's winner and this time Coleman's side were perfect. They won all four games and conceded just two goals, beating Luton away and taking over at the top of League Two.
Coleman said: "It feels good to be close but it's no good being close if you don't go all the way and get where you want to go. There's still a lot of hard work to be done, but the players are relishing the task. I wouldn't want any different squad to the one I've got now.
"The players have got the bit between their teeth and they're very determined, they're finding a way to win and you need a little bit of luck along the way. Sometimes you can make your own luck, but if you work hard and play the game in the opposition's half, you've got a chance of winning."
Player: Mo Eisa, Cheltenham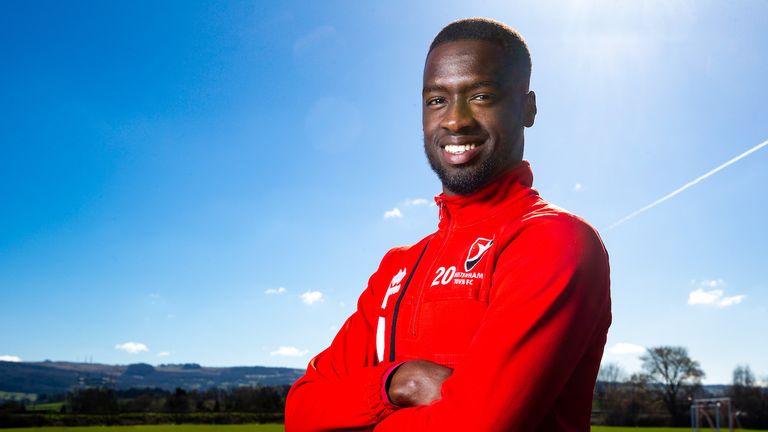 After a nomination last month, Eisa went one better after four goals in five games. These all came in the away victories at Swindon and Crawley, where he also won a penalty.
Eisa said: "I'm absolutely delighted to get the award. I was nominated last month too and came close then so it is nice to go one better and be named as the winner. It's been a good March for both me and the team, with some positive results especially on the road.
"It's always great to win any award and I thank my team-mates for the part they played in helping me achieve this. Now I just want to use it as a springboard to kick on and perform well until the end of the season."