A look at the reasons behind West Brom's disastrous season
Last Updated: 19/04/18 6:50am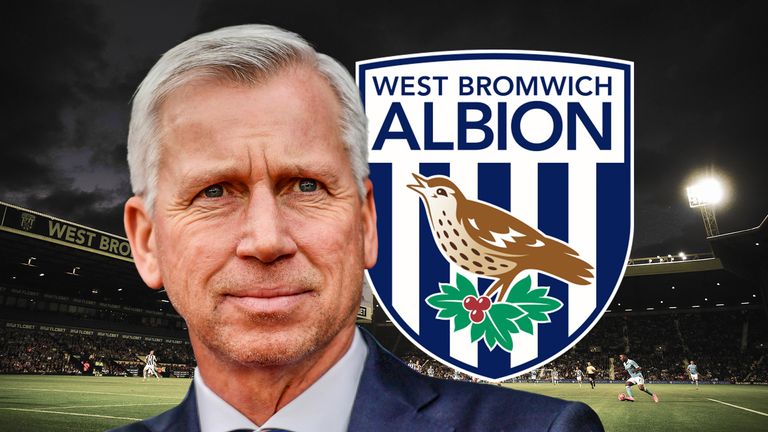 Countless off-field problems, boardroom upheaval and record-breaking poor form have contributed to a miserable season for West Brom - but how has it gone so wrong so quickly? With the help of former West Brom assistant Gerry Francis, we take a look...
Having secured a first top-half finish in four seasons last year, with survival expert Tony Pulis at the helm, and some astute signings brought in, the last thing West Brom fans expected was a relegation battle ahead of this campaign.
However, a poor start to the season saw Pulis sacked in November, Alan Pardew was appointed then things went from bad to much worse. How and why are West Brom on the brink of a bottom-placed finish? We take a look…
Grass is not always greener
That 10th-placed finished masked a poor end to West Brom's 2016/17 campaign which saw the Baggies lose seven of their last eight league games - Pulis needed a positive start to this campaign.
After two 1-0 wins in a row against Bournemouth and away at Burnley, Pulis looked like he had calmed another storm, but a run of 10 more league games without victory saw Pulis relieved of his duties, with West Brom just above the relegation zone.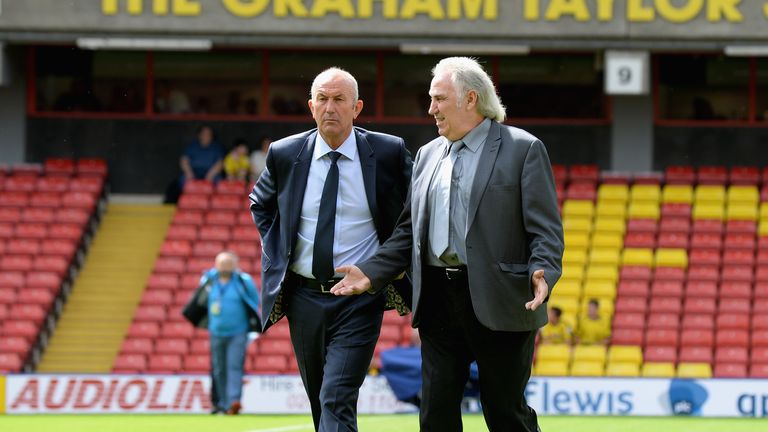 I certainly don't think that with that squad of players, had Tony stayed, we would have been relegated, 100 per cent.
Gerry Francis
"I certainly don't think that with that squad of players, had Tony stayed, we would have been relegated, 100 per cent," Francis, assistant to Pulis, tells Sky Sports. "Working with Tony at Stoke, Crystal Palace and West Brom, we tended to be in positions where we had to work hard, without spending a lot of money, to stay up. We did that brilliantly for a number of years.
"Alan asked me to stay on, but didn't feel comfortable, as I was the only one of the coaching staff to get that offer. I said to Alan, though, that you won't go down, not with this squad."
Pardew oversaw just one more league win, with caretaker boss Darren Moore at the helm for West Brom's other success at Manchester United on Sunday - a return that leaves them nine points from safety. Pulis, on the other hand, has transformed Middlesbrough into Championship play-off contenders.
Attack not always best form of defence
Much of the unrest at The Hawthorns centred around Pulis' negative style of play - fans yearned for more entertainment, but when you are down at the bottom, such an approach can be risky business.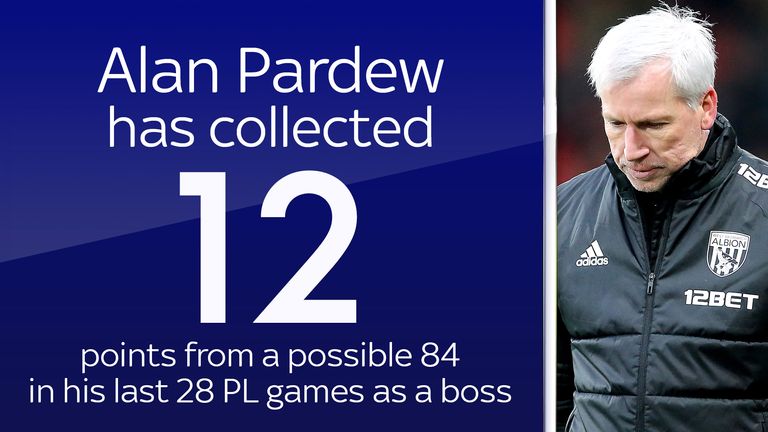 When sacking Pulis, there didn't seem to be a succession plan in place, as it took ten days, as two Premier League games passed, before Pardew was brought in, and to bow to fan pressure for more attacking football, Pardew went with three strikers in his first match in charge, seemingly to make a statement of intent.
That finished 0-0, but Pardew persisted with that front three, to little avail. It actually took four games for West Brom to score a goal under Pardew, and nine to record a victory. Pulis, while it might not have been pretty, knows how to dig teams out of a hole. His record wasn't all that great before being sacked but, given time, he may well have dug in to turn things around.
"It is easy to play attacking football if you have millions of pounds to spend on the best attacking players," Francis continues. "Our squad of players were playing teams that were better than us but you still have to get results. I am different to Tony as I am more attacking, but at the same time, you have to have a good defensive base. Houses are built are solid foundations."
Making headlines for the wrong reasons
When things aren't going to plan on the pitch, it is important for all the players to keep their heads down, work hard and stay out of trouble.
Instead, three days after a third-straight league defeat on February 12, Pardew still took his players to Barcelona on a mid-winter break, with only four full days between games. According to reports, Pardew booked the trip before their FA Cup fourth-round victory at Liverpool, as he didn't expect his team to be in the next round.
West Brom did have to return to England, to take on Southampton in the fifth round the following Saturday - a game which they limped to defeat in - but not after the fiasco of all fiascos in Catalonia.
According to Reuters, four Albion players were questioned but not arrested by police over the alleged theft of a taxi, with those four players forced to apologise for breaking a club curfew. The night before, Pardew had lost his mobile phone, wallet and jacket on a night out.
Two of those players, Gareth Barry and Jonny Evans both played in the Southampton defeat. Pardew stripped Evans of the captain's armband as he wanted to "make a bit of a statement", but still kept both in the side.
Since, Chris Brunt has had a heated half-time altercation with Pardew over his tactics in the Huddersfield defeat in late February, while Pardew had another clash with Grzegorz Krychowiak after the Poland international refused to shake his manager's hand after being substituted in the Leicester defeat.
"I do have a problem with it because I've supported him and played him and stuck by him when he's not been particularly great," said Pardew.
The dressing room appeared lost, and the results have suffered - since "Taxigate" West Brom have picked up four Premier League points - three of those on Sunday at Old Trafford.
Upheaval behind the scenes mirrors chaos on the pitch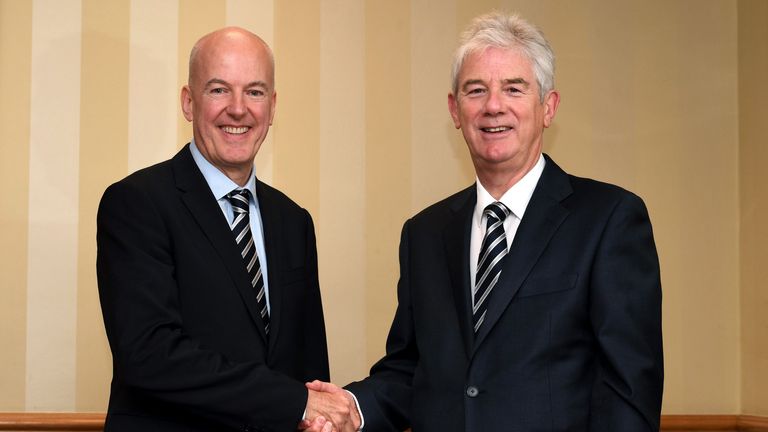 Replacing the manager didn't solve West Brom's problems, as it took Pardew nine games to taste victory, after the Baggies had gone 20 without success. Next in the firing line were chairman John Williams and chief executive Martin Goodman, who were both sacked in February.
The new Chinese owners brought in Williams to replace Jeremy Peace in 2016, but failed to establish a connection with the coaching team in place.
"It is obviously different when you have an owner who lives in a different country," Francis adds. "We had a new chairman come in, working for the new owners, and Tony's ability to see the chairman was less than before."
Neither Williams or Goodman's sackings made any difference, just adding to the feeling of disarray at the club. The solution? Another sacking, as technical director Nick Hammond was relieved of his duties last week.
Giuliano Terraneo has arrived to replace Hammond, with an impressive pedigree after heading up recruitment at Lazio and Inter Milan, but it remains to be seen how much influence he can have on a club not going in any particular direction.