Thierry Henry pays tribute to 'Superman' Andres Iniesta as Barcelona legend prepares for final goodbye
Last Updated: 03/05/18 4:50pm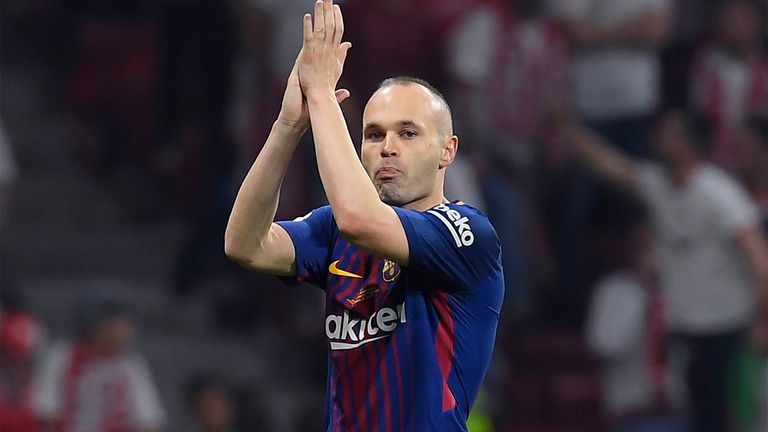 Outgoing Barcelona legend Andres Iniesta transformed from a quiet, unassuming personality "into Superman" the moment he set foot on the pitch, according to Sky Sports pundit and former team-mate Thierry Henry.
Iniesta is leaving the Nou Camp this summer almost 16 years after he made his debut for the Catalan club, with a move to China anticipated.
The 33-year-old looks set to line up in his final El Clasico on Sunday, when the league champions host Real Madrid live on Sky Sports Football, and will leave a lasting legacy at a club with more than a little history of its own when he departs at the end of the season.
Henry played alongside the player rarely matched in talent terms during his 670 appearances for the club to date, and said the 5ft 7ins restrained personality off the pitch could not have been more different once he had grass under his feet.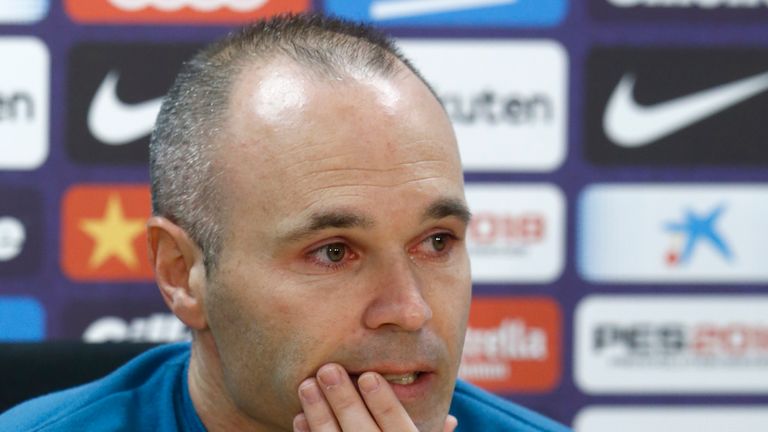 He said: "Andres is the guy who, first and foremost, does his talking with the ball. He's not very vocal off the field, you won't see a lot of interviews with him, but when he has the ball he can talk for days.
"I always think, when you look at him, if he walked past with a cap you wouldn't even know it was him. Chilling, low key, not doing anything - you throw him a ball and he turns into Superman.
"You can't grab him, he'll play one-twos to get past you, it's annoying. But it's all in his head. Look at him - did he have a little two-three step to get past you? Yeah. Was he quick? Not really. Was he strong? Not really."
Few would call World Cup final goalscorer Iniesta under-rated, but he rarely stole the headlines in a team which has won four Champions Leagues and nine La Ligas since his breakthrough and boasted some of the biggest names in world football.
And Henry added that lack of limelight had made the midfielder difficult to define - but never difficult to appreciate.
He said: "It's very difficult to keep it simple when you can do more, and Andres does whatever the game is asking him to do. He wasn't maybe the one scoring the goals or racking up assists, but when I say he was the guy before, people will ask me: 'What's that?' The guy that controls the tempo of the game.
"The one who makes your team tick, decides when we go or not. Then you have the likes of Neymar, Eto'o, Ronaldinho and obviously Lionel Messi who did what they did.
"But if you don't have that guy who controls the rhythm and the tempo of the game, makes things tick and decides when it's time to keep the ball, it's not the same. He was a joy to play with, what a player and what a brain."