Merson's predictions: Swansea v Southampton, Chelsea v Huddersfield and Spurs v Newcastle
Last Updated: 09/05/18 10:19pm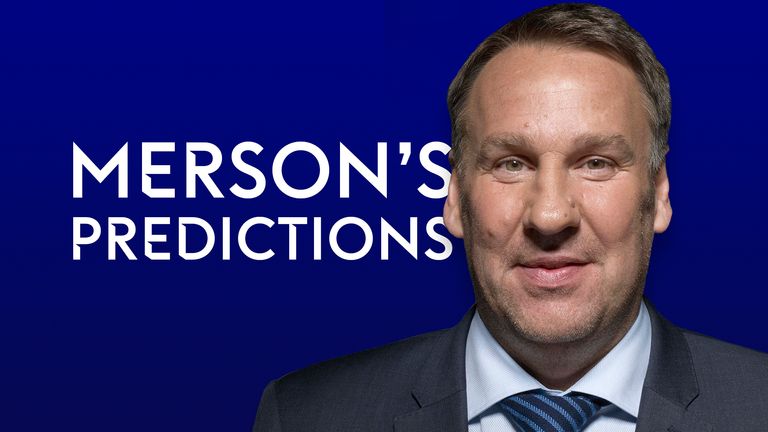 Paul Merson returns with his midweek Premier League predictions, but who is he tipping for glory?
The action continues on Wednesday as Chelsea host Huddersfield Town at Stamford Bridge in a contest with big implications at both the top and bottom of the table.
Also playing on Wednesday evening are Tottenham Hotspur, who can go a long way towards sealing a top-four finish by beating mid-table Newcastle United at Wembley Stadium, while Leicester City host Arsenal.
Meanwhile, recently crowned champions Manchester City entertain Brighton & Hove Albion at the Etihad on Wednesday, before we conclude all the action with second-placed Manchester United's trip to take on West Ham United at the London Stadium on Thursday.
Chelsea v Huddersfield (Wednesday from 7.30pm, live on Sky Sports Premier League)
Huddersfield worked really hard on Sunday at Man City, but Chelsea HAVE to win this football match otherwise Sunday's win against Liverpool will be pointless and just goes out the window.
So I think Chelsea will win this 2-0, but this is a big game for them to put pressure on Spurs and Liverpool.
PAUL PREDICTS: 2-0 (9/2 with Sky Bet)
Leicester are all over the place, they are completely gone and West Ham ripped them apart on Saturday, so I am going to go Arsenal 3-0. You just hope it does not rain at the King Power, as you can't play in flip flops - they would be falling all over the place.
PAUL PREDICTS: 0-3 (16/1 with Sky Bet)
City will have been partying after Sunday night. I like Brighton, they have brilliant and they got a good result on Friday against Man Utd, but I am going to go 2-0 to City!
PAUL PREDICTS: 2-0 (5/1 with Sky Bet)
If you look at Spurs' fixtures, then if you had to pick two teams to play at home, it would be Newcastle and Leicester. But at the same time, Newcastle do not get the chance to go to Wembley too often, do they? And their fans may make it a bit of a party.
You would have expected Spurs to get something at West Brom on Saturday, though.
I think Spurs will win, Newcastle were poor at Watford on Saturday - better second half, but it is easy to play when you are 2-0 down. They have to be careful, though, as they have good fans and if they turn up in their thousands at Wembley, they will want them to put on a show.
And if they do not, Spurs are the type of team that can embarrass you on their day. The pressure is severely on Tottenham, though, so I think they will win 2-1.
PAUL PREDICTS: 2-1 (9/1 with Sky Bet)
West Ham v Man Utd (Thursday from 7.30pm, live on Sky Sports Premier League)
No game is a dead rubber when you play for Man Utd, everyone wants to beat them. And United need to start getting going as it is a bit worrying for them.
You look at their squad and think it is big, and then they make a lorry load of changes and never look like beating Brighton. So I think this is a big football match for them and you are looking at players here and you start questioning are they good enough to play for United?
And what Jose Mourinho said after the Brighton game was spot on - people thought it was a bit harsh, but I did not think so. These lads were given a chance, but they looked like they were thinking, 'We are only playing because he has made changes for next week, when we won't be playing (the FA Cup final).'
And you can't go out with that attitude. West Ham have gone great, but I have to go for a response here and I would be shocked if there was not one, so I am going to go 2-1 United. They cannot go into the Cup final playing like this - you can't just turn it on and off like a tap.
PAUL PREDICTS: 1-2 (7/1 with Sky Bet)
This is a cup final and as big as a Championship play-off final game - whoever wins, you would have to say is safe. Huddersfield will be sweating on Swansea winning this game as they have Stoke at home in their final game, while Southampton have Man City at home.
Swansea have gone off the boil a bit though and they have tried to stick a few times - when you get these free swings, you are better off just going for it and gambling, instead of just playing to nick a draw.
But at the end of the day, Swansea could win this game and stay up because of their goal difference, with them having not been smashed by other teams, so it is a bit of a catch-22.
The game they will be kicking themselves about is Everton at home, which they dominated and they were by far the better team.
If Southampton draw, they are out of it, but Swansea have two home games now. However, Swansea are good at home and have decent players, and I think Southampton have to win - they will not want to go into the final match against one of the greatest Premier League teams of all time needing to win.
Southampton are playing well at the moment, they were good against Bournemouth, even though they were hanging on a bit at the end, and then they were unlucky against Everton.
However, I am going to go for Swansea to win - I am going to forget their last few results, which were hard fixtures, and say they will win at home. And if it is 1-1 with 20 minutes to go, I do not see all-out attack from Swansea as I think they will take their chance on beating Stoke at home.
PAUL PREDICTS: 2-1(11/1 with Sky Bet)