Phil Jones says Manchester United FA Cup win will improve confidence for next season
Last Updated: 15/05/18 2:43pm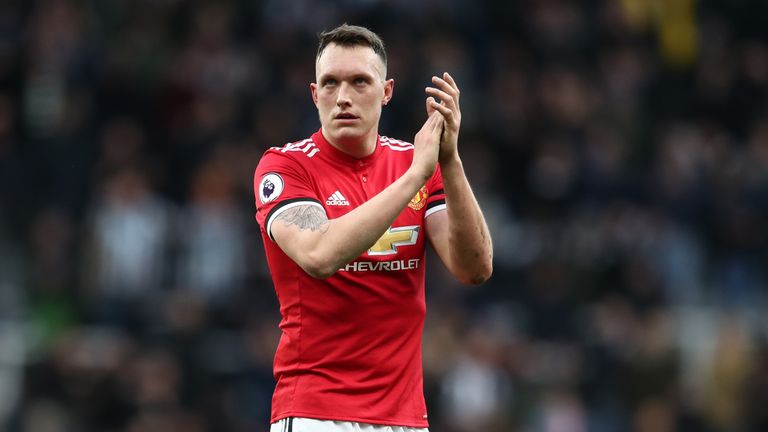 Phil Jones believes winning the FA Cup on Saturday would boost Manchester United's Premier League title bid next term.
Having finished their league campaign in second place, 19 points adrift of Pep Guardiola's record-breaking Manchester City, United have one final chance to win some silverware when they face Chelsea at Wembley on Saturday.
Jones admits winning the FA Cup is not enough for Manchester United, but believes it could spark improved performances in Jose Mourinho's squad next season.
"It will be our last game of the season - if you win that, you finish on a positive note and you go into the next season feeling confident, ready to go and ready to battle again for the title," the England international said.
"I really don't think we're far away. In another season we might have been challenging. Sometimes you've got to hold your hands up and say that Man City have done ever so well to win the league this year, take nothing away from
them.
"They've competed well in every game and won games where you're thinking they probably would have drawn. I think winning the FA Cup and going into next season will be good for us."
On reaching a third final in two seasons, Jones added: "We're moving in the right direction.
"We'll always have our critics because we're Man Utd and ultimately it's been like that since I've been here, but it shows that we're moving in the right direction under him [Mourinho].
"A successful season for Man Utd is winning the Premier League and another trophy, and probably having a good cup run in another one.
"I think finishing second and winning the FA Cup probably would be satisfactory for Man Utd but we always want to win more.
"This club is so used to winning things. It is part of the history of this club. To keep adding to that is important. We cannot stand still. We can't just let the FA Cup final pass."