Steve Bruce admits Aston Villa were in a "mess" following their relegation from the Premier League, but is now "delighted" to have guided them to the Sky Bet Championship play-off final.
A goalless draw with Middlesbrough on Tuesday secured a 1-0 aggregate win and a meeting with Fulham at Wembley on May 26.
Villa were relegated from the Premier League in 2016, losing their top-flight status for the first time in 29 years. They came fourth in the Sky Bet Championship this season and Bruce, who was appointed manager in October 2016 with Villa 19th, knows it has been a long slog.
"Eighteen or 19 months ago this club was in a mess but the experienced players have done the job for us and we're delighted about that," he said.
"As a one-off it's fantastic if you go up through the play-offs, although I would love to have been second and sitting on a beach now.
"It was always going to be tough but what has got us through is our defence over two games. If any team deserved to win the game tonight I think it was us."
Bruce, who has ushered Birmingham and Hull to promotion via the Championship play-offs, hailed his side's defensive displays and felt their solidity at the back proved crucial over the two legs against Boro.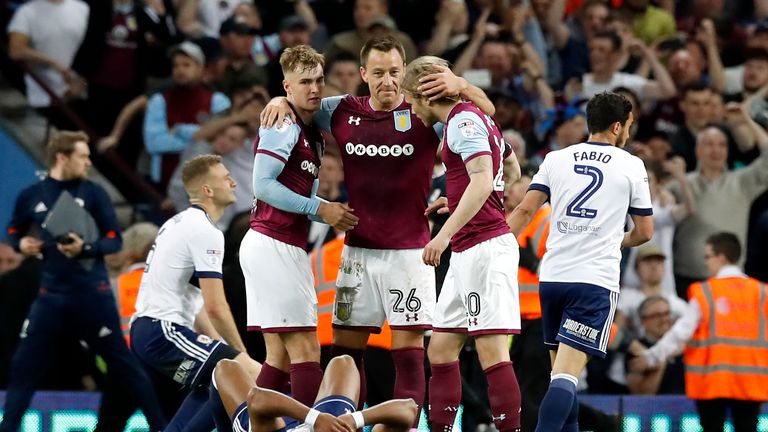 Bruce told Sky Sports: "We've just shaded it over the two games. We've got a goal from a set-piece which has won two games, basically. There's not much in the teams but I don't think they've had a shot on target in the two games. That stood us in good stead, obviously.
"I thought in the first half we gave the ball away too cheaply and we got caught up a little bit. In the second half, if I'm being honest, if there was one team that was going to win it I thought it might have been us.
"It was agony towards the end," he added. "It means so much and you can see what it means. Thankfully it looks as if we've got the club turned round a little bit."
Villa will look to end a two-year Premier League exile when they take on Fulham - who beat Derby to reach the play-off final - and Bruce is expecting a tough challenge against Slavisa Jokanovic's side.
He said: "We've given ourselves an outstanding chance and we've got to beat a very, very good team in Fulham so we'll have a couple of days' rest and then prepare for what turns out to be a huge, huge game for everybody.
"Fulham are a good football side, that's why they are where they are. We beat them here and they beat us down there. They've got some good players but, then again, so have we. It's something to look forward to. Go to Wembley, let's enjoy it."