Dele Alli: Has Tottenham midfielder's position become an 'issue' for England?
Matt Law and Charlie Wyett discuss England goalscorer against Sweden
Last Updated: 08/07/18 3:21pm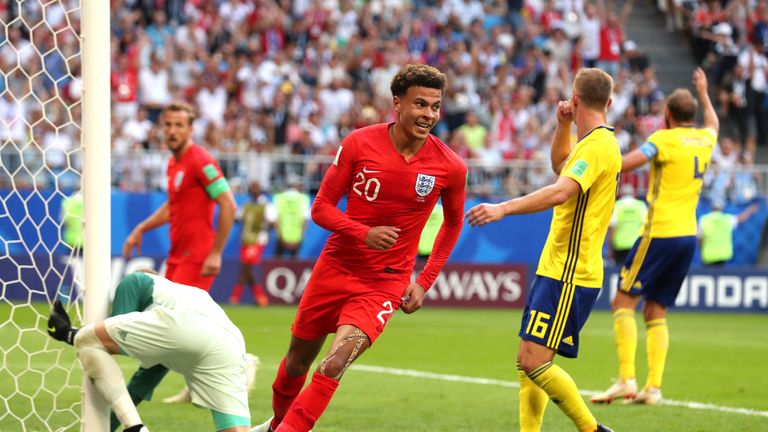 Dele Alli scored England's second goal against Sweden, but is there a case for leaving him out of the semi-final with Croatia?
That was one of the issues discussed on the latest episode of the World Cup Supplement Podcast as The Daily Telegraph's Matt Law argued the Tottenham player is still learning to function in a deeper midfield role.
Alli has scored 46 times in the last three seasons from a more attacking position for Tottenham, but has only scored three international goals since making his debut in 2015.
While Law believes Alli should remain part of the starting XI for the semi-final against Croatia, he believes the Tottenham player has become an "issue" for manager Gareth Southgate.
"Dele Alli is a really interesting one," he told the World Cup Supplement Podcast.
"He has become the youngest goalscorer for England at a World Cup since Michael Owen and he has broken the duck he had of not scoring since 2016.
"But actually, he didn't have a great game. In the first half, in particular, he struggled. A lot of the passes were off target.
"Southgate could have taken him off at half-time and before the game we were wondering if he would leave him out. If Southgate had hooked him at half-time I don't think anyone would have been up in arms about it.
"It worked out really well because the confidence the goal will have given him is a huge thing for Dele Alli, but it is taking him time to adapt to the position he is playing to the left of Jordan Henderson in the middle of the park, rather than further forward where he plays for Spurs.
"He is not at his best in that position yet and he is having to learn it on the job. I think that's an issue.
"I think he'll stick with Dele Alli and he should stick with him, but I do think it is something Southgate will be looking at and considering."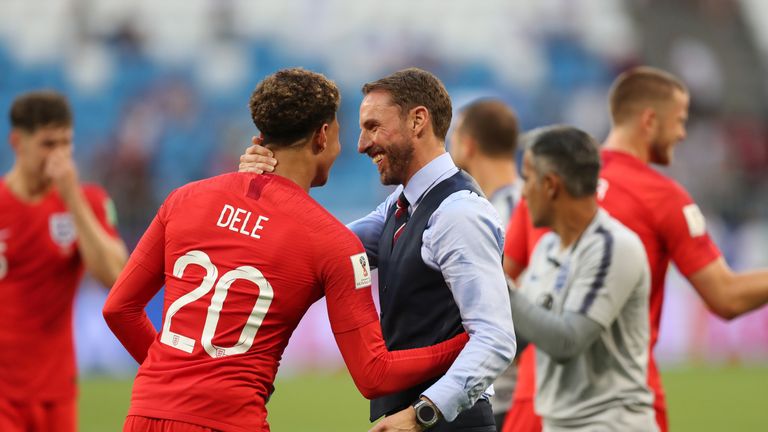 Law added that Raheem Sterling is playing in the position where Alli would be more effective - but said the pace of the Manchester City player is too important for Southgate.
"Southgate wants to put him, Lingard and Sterling into the same team and that isn't easy," he added.
"It's even tougher when he's found a 3-5-2 system that he likes because with Sterling and Alli in the same team you'd think it would be easier to play three up front.
"He wants to play two up front because he needs men in the middle of the pitch and Dele Alli is the one having to slightly sacrifice himself for that and play in a slightly different position.
"I think he would be better suited to playing where Sterling is playing, but then you haven't got Sterling's pace - and whatever you say about his finishing, you are always going to create chances and get danger with Sterling's pace."
The Sun's Charlie Wyett was also on the latest World Cup Supplement Podcast - and he argued that Alli, who missed the Panama and Belgium games through injury - may not be fully fit.
"It may depend on fitness as well," he said.
"Dele Alli may only have been 90 per cent fit and is probably only 80 per cent match fit. He was replaced before the end against Colombia.
"He is growing into the role, but looked sharper in the second half against Sweden and will have left the pitch with his confidence sky high.
"The issue is it's only four days and they have really got to monitor the players' fitness. As Southgate said to us the other day, one issue they've got is the manager has to work out whether the players are telling the truth over their fitness.
"He's going to have that battle again over the next 72 hours."