FIFA issues warning to Croatia defender Domagoj Vida over pro-Ukraine video
By The Associated Press
Last Updated: 08/07/18 4:50pm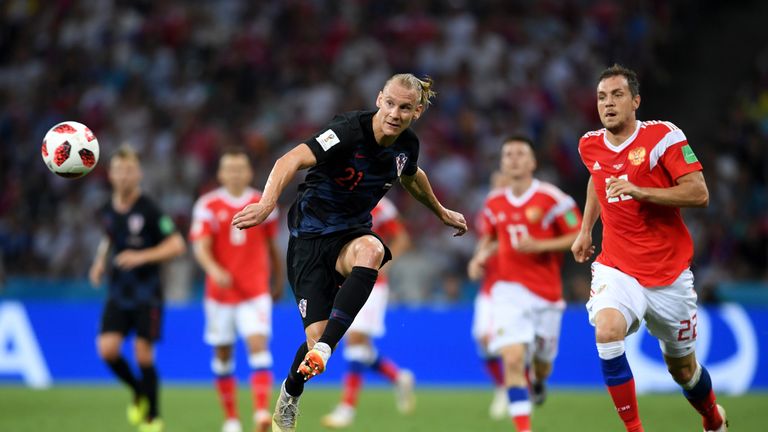 FIFA's Disciplinary Committee has sent a warning to Croatia defender Domagoj Vida after he was filmed praising Ukraine following his side's victory over Russia.
The video shows Vida shouting "glory to Ukraine" before his former Croatian team-mate Ognjen Vukojevic, who is now retired, adds "this win is for Dynamo and Ukraine ... go Croatia."
Vida and Vukojevic played together at Ukrainian club Dynamo Kiev. It was not immediately clear whether they intended the video to be made public, or if it was a personal message later uploaded to YouTube by someone else.
After investigating the matter, FIFA said in a statement: "We can confirm that FIFA's disciplinary committee has sent a warning to the player Domagoj Vida due to his video statement following the 2018 FIFA World Cup match between Russia and Croatia."
Vida, who scored a header in extra-time to give Croatia a 2-1 lead and a penalty in the shootout, told the Russian newspaper Sport Express he meant the video to be a personal message.
"There's no politics in football. It's a joke for my friends from Dynamo Kiev," he was quoted as saying. "I love Russians and I love Ukrainians."
Tensions have been high since Russia annexed Crimea from Ukraine in 2014. Ukraine's government accuses Russia of arming pro-Russian separatists who control part of the east of the country, and of backing up the separatist groups with Russian military forces.
Vukojevic was appointed last year as a scout for Dynamo after a lengthy playing career which included being part of the Croatia squad for the 2014 World Cup.
FIFA can fine or suspend players for political gestures at the World Cup. Three Swiss players were fined for making hand gestures referencing the Albanian flag during a 2-1 win over Serbia in the group stage.
Croatia face England on Wednesday in the country's first World Cup semi-final game since 1998.