England knocked out of World Cup by Croatia: Paper reaction
Reaction from English and Croatian media
Last Updated: 12/07/18 12:04pm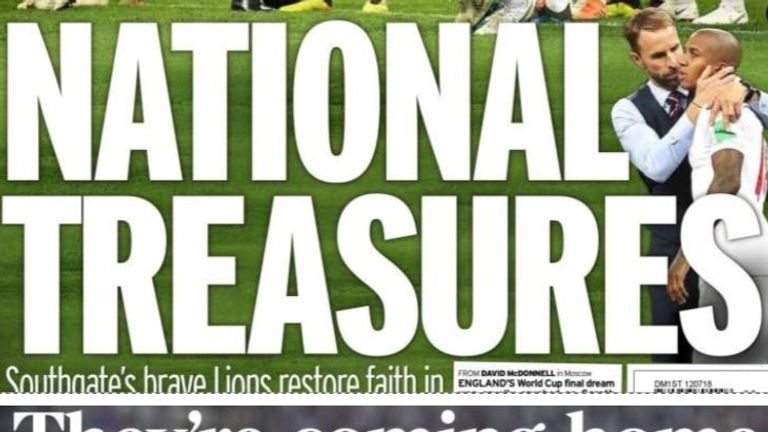 'A Kick in the Balkans' and 'Oh Cro' - here's how the world's press reacted to England's defeat to Croatia.
Gareth Southgate saluted his overachieving England side after their World Cup came to an end in the semi-finals at hands of Croatia.
Kieran Trippier fired England into a fifth-minute lead but Ivan Perisic forced extra-time, where Mario Mandzukic won the match for Croatia.
From the British tabloids to the Croatian press, here's how the world responded...
'End of the dream'
Southgate embraces Kyle Walker as a World Cup adventure that swept a nation ended in Moscow.
'A Kick in the Balkans'

Cheeky stuff from The Metro, who decided to lead with a hard-hitting image of the moment four England players knew the World Cup dream was over.
'We Salute You'
A back page dedicated to the job done by Southgate, who has improved relationships with the media and produced a team the country are proud of.
'National Treasures'

The Daily Mirror also chose to lead with pictures of Southgate consoling his players after the defeat.
'Cro No'
Agony was in full view on the Daily Star back page with a 'Cro No' inspired headline that captured the anguish on the face of England goalkeeper Jordan Pickford.
'Heads held high'
Trippier almost became a hero by scoring the opening goal with a sublime free-kick before his night turned sour with the late Croatia goals and suffering a groin injury. He leads The Times' coverage.
'England had no chance'
Croatia's papers celebrated their history-makers - as well as suggesting, like Luka Modric did, that England had underestimated their talents.
Zagreb daily 24sata wrote: "England had no chance tonight - Southgate's players did not just play against Dalic's footballers but the whole of Croatia. The English woke up that extra frustration in the Croatian team."
The tabloid also hit out at England for trying to seemingly equalise while Croatia were celebrating what proved the winner from Mario Mandzukic.
"It seems that the English did not learn the basics of the rules of soccer," they added.
And they claimed the victory had even been attained with "our rocket" Ivan Rakitic clocking a temperature of 39 degrees the night before the game.
Split's Slobodna Dalmacija simply splashed with the '2:1' scoreline, also warning France: "The final will be fiery"
Inside they lauded Modric and referenced a Croatian social media campaign to help the Real Madrid midfielder land the Ballon d'Or.
Another Zagreb daily, Sportske Novosti, celebrated a "magical" night during which Mandzukic and his team-mates "wrote history".
"Croatia were magical in finishing the English," they said. "After the last whistle at the Luzhniki Stadium, there was an unforgettable celebration. The players were crying, wandering, glorious, and overall happiness ruled everywhere.
Also paying tribute to Ivan Perisic, the paper added: "He has finally shown how useful and important he can be."