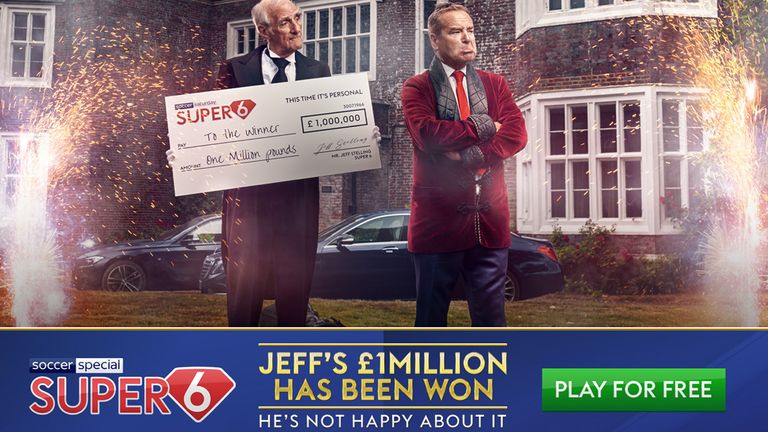 Three players will share the Soccer Saturday Super 6 jackpot of £1m after predicting six correct scores.
The prize will be shared equally between Vicki from Southampton, Ron from Milton Keynes and Trevor from Belfast who all pick up £333,333.33 each.
The destination of the jackpot all hinged on the injury-time action in the Sky Bet Championship game between Wigan and Nottingham Forest at the DW Stadium.
With Wigan 2-1 up, Forest's Matthew Cash was brought down in the area in the 91st minute to win a penalty and provide a late chance for Forest to earn a point. Lewis Grabban seemed to have blown that golden opportunity as he saw his spot-kick saved by Christian Walton.
However, Hillel Soudani's scored from the follow-up to earn a 2-2 draw and present the three players with a share of the £1m Soccer Saturday Super 6 Jackpot.
All three players had predicted the same time for the opening goal, so the tie-breaker did not separate them and the pot was split.
Lucky winner Vicki said: "We were out playing with our son in the garden, and then one of my husband's work colleagues rang us to say they thought we were close to winning Super 6. We thought he was winding us up, but we went inside, switched on the TV and my husband, Rob, just started jumping about.
"There was still about seven minutes left in the Wigan game, so I told him to sit down, as there was no way we were going to win this. But then the full-time whistle went and we got the call from Super 6 and we were sent into shock and we can't really believe it still.
"We got into playing as Rob's work set up a tournament to see if they could win it and to see who was best at predicting results. He came home and told me about it and we just made it a fun thing for us to do together by predicting the results. We just did it for fun and to enjoy ourselves, we never thought we would win.
"I have to credit Rob, he is normally the tactical one, and he called the 2-2 draw between Wigan and Nottingham Forest, so I guess I'll let him have some of the money."
Previous to the drama in Wigan, Harry Kane's first ever Premier League goal in August, which gave Tottenham a 3-1 win over Fulham at Wembley, looked to have given one lucky player the whole £1million. Kane's strike came in the 77th minute and meant for a 13-minute period the jackpot was heading to a solo winner.
As Jeff Stelling said on Sky Sports' Soccer Saturday: "One person's misery is another's delight." After Soudani's late goal, the trio had to endure another seven minutes of injury time until the final whistle finally came on 98 minutes to seal their joy.
---
The trio's winning £1million Soccer Saturday Super 6 score predictions:
Everton 2-1 Southampton
Leicester City 2-0 Wolves
Tottenham 3-1 Fulham
West Ham 1-2 Bournemouth
Wigan 2-2 Nottingham Forest
Millwall 2-1 Derby
---
Winner Ron said: "I'm absolutely ecstatic - it's obviously something that doesn't happen every day. It's still surreal to be honest, I play every week with my other half, Maggie, and she's away at the moment in the UAE visiting my sister.
"I'm normally so far off with the scores - it's hard enough trying to predict who's going to win games so to get all the scores too, it must just be my lucky day. I'm normally glued to Saturday Saturday but my son was having a barbecue and I only had half an eye on the scores coming in.
"I had a call from my brother-in-law Mickey who had seen the leaderboard. He said I may be one of three that won. It's amazing. I'll get straight on to my wife now and she'll be over the moon."
Enter next Saturday's round of the Super 6 game via this link with a £250,000 jackpot up for grabs.