How can England continue to improve under Gareth Southgate?
Will the England boss consider alternatives to his 3-5-2 formation? Watch England v Switzerland live on Sky Sports Main Event from 7pm on Tuesday
Last Updated: 11/09/18 6:47pm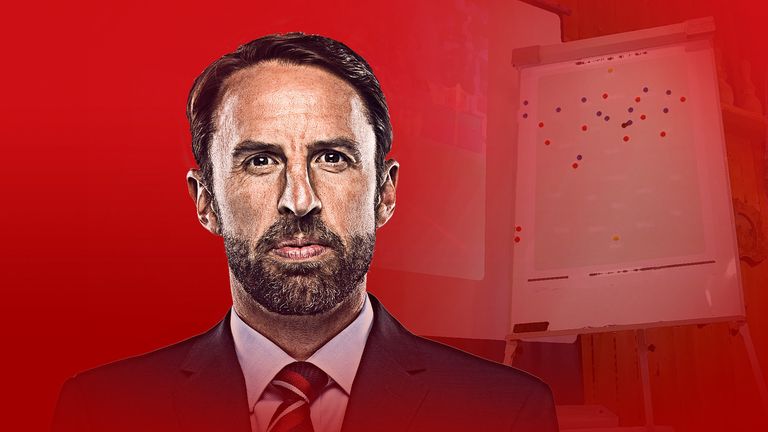 Gareth Southgate wants England's run to the World Cup semi-finals to be the start of something but how can the team improve? Adam Bate looks at the challenge facing the manager...
It is 145 years since England took part in the first ever international game. In that time, they have never lost four games in a row. After being beaten by Spain, it is a prospect that looms large as they prepare to face Switzerland at Leicester's King Power Stadium on Tuesday evening, live on Sky Sports. It would not exactly be in keeping with the mood after the excitement of the summer.
And yet, perhaps it would not be the worst thing. Instead, it would serve as a healthy reminder of how much improvement is still needed if England are to take that next step. Gareth Southgate's side gave themselves a wonderful opportunity to win the World Cup in Russia. But the coach knows as well as anyone that there is another level for this team to reach.
Finding the way to get there will not be straightforward. Southgate is expected to make nine changes to the team for the game against Switzerland. The return of Kyle Walker will help, while the possibility of debuts for Ben Chilwell and Demarai Gray adds intrigue. But not one of the players brought in is likely to add the extra dimension that this team needs.
The suspicion remains Southgate will have to wait for the more gifted technicians to emerge and hope the top clubs provide the platform they will need to fulfil their potential. Phil Foden could well be the first of many, a product of systemic change that is now bearing fruit, but even he is yet to start a league game. It is going to take time.
"I think what is happening at junior level is that there is more emphasis on technical ability," explained Southgate himself. "Right from five, six, seven years old, there is more emphasis on being able to handle the ball and play. We are seeing that with some of our junior teams. But we can see there is a period of time for those players to come through."
It is now 20 years since Paul Gascoigne played for England - and even he was a one-off, according to Southgate. "I'm not sure he was developed, I think he was a consequence of a unique talent." Players who have the touch, vision and skill to play through the opposition press are still rare in England. It is a role that has been outsourced to others.
Jordan Henderson finds himself in the pivotal position at present. The Liverpool midfielder is a fine player but the sight of him looking rushed by the Spain press - misplacing six short passes - was a reminder of his limitations. Dele Alli and Jesse Lingard either side of him are both more comfortable running onto through-balls than delivering them.
Southgate cannot buy in the solutions. Nor can he just wait for teenagers who might not get their chance at club level. But there are other ways in which he might look to negate the advantages of others, while minimising the weaknesses in his own squad. Qualification for Euro 2020 does not begin until next year and should not be too daunting. It is worth a try.
He seems reluctant to change the system now that England have had some success but mere tweaks rather than something more radical could be enough to make a difference. Southgate interpreted calls for a change of shape after the Spain game as an argument in favour of a back-four. The more obvious alternative would be to go to a 3-4-3 formation.
"It was something I wondered in the summer whether Gareth Southgate would switch to a 3-4-3 where you do have the two wide players covering the full-backs," said Gary Neville on co-commentary for Sky Sports for the Spain game. "But he was so intent, I think rightly so, on being consistent and making sure he did not confuse the players with multiple systems."
As Southgate gets more time with his players and the squad benefits from greater stability, he could look to freshen things up to take that next step. "I wonder whether the evolving nature of this team playing three at the back will mean that they do go to 3-4-3 in certain games to close off the opposition full-backs when they are getting joy," Neville added.
That was a major issue against Croatia in the summer with the equalising goal coming courtesy of a right-wing cross by Sime Vrsaljko. Alli was too tired to close down the space and with Ashley Young having been forced deeper, he was also too slow to get out to the full-back. There were similar problems evident against Spain as well.
Marcos Alonso and Dani Carvajal were given the freedom of Wembley at times on Saturday evening. The statistics showed the pair created three of Spain's nine chances but that was hardly surprising - they had more than 200 touches of the ball between them. As Jamie Carragher pointed out, it was a problem. "No system is flawless," he told Sky Sports.
"We loved the three at the back and doing so well at the World Cup but there are problems when the wing-backs get dragged back. Who closes down the full-backs in wide areas? Dani Carvajal and Marcos Alonso were always the get-out ball and we could not get out, we were just locked in there. That is the problem against quality opposition with that system."
Any change to the current system would bring new problems, of course. For instance, there is a risk Harry Kane could become isolated in a 3-4-3. After all, it was Marcus Rashford playing as a striker that yielded England's only goal against Spain. But Raheem Sterling would surely benefit from a switch that allowed him to play in his natural position.
For now, the point is moot. But despite downplaying talk of the need for a change of formation, Southgate fully appreciates the job means continuing to search for new ways to maximise the talent at his disposal. After such a thrilling summer, the prospect of a record-breaking run of England defeats could well crystallise the concerns.
If you're reading on skysports.com, comment below to get involved in the debate, but please adhere to our House Rules. If you wish to report any comment, simply click on the down arrow next to the offending comment and click 'Report'.