Marco Silva exclusive interview: A long-term vision for Everton
'I am here to prepare not just the present but the future of the club'
Last Updated: 21/10/18 4:09pm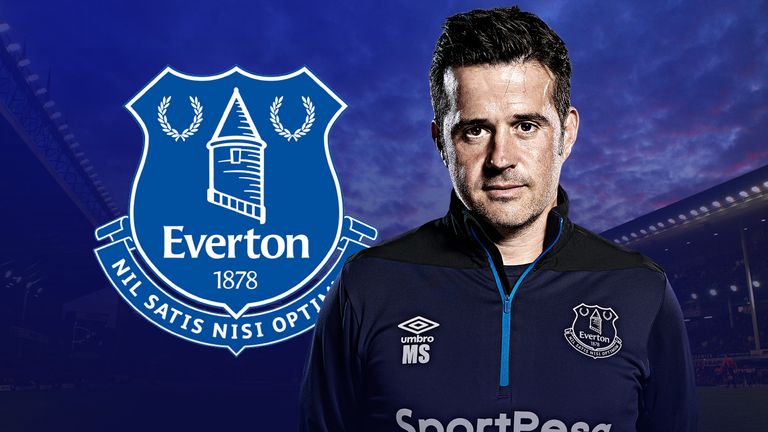 Marco Silva is targeting a third consecutive Premier League win when Everton face Crystal Palace on Super Sunday. He tells Nick Wright how he is transforming the club - and why this time he is in it for the long haul.
"The first 15 days were okay," Marco Silva tells Sky Sports with a smile. "I could enjoy my family more, I could take my daughters to school and pick them up. But after 15 days you start to miss everything..."
Silva's voice trails off and the smile slips from his face as he thinks back to those four long months between his departure from Watford in January and his appointment at Goodison Park at the end of May. For a manager known for his obsessive work ethic, his painstaking attention to detail and his fierce ambition, the period in limbo was not easy.
Silva tried to keep his mind sharp, maintaining constant contact with his coaching staff, spending hours piecing together analysis and travelling to as many matches as he could. But there is no substitute for the day-to-day of management. Arsene Wenger has described it as a drug. It represents something similar for Silva.
Sky live: Everton vs Crystal Palace
Silva: Everton have 'good headache'
"It was a really tough time," he says. "You miss your normal day, to come here, to do the training session, to be with your players, even to take your shower like normal in the training ground. The biggest thing, though, is you miss the match. That special day, because that's what you prepare everything for. When you miss matches, it's really tough."
It was not Silva's first period between jobs, of course. From Estoril to Everton, his coaching career has already spanned six clubs in seven years. But in conversation in a small office at Everton's Finch Farm headquarters, it is clear that is not something he intends to repeat any time soon. Silva is five months into a three-year contract. This time he is planning a long stay.
"That has been my feeling since the first day," he says. "What the owner told me is to not just think about the next day, it's something more. It's to prepare the club to compete at a high level, to achieve what the club achieved at some moments in the past. It's a long process. You can achieve it but you have to build, to make the right steps to prepare the club.
"Of course I know what our fans want. They want to achieve something and they want it tomorrow. I want to give them what they want, I want them to enjoy what they see, with a team that has a big commitment, but I am here to prepare not just the present but the future of the club."
Silva's first task, though, has been to make a clean break from Everton's immediate past. Last season was a dismal experience for everyone at the club and the hangover lingered in Silva's early months in charge, but after back-to-back wins over Fulham and Leicester, there is a growing sense of optimism that things are beginning to come together.
"I'm starting to see progress," says Silva. "Not just during the matches, which is of course the most important thing, but in the training sessions as well. In two or three games we didn't achieve what we wanted, and at that moment of course comes some lack of confidence, but I have to convince my players of what I want, of what is my way."
Silva has worked tirelessly to get his message across and his impact can already been seen on the pitch. The Portuguese promised to bring "exciting, attacking football" to Goodison Park and the early signs are encouraging. So far this season, only Manchester City, Arsenal and Chelsea have scored more goals from open play.
Silva has instilled confidence in players who struggled last season, most notably Gylfi Sigurdsson and Michael Keane, and there has been a clear increase in intensity, too. Everton are attacking with verve and defending from the front. According to Premier League tracking data, only Arsenal and Tottenham have covered more ground this season.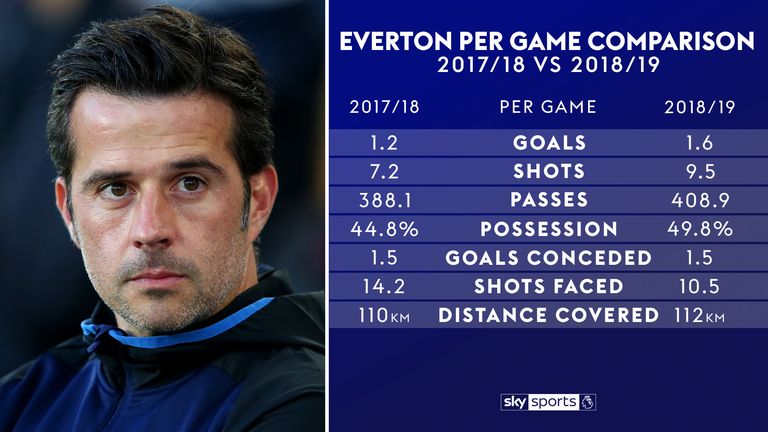 Silva is delighted by how quickly the squad have responded to his demands.
"I'm really happy because I am seeing very good professionals," he says. "To see professionals working hard every day, making a big commitment to the club with a desire to improve every day is something I want. That's the only way they can play with me. That's the only way they can play at a high level with a club like Everton."
Silva has been helped by what already looks like an inspired summer of transfer business. Lucas Digne, Kurt Zouma and Bernard have all started impressively, but it is Silva's protégé Richarlison who has led the way, scoring four goals in six Premier League appearances since his £40m arrival from Watford. For Silva, he was well worth the expense.
"My feeling since the first moment I saw him in Brazil is that he is a player with a very good profile to play here in the Premier League," says Silva. "Of course some of the Brazilian players sometimes have some problems and some difficulties to adapt quickly here, but Richarlison has a different profile as a player. He is strong and he is not scared about challenges."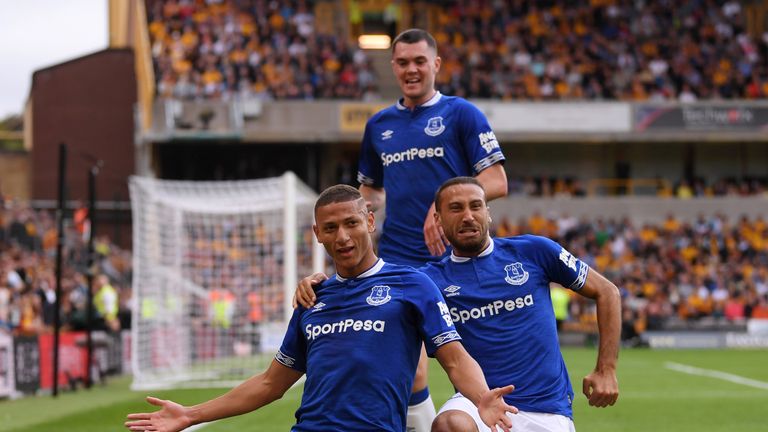 Richarlison typifies Everton's high-pressing, high-intensity approach under Silva, and now Everton fans are hoping for their first sighting of Yerry Mina and Andre Gomes, the summer signings from Barcelona. Silva hopes Mina's aerial presence will help Everton at the back, but what of Gomes, whose confidence seemed to desert him during two difficult seasons in Catalonia?
"He's happy now," says Silva. "He's enjoying what he's doing, which is important for me, for him and for us as a club. He's working really hard and he's a very good player. I have no doubt that when he comes in he will help our squad to get better because he has a lot of quality."
Gomes is not the first player to benefit from Silva's personal touch - Ryan Mason, who suffered his career-ending head injury during the 41-year-old's time at Hull City, talked up his "very good friendship" with Silva in an interview with Sky Sports earlier this year - but there is a steeliness about him which suggests he is not afraid to crack the whip either.
"If I have to show them the way, or show them how important dedication for me, I will. Easy, easy. But I can have very good relationships with them easily as well," says Silva. "Normally it's part of my week. I plan meetings with them to know some things not just about work, but also life. With good relationships and a good environment, you can achieve things more easily."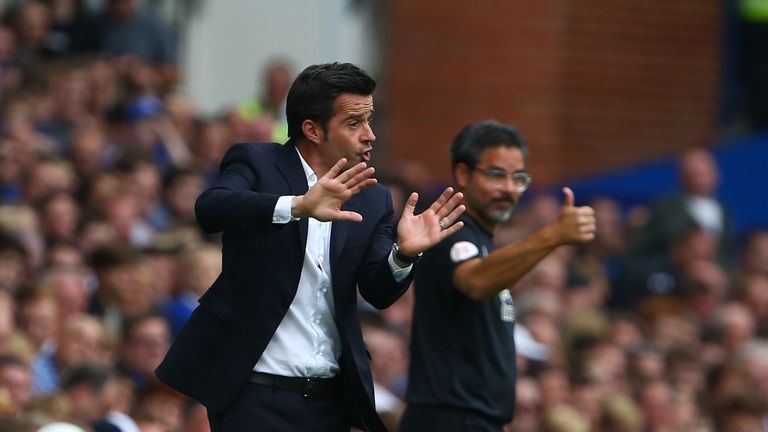 Silva has not had that in some of his previous jobs, with transfer policy causing disagreements and disputes at Sporting and Watford in particular, but his synergy with director of football Marcel Brands is one of the reasons he sees a long-term future at Everton.
"Marcel and the board know clearly what my idea is and day by day they will know it better and better and better," he says. "We are working together since the first day. I was clear what I wanted in that market, what I wanted for us as a club, and some things I wanted to change as well.
"Marcel has to know everything about my idea of football, everything about what I expect from our players, everything I expect from a player in each position. That's the only way it makes sense. If I have an idea of football, and I am the manager, it doesn't make sense for the club to find players with a different profile. This is the only way you can achieve what you want."
The future is full of promise for Silva and Everton but just 30 miles away in Manchester, his countryman and friend Jose Mourinho faces a more precarious situation. The 55-year-old has come in for criticism during United's poor start to the season, but for Silva and the many other Portuguese managers thriving across Europe, he will always be an inspiration and a trail-blazer.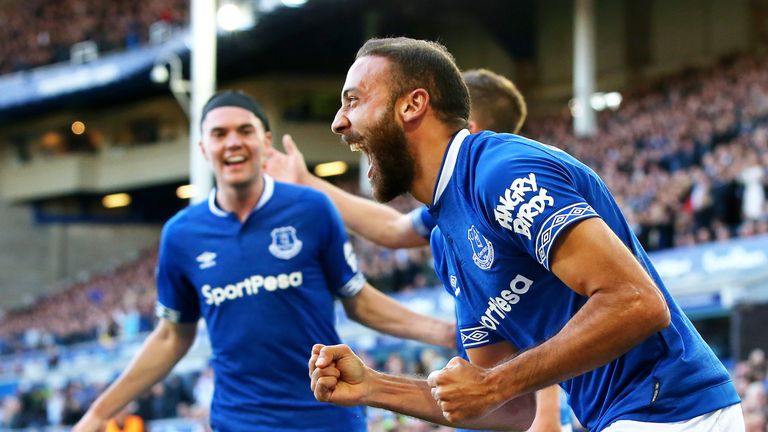 "Jose, for all Portuguese managers, he had a fantastic impact when he appeared," says Silva. "He achieved fantastic success with Chelsea, Inter Milan and Real Madrid and it opened big, big doors for Portuguese managers to come and work abroad. Portugal had very good coaches in the past as well, but mostly working in Portugal. Jose changed that."
Silva will come up against Mourinho when Everton head to Old Trafford next weekend, but for now he is focused on ensuring Everton's recent progress continues against Crystal Palace on Sunday.
"After the last international break we didn't react like I wanted as a team," he says, referencing last month's 3-1 loss to West Ham. "I think it was maybe our worst performance of the season. It's something I will be aware of and the players too, but this week in training I saw our boys working really hard every day, with good intensity and good commitment."
It's that day-to-day routine again. Silva smiles once more as he stands up, his media duties over for the afternoon, and moments later he is gone. It's back to his office, back to his analysis and back to his preparation. This time, it seems like Marco Silva is only just getting started.
If you're reading on skysports.com comment below to get involved in the debate, but please adhere to our House Rules. If you wish to report any comment, simply click on the down arrow next to the offending comment and click 'Report'.