Morecambe boss Jim Bentley: England's longest-serving manager
Jim Bentley discusses the difficulties of managing Morecambe and his hopes of managing Everton and England in the future.
Last Updated: 21/11/18 1:19pm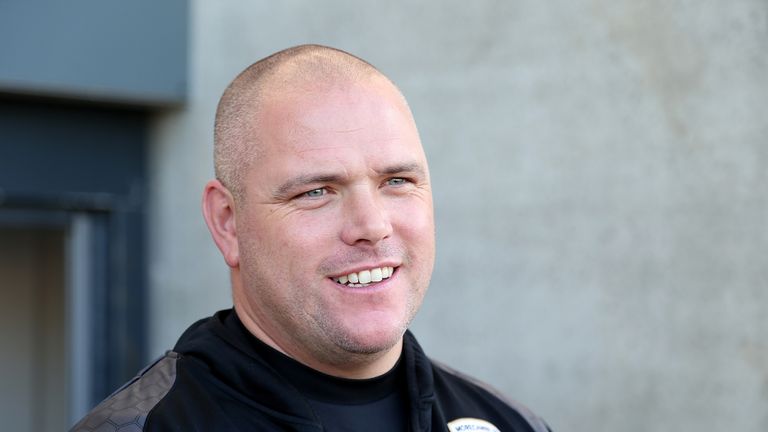 Six Sky Bet League Two clubs have parted company with managers this season, and Notts County have already done it twice.
It's a statistic that makes Jim Bentley's seven-and-a-half-year tenure at Morecambe all the more impressive. Since Paul Tisdale left Exeter in the summer he is now the longest-serving boss in the country. The closest to him in League Two now is Darren Way, who has been at Yeovil for less than three years.
"I was out and about [when Paul Tisdale left Exeter], and within a couple of minutes I had about 100 text messages saying congratulations because I was now the longest-serving manager," he told Sky Bet.
"It does give me a sense of pride because the lifespan of a manager in this day and age is nothing. Managers are going after six games and it's bizarre, but I wouldn't have thought it would come to this for me."
More than 330 managers have lost their jobs in the top four divisions in England since Bentley was appointed in May 2011.
But it hasn't always been a picnic for him in that time. The club have finished in the top half of League Two just once this decade, and last season they only survived relegation on the final day.
"We're not blessed at Morecambe to be one of the big boys of the division and we have always punched above our weight," said Bentley, who is more than realistic of his limitations at the Globe Arena. "Every day is challenging but we are here on merit and we have done enough every year to stay up.
"Some years it has been quite comfortable but one or two years, like last season, it has been pretty tough. We generally have the lowest average attendance and we are always one of the favourites to go down.
"We have had problems with regards to training facilities, transfer embargoes and ownership. We don't have a big squad or a big playing budget and when we do take a couple of hits on key players it can be very difficult to replace them.
"In seven years I haven't paid a single transfer fee. I have asked recently with the new owners but it hasn't been possible. I'm sure in the future we will be able to, though, and I would love a chance somewhere along the line to be given a couple of quid to do what I can with it.
"But we keep working hard and showing spirit. We make sure everyone here is giving it their absolutely all and, all things considered, I'm very proud of the fact that we are still a Football League club."
Bentley's situation is not made any easier by the fact the club don't have their own training base, with him instead having to take sessions at the local high school.
"With the weather we had last season we could train on the grass there once in about four months," Bentley continued. "The other problem is it wasn't fenced off, so sometimes we would go down and you'd have some kids playing a 20-a-side match on it! They would be smashing balls all over the place and hanging off the crossbar.
"It's a big place for walking dogs too. There would be times when we would be doing a goalkeeping session and a dog would come along chasing the balls. It was mad but you can't moan about it. It's all an experience and part of life in League Two."
And then there are the financial problems to contend with. As well as never having been given money to buy a player, there have also been ownership issues in the last couple of years and periods where neither Bentley nor his playing staff were being paid.
"That was one of the difficult times because I wasn't getting paid myself," he said. "At this level you aren't blessed to be millionaires and suddenly you haven't got the wages to pay your mortgage or childcare fees.
"I had a lot of concerned players coming to see me and literally all I could do was be a shoulder to cry on at times and to give advice."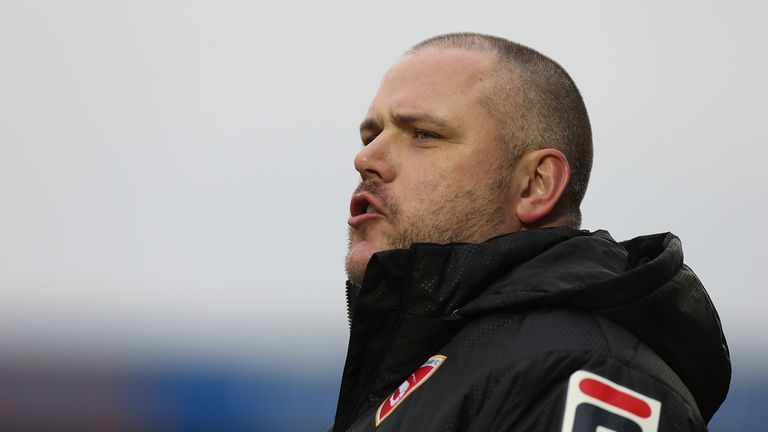 But the problems did lead to one particularly emotional moment for Bentley, with an incredible gesture from the fans highlighting how much they valued the work he has done at the club.
At the start of last year Bentley was hit with a £1,000 FA fine, but Morecambe supporters had a whip round to pay it for him.
"It meant a lot to me and I got a little bit emotional," he said. "The two fellas who presented me with the money were lifelong fans and they and the cameraman all had a tear in the eye.
"It had been a difficult couple of weeks with not being paid and because I had just lost a family member. We had just won the game and emotions were running high, then suddenly something like that happens. It was just fantastic and what the game is all about. It's something I'll never, ever forget."
After so many years at the club, you know the fans will be there to send him off with no hard feelings if he does choose to go. And Bentley has big ambitions for the future.
"I want to manage Everton," he revealed. "It's the club I love and I don't know why you can't aim for the top.
"Then obviously somewhere along the line if you could manage England it would be fantastic. It's not going to happen to many people but if I can't have dreams or ambitions then I may as well not be in the job."