Hull City pair Jarrod Bowen and Nigel Adkins win Sky Bet Championship December awards
Peterborough striker Ivan Toney and former Luton boss Nathan Jones win League One awards, while Carlisle defender Danny Grainger and Grimsby boss Michael Jolley win in League Two.
Last Updated: 10/01/19 6:38pm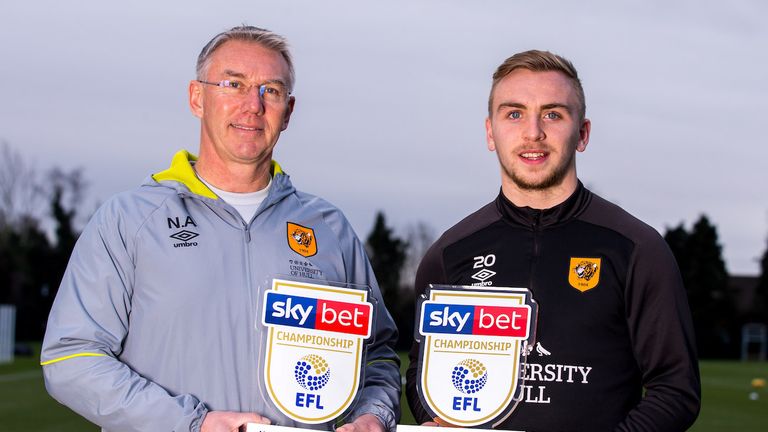 Hull City winger Jarrod Bowen has been named the Sky Bet Championship Player of the Month for December.
December was the month in which the 22-year-old rediscovered last season's scoring form with six goals in as many matches, plus an assist. The goals came in doubles and showcased his precision shooting after cutting inside.
Bowen said: "I'm delighted to win the award but it was a good month for the whole team and everybody played their part.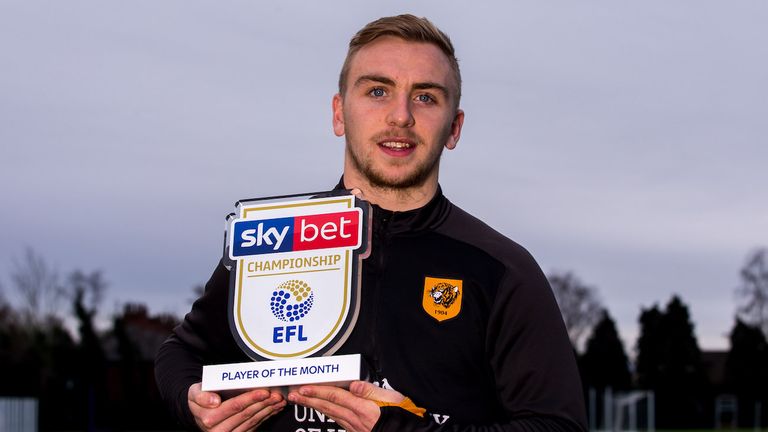 "We won every game with the exception of the draw at Millwall and it's a run that has pushed us right up the table. Everybody has been playing well and there are many of my team-mates that could have been picking up this award as well.
"We've got some big games coming up this month now and we'll keep working hard and looking to improve."
Hull City manager Nigel Adkins has been named the Sky Bet Championship Manager of the Month for December.
When December began, Hull were in the bottom three. Sixteen points and 14 goals from six games later, they are mid-table. Four of those fixtures were away, including a 2-0 victory at leaders Leeds.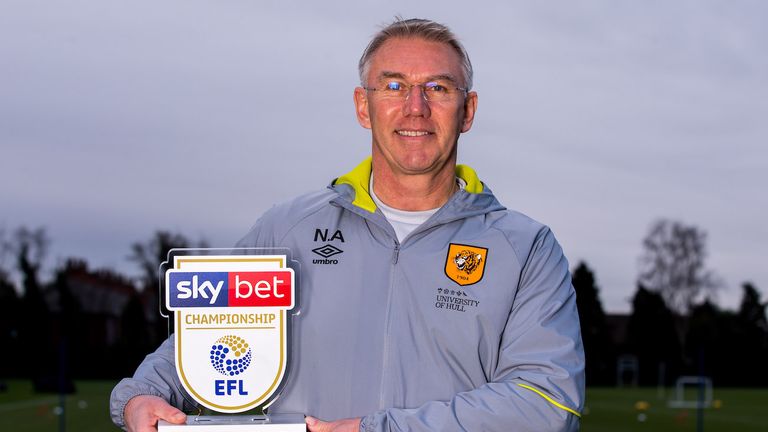 Adkins said: It's great recognition for all of the hard work that the players and the staff have been putting in. The run of form that we've been on and the momentum that we have picked up is down to everybody working hard for each other. We have our ethos - Together Everybody Achieves More - and we have a really good environment in which to work.
"The players come in and know what is required of them. We have a great camaraderie which is so important, we defend as a team and attack as a team - we are a team."
Sky Bet League One
Manager: Nathan Jones, Luton Town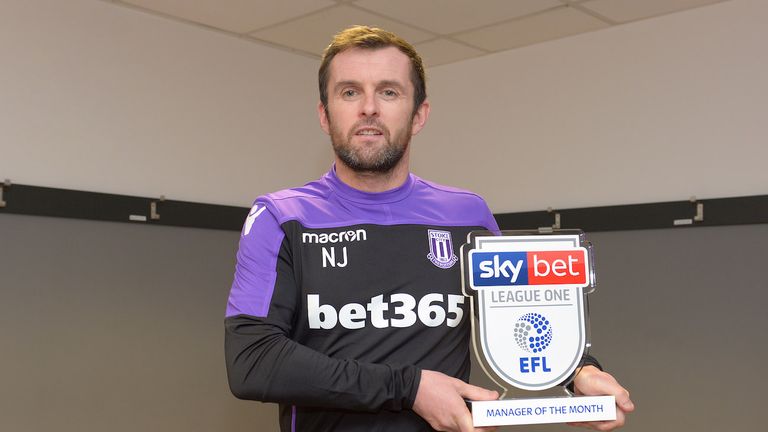 Nathan Jones has been named the Sky Bet League One Manager of the Month for December.
Jones left his role at Luton to replace Gary Rowett as Stoke City manager earlier this week. It was a third successive Manager of the Month nomination for Jones, whose former team continued its charge towards the League One summit with another near perfect month.
Jones said: "First of all, I am proud to have won this four times in my managerial career and it is the first time I have won it in League One, so I am very proud to win for myself and my staff and the players who and obviously a thanks to the Luton fans for all the support they have given me throughout my tenure.
"I know that there are frustrations there, but as I said I would like to thank them for everything they have done for me because they took me to their club and I will never forget that.
"I would like them [Luton] to see them achieve promotion, we put in place a very good things, very good processes, a real good culture and environment there with excellent players that are capable of getting automatic promotion."
Player: Ivan Toney, Peterborough United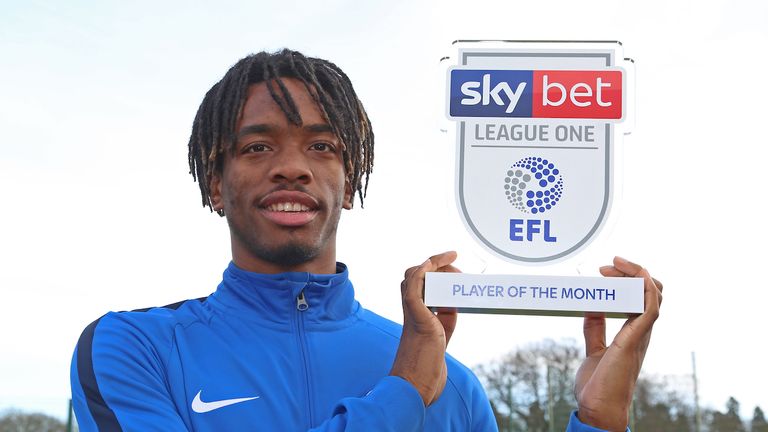 Peterborough striker Ivan Toney has been named the Sky Bet League One Player of the Month for December.
Five goals in as many games for a striker who continues to mature. His work-rate is improving, too, but it is his finishing which stands out. A hat-trick at Accrington was completed by a wonderful piece of anticipation and positioning.
Toney said: "I am enjoying my football, I am scoring goals and helping the team which is what it is all about. The manager has been great for me, he knows what I can do and tells me when I am not reaching those levels.
"I had a good month and hopefully I can carry that through until the end of the season. I had a goal tally in mind at the start of the season, but I don't like to make that public. I know the level I want to get too."
Sky Bet League Two
Manager: Michael Jolley, Grimsby Town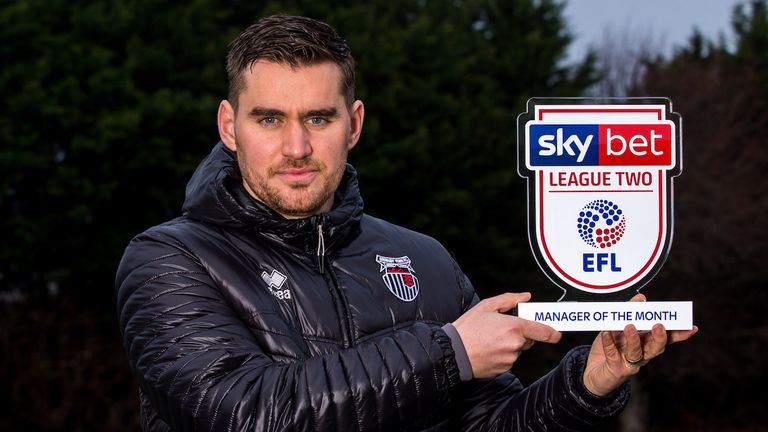 Grimsby manager Michael Jolley has been named the Sky Bet League Two Manager of the Month for December.
Jolley is proving himself to be a young manager to watch. On December 14, Grimsby stood six points above the relegation zone. After winning at Exeter to make it 12 points from a possible 15 in the month, they were six points off the play-offs.
Jolley said: "Really pleased. It's recognition for the whole football club and the progress that we've made, certainly in recent months - culminating in a really strong December.
"I think Manager of the Month is always a bit of a misnomer because it's really team of the month - it's based on the results of the team over that period. It's credit to our players that they came through that period, and delivered some really good performances.
"And we were consistent throughout, despite picking up some injuries to important players, and those who stepped into the team really showed that they were ready to help the team get some good results. It's testament to the way the lads work because even those who aren't in the team are really working hard, training hard, and ready to step in."
Player: Danny Grainger, Carlisle United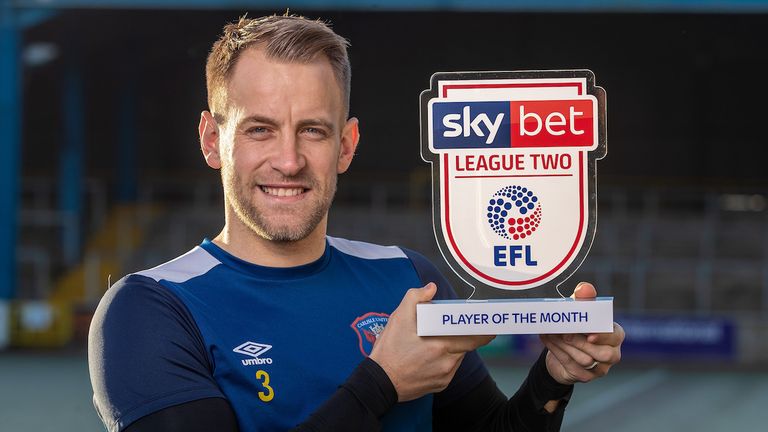 Carlisle United defender Danny Grainger has been named the Sky Bet League Two Player of the Month for December.
Two clean sheets, three goals and an assist were the sizeable contributions at both ends of the pitch in four games of Carlisle's local hero. The 32-year-old scored with typical power from free-kicks against Colchester and Oldham.
Grainger said: "I'm obviously delighted to get the award. It's a Player of the Month award, but it's down to the way the team have been playing lately which has given us all a bit of recognition.
"It's nice to get the personal recognition but it's definitely one for the team. There could have been four or five of us up for this award because the whole team has been playing well.
"To win the Goal of the Month award then the Player of the Month award in successive months is nice, but I'd trade them all in to make sure we're at the top end of the league come the end of the season."