Dean Smith is not concerned about reports that Aston Villa face questions under the EFL's Financial Fair Play (FFP) regulations.
Smith was asked about the reports on Wednesday but said, as far as he had been told, that Villa were "fully compliant" with FFP rules, which recently cost rivals Birmingham City a nine-point deduction.
Derby County manager Frank Lampard dismissed talk his club being under a 'soft transfer embargo' on Wednesday but Smith, when asked if his side faced any FFP issues, said: "I don't believe so.
"I've not seen any quotes attributed to the chairman, who is meant to have said it. It's out of my remit. My chief executive tells me we're fully compliant."
Having won their last eight Championship games on the bounce, Villa find themselves fifth in the table with four games remaining, well in contention for play-off qualification and a shot at Premier League promotion.
Asked if it was difficult to plan for next season, not knowing if Villa will be playing Championship or Premier League football, Smith added: "Yes it is difficult, but it is difficult for probably 10 other teams in this division as well!
"We'll look at the two possibilities and plan around that, which you have to do."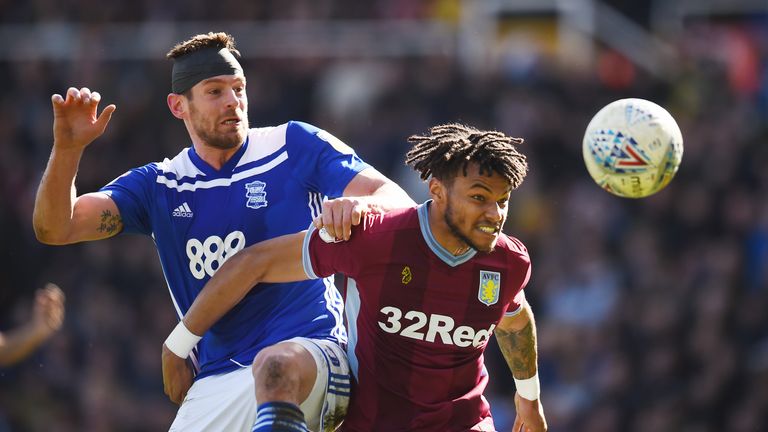 Villa's squad includes five players on loan, after Tom Carroll was sent back to Swansea with a season-ending injury, with Bournemouth defender Tyrone Mings having particularly stood out in their winning run.
But Smith said that he will wait until the summer before deciding if he wants to make any of those loans into permanent deals, once his side's 2019-20 status has been decided.
"Tom Carroll's gone back to Swansea and we have five players still here on loan - a couple with options to purchase them at the end of the season," he said. "We'll be looking at that when we need to."