Liverpool mass celebrations 'regrettable', says Premier League chief executive Richard Masters
Masters was speaking to a parliamentary committee on Tuesday
Last Updated: 30/06/20 6:43pm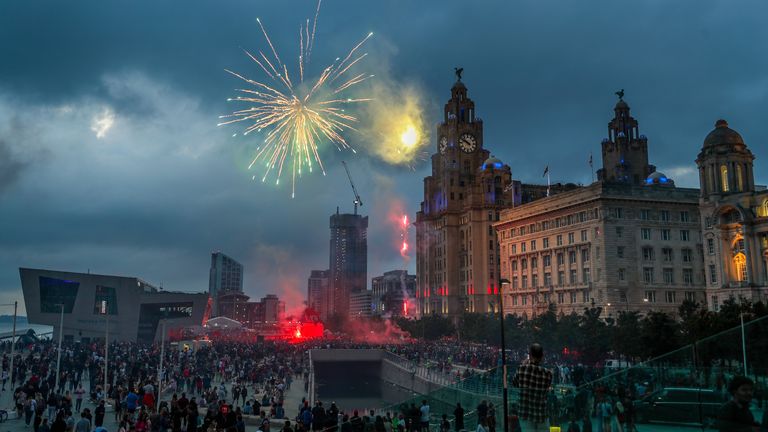 Premier League chief executive Richard Masters has described the mass gatherings which followed Liverpool's Premier League title win as "regrettable" and reiterated fans must "take responsibility for their own actions".
Thousands of people celebrated on the city's waterfront on Friday, despite restrictions on mass gatherings because of the coronavirus pandemic.
Jurgen Klopp has urged Liverpool fans to "do what is right" following scenes of celebrations after the club won its first league title in 30 years.
A teenager appeared in court on Monday accused of causing £10,000 of damage to the Royal Liver Building with a firework thrown during Friday night's celebrations.
Klopp also said in an open letter in the Liverpool Echo on Monday he "did not love" the scenes at Pier Head.
Asked whether the Premier League took any responsibility for what unfolded, Masters told the Digital, Culture, Media and Sport (DCMS) committee: "What happened was regrettable but we are not in control of people's actions.
"It got out of hand in the same way that we have seen gatherings on beaches and street parties in wider society.
"Individuals have to take responsibility for their own actions."
Masters praised Liverpool as a club for the 'stay home' messaging they had issued to their supporters.
The club, in a joint statement with the police, council and a fans' group, condemned the conduct of some fans who gathered in the city as "wholly unacceptable", and mayor Joe Anderson said the events "brought Liverpool Football Club and the city of Liverpool into disrepute".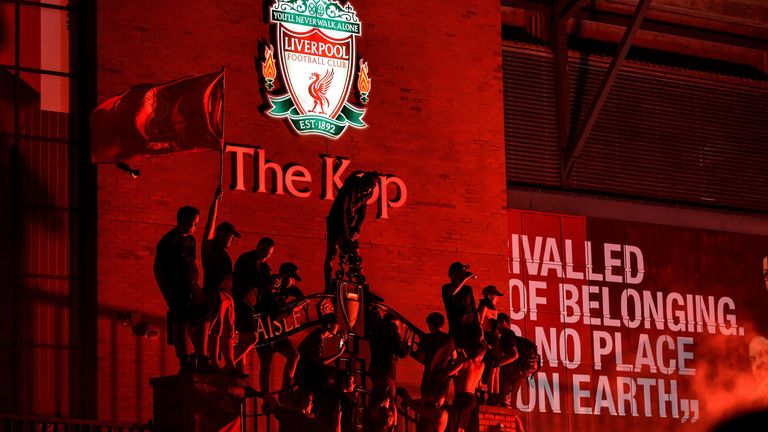 Merseyside Police made 10 arrests for public order offences on Thursday night during initial celebrations outside Anfield on the day of Liverpool's title success.
A further 15 people were arrested on Friday night as crowds celebrated in the city for a second successive night, while Merseyside's chief constable Andy Cooke said his officers "were subjected to a number of violent confrontations".
Masters: Black Lives Maters support not a green light for other forms of activism
The Premier League's support of the Black Lives Matter movement "does not set any particular precedent", according to its chief executive Richard Masters, who warned players and managers will still face punishment for making unapproved political gestures.
Black Lives Matter demonstrations have taken place in cities around the world, following the death in police custody of George Floyd in the United States in May, and the Premier League's clubs and players have strongly backed the cause.
Players' shirts bore the Black Lives Matter slogan in place of their names when the competition restarted, and players and staff also showed their support by taking the knee before kick-off.
Masters was asked whether the campaign would legitimately open the door to other forms of activism in the future, with past gestures such as Manchester City boss Pep Guardiola's wearing of a yellow ribbon in support of Catalan independence having been met with a fine.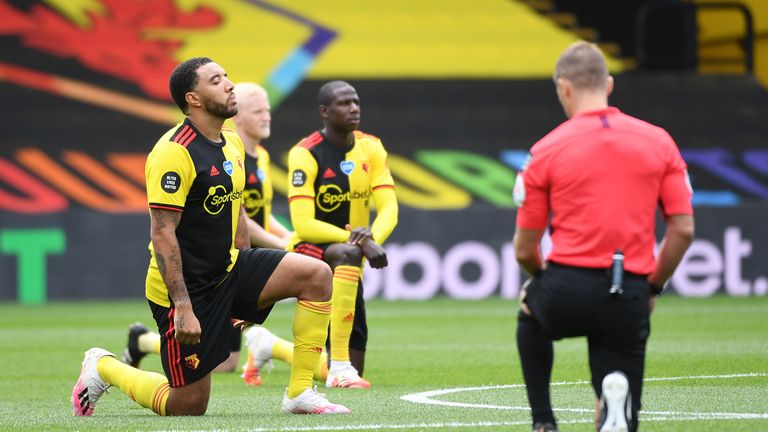 Speaking to MPs at a Digital, Culture, Media and Sport committee evidence session, Masters said: "We are drawing a clear distinction between a moral cause and a political movement or agenda.
"Whilst there might be difficulties sometimes dividing the two, our position is clear: politics no, moral causes yes, when agreed. As I said, we're living in special times at the moment.
"On this occasion, we have decided to support (the players). That doesn't mean to say whenever players on an individual or collective basis want to do something, that the Premier League and clubs will be duty-bound or willing to support it."
The Premier League later released a statement saying it did "not endorse any political organisation or movement, nor support any group that calls for violence or condones illegal activity".
It added: "We are aware of the risk posed by groups that seek to hijack popular causes and campaigns to promote their own political views.
"These actions are entirely unwelcome and are rejected by the Premier League and all other professional football bodies, and they underline the importance of our sport coming together to declare a very clear position against prejudice."