Pep Guardiola has played down an incident involving Sergio Aguero after the Manchester City striker disputed a decision with official Sian Massey-Ellis in Saturday's match against Arsenal.
Aguero was pictured placing his hand on Massey-Ellis' shoulder after the official awarded Arsenal a throw-in during the first half of City's 1-0 win at the Etihad Stadium.
The incident was shared widely on social media, with Aguero's conduct under scrutiny, and while the match officials did not believe any formal action was required, Guardiola defended the 32-year-old forward.
"Come on guys," Guardiola said after the match. "Sergio is the nicest person I ever met in my life. Look for problems in other situations not in this one."
Sky Sports pundit Micah Richard said Aguero "should know better", with the former City defender also praising Massey-Ellis' handling of the situation after the official raised her hand in reaction to the touch before motioning for the striker to walk away.
"I just think he didn't mean to do it really," Richards said. "You've got to respect the officials. I think she deals with the situation really well. He'll know better than that.
"I don't think we need to go over the top on it. He knows not to be touching the officials, it doesn't look good.
Richards added: "It's just not a good look. We don't need to do that, you start going down a road you don't want to go down - he should know better than that."
Labour MP Dr Rosena Allin-Khan was critical of Aguero's actions when referencing the incident on Twitter.
She said: "Who does Aguero think he is? Completely unacceptable."
'Aguero, Massey-Ellis incident not a gender issue'
Former Aston Villa striker Gabby Agbonlahor said on Super Sunday Matchday he found the footage "shocking", with presenter Vicky Gomersall adding she believed the issue was not gender related.
"For me I was in a bit of a shock really," Agbonlahor said. "I don't think there was any need for it. Yes he might have been upset that he didn't get the throw-in, but there's no need to put your hand on her there. He can easily tell her what he thought of the decision, but putting your hand on her there is quite shocking.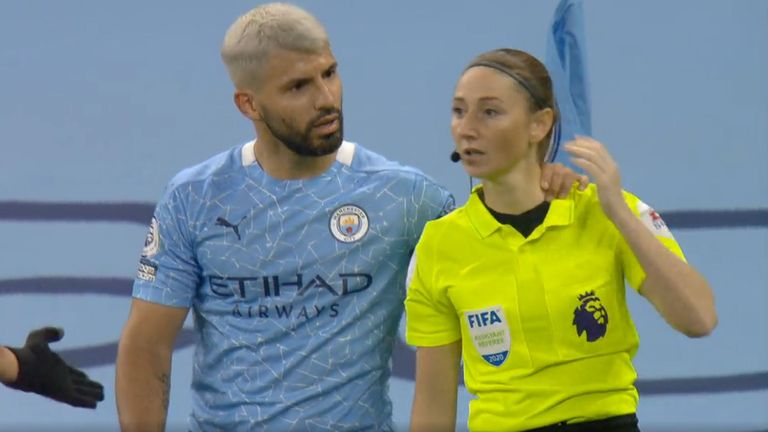 "It just gives a bad example to kids out there playing football on a Sunday, it's just something we shouldn't be seeing in the Premier League.
Asked by Gomersall if he could understand Aguero's actions, Agbonlahor added: "Not really, no. When I used to play for Villa you'd sometimes be be angry at decisions but you wouldn't go and put your hand on the ref. Sometimes some players did and the referees would have a right good go at you. The players do know better than to do that. I feel it's something Aguero will have woken up to this morning and definitely regretted.
"You just don't put your hands on referees or assistant referees. I'm sure if that was in the middle of the park and it was the referee they could easily have sent the player off."
Gomersall added: "The interesting thing if you read some social media comments, it's kind of people saying, 'Well if was a man you wouldn't be saying anything, it's a woman and that's why everyone is highlighting the issue.'
"For me, it isn't actually. For me you just don't do that to an official in a game, regardless of whether they are male or female.
"Sian Massey-Ellis turned professional 10 years ago, plenty of experience in how to deal with it as she seems to shrug it off, it will be interesting to see whether she wants to make more of it and indeed whether what happens."
'PL must set a standard to protect referees'
Daily Mirror football writer Darren Lewis said Guardiola's reasoning Aguero is a "nice guy" does not excuse the player from his actions.
"The rules actually stipulate that any physical contact with a referee or assistant warrants either a yellow or a red card. So he was let off there," Lewis said.
"There is a lot of criticism for him on social media, but the rules are the rules full stop. I think he's wrong to put his hands on the official. It's very easy to say he would do the same to a man, but she's not a man, and so in that situation it's not a good look. It's not enough to say he's such a nice guy. He's a tremendous guy, he's a world-class striker. We love him. But he's wrong. It doesn't really matter if you're that kind of guy or not, if you do it you are breaking the rules. I don't think Massey-Ellis will come out and say anything because as we know in football this thing happens and the individual doesn't want to be the story."
He added: "What we have to do is set a standard to protect referees. My boy was playing last week, the game was being officiated by a 17-year-old girl, some of the players in the team were bigger than her. What if one of them, seeing what kind of conduct in the top division - I used to think it was all a bit of a myth - and then I go and watch my son's games and I see actually they do copy stuff they see at the top level.
"The Premier League has to set a standard in protecting referees. With this it might be a case of warning Aguero and players about their responsibilities, drawing a line under it, but making clear that if you touch a referee or official you are going to get a red or yellow card."