Tim Leiweke hopes David Beckham remains involved with Los Angeles Galaxy
David Beckham is excited about becoming an MLS owner as Tim Leiweke expressed his hope he remains part of LA Galaxy.
Last Updated: 30/11/12 10:39am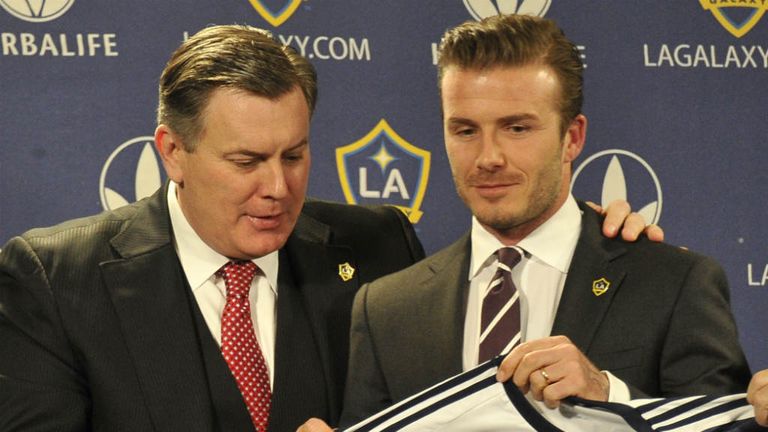 Former England captain Beckham plays his final game for the Galaxy in the MLS Cup final on Saturday and plans to continue his career elsewhere.
However, he is also set to take a stake in a club in the United States and the 37-year-old is looking forward to another chapter in his career.
"Obviously I know I'm finishing playing after the weekend and the ownership part comes into play," said Beckham.
"It's something I'm excited about and something which again proves my commitment to the league and whatever club I become part owner or owner of.
"I'm excited about that but I'll always be committed to the Galaxy in some way because I've been here for six years and like Manchester United and Real Madrid, it's become a home for me."
Leiweke, who is president and CEO of Anschutz Entertainment Group - which owns LA Galaxy, added: "I think the gas and speculation is pretty good. David and this franchise and this ownership group have had a great relationship.
"I don't think it's going to end here but we'll wait until the right time. We're focused on the cup final on Saturday and playing that. We'll get through the game on Saturday and deal with that later.
"David and us started this vision together. We spent two years talking to him, getting him comfortable and working through how to get him here. He has then spent six years here.
"When you look at all of that, the relationship and the longevity, we've been partners for eight years and that doesn't end so quickly or so easily.
"If there are ways to ultimately continue to develop that relationship to grow the sport and for him to stay part of the Galaxy, we've always said we want to be in the relationship forever, not for six years."