Chelsea manager Rafa Benitez has confirmed John Terry is back in the squad for the trip to Stoke
Chelsea manager Rafa Benitez has confirmed John Terry will return to the squad for the trip to Stoke.
Last Updated: 12/01/13 2:13pm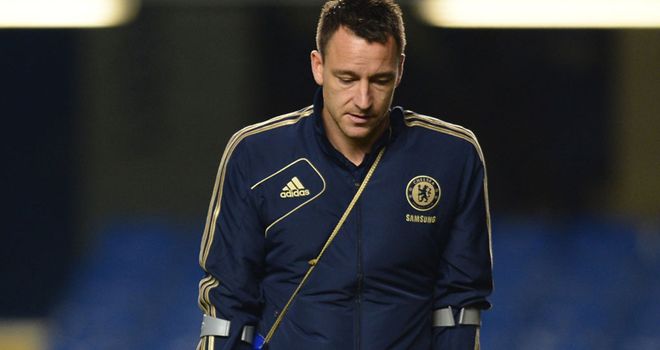 The Blues captain, 32, came through an U21 game on Thursday and claimed afterwards he had not felt troubled by the knee ligament damage that has plagued his season.
And Benitez revealed on Friday that he will travel with the rest of the team to Stoke for Saturday's clash at the Britannia Stadium, although he is not expected to feature.
The Spaniard said: "John Terry is on the list. He is available so we have some good news."
Terry has spent 16 games on the sidelines since suffering the injury in November in a nasty clash with Liverpool's Luis Suarez, and made a 45-minute comeback against Fulham's youngsters at Chelsea's Cobham training ground.
The defender revealed that while his return to action went well, he was going to be patient, and it remained to be seen whether he will make an appearance in Saturday's game at Stoke.
"I have come through alright," he told Chelsea TV. "Initially I was going to play between 30 and 45 so I managed to get through the first half and the knee feels totally fine which is the main thing.
"Lungs are a little bit... which is natural, but it is good to get in 45 under my belt. It has been frustrating two months really.
"I felt fine, totally fine. Passing, tackling, everything felt fine. It's really positive to come through a game and hopefully give myself a chance to be back involved with the first team.
"The plan was to play a half, and who knows. He (Benitez) mentioned in the press conference in the week.
"Maybe it is too soon to get back starting. The lads have been playing well as well, so I know better than anybody I have to wait my time and be patient and try to get back in the squad first, than the team after that."