Chelsea's Frank Lampard says he can carry on at the top for four more years
Frank Lampard says he hopes to emulate Ryan Giggs as he waits for a decision to be made on his Chelsea future.
Last Updated: 12/05/13 2:16pm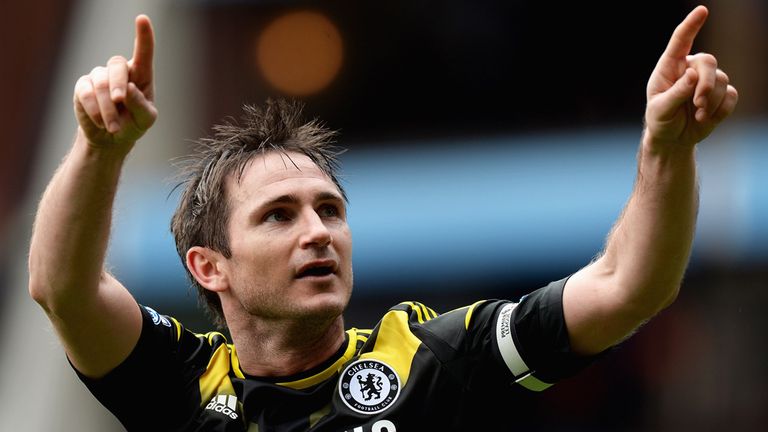 The 35-year-old is out of contract at the end of the season when he will find out if he will be allowed to fulfil his desire to see out his playing career at Stamford Bridge.
And the England midfielder has cited the example of evergreen Manchester United duo Ryan Giggs and Paul Scholes as evidence he can still make an impact at Chelsea next season.
"I'd love to carry on as long as I feel I can do and I feel I'm fit," said Lampard, who became Chelsea's highest goalscorer with his double against Aston Villa on Saturday.
"I'd love to do that, for another three or four years. I'd love to emulate those boys.
"Ryan Giggs (has) got an aura around him. All the players at the club look up to him. He's the mark."
While Lampard has had to adapt to interim manager Rafael Benitez's rotation policy this season but insists he has had enough time on the pitch to keep his mind from wandering to thoughts about his future at the club.
"The easiest part about this season has been playing games, in terms of the speculation," Lampard said.
"When you are thinking about it too much at home it becomes more detrimental, but when you're playing and training and want to do well for the team then it's easier."
It is not the first time that Lampard's career at Chelsea has been uncertain as the arrival of Roman Abramovich as owner in 2003 brought with it an influx of big-name signings.
But Lampard says the arrival of a string of global superstars merely served to drive him to improve as a player and he will welcome any fresh competition from any new arrivals this summer.
He said: "Every summer you thought: 'Blimey, there's more coming in, am I going to play?' The ones that stayed here were the determined ones and the ones that fought to try to up their level to stay in the team.
"The John Terrys of the world, at that time the Eidur Gudjohnsens. We went through that transition and became important players for the Roman era.
"Roman Abramovich completely transformed the club. It became a winning club and that was certainly down to him."