Transfer news: Gareth Bale may be set to extend his Tottenham contract
Tottenham manager Andre Villas-Boas has confirmed that the club are in talks with Gareth Bale over a new contract.
Last Updated: 30/07/13 1:00pm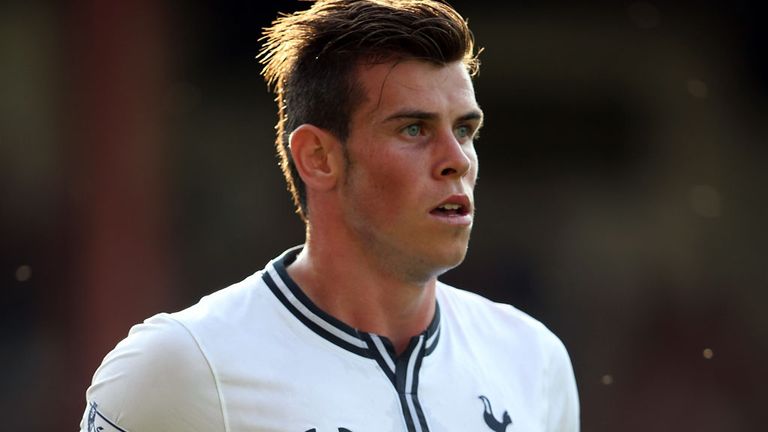 Welsh winger Bale has been linked with a host of top European clubs after a sensational 2012/13 campaign during which he won the PFA Players' Player of the Year and Young Player of the Year awards.
Reports have again surfaced in Spain that Real Madrid have submitted an official bid for the 24-year-old but Villas-Boas is hoping to keep hold of his prized asset and believes a new contract can be agreed before the start of the season.
"There were contacts last year between the club and his agent," said Villas-Boas. "And there are still ongoing contacts between club and agent.
"The player renewed his contract last year by the beginning of the season, if you remember, and it's something that is being dealt with by the chairman and the agent.
Confident
"Talks are ongoing, but that doesn't mean there is an agreement."
When asked if he was confident that an agreement would be reached, the Spurs boss added: "At the moment we are confident. The player is under contract, a good contract at Tottenham, which was done last year.
"It's something we are speaking about but we don't have any further developments."
Asked if there had been any formal bids for Bale, a smiling Villas-Boas replied: "I'm not going to make any comments on that one!
"The player is a special player and had a wonderful season last year, we recognise the level he was playing at.
"At the moment we are extremely happy with his performances and happy with the conditions that he has.
"We understand that we are speaking with his agent for a possible improvement but, at the moment, we don't need to make any further statement regarding transfer speculation or his contract."
Bale missed Wednesday's Barclays Asia Trophy match against Sunderland due to injury and will probably sit out Saturday's game against South China as well.
"He is very near to recovery and I think we will only see him back in training in London," said Villas-Boas.
"He has made a slight strain, he has pulled his muscle on his right side. Seven to 10 days is a normal period for this kind of injury and he is within that timeframe. He's very near to coming back."
Gylfi Sigurdsson is one of several Spurs players to express their hope that Bale will be staying at White Hart Lane.
"He's a great player and if he stays it will be fantastic. I am sure he will stay because he's still here," he told reporters.
"He is a draw for other players to come here. Good players want to play with other big players. It's a big club and hopefully he'll stay and we'll bring in a few other good players."
Sigurdsson is also of the opinion that Bale's presence can help Spurs to push on and claim a Champions League spot this time around.
"The players here talk about getting into the Champions League two seasons ago and how fantastic it was," he said.
"Missing out when Chelsea won the Champions League and being fifth last season was very disappointing.
"It's hard to deal with for a couple of weeks after the season ends but then you start thinking about the next season. We're determined to make it our year."